This is an archived article and the information in the article may be outdated. Please look at the time stamp on the story to see when it was last updated.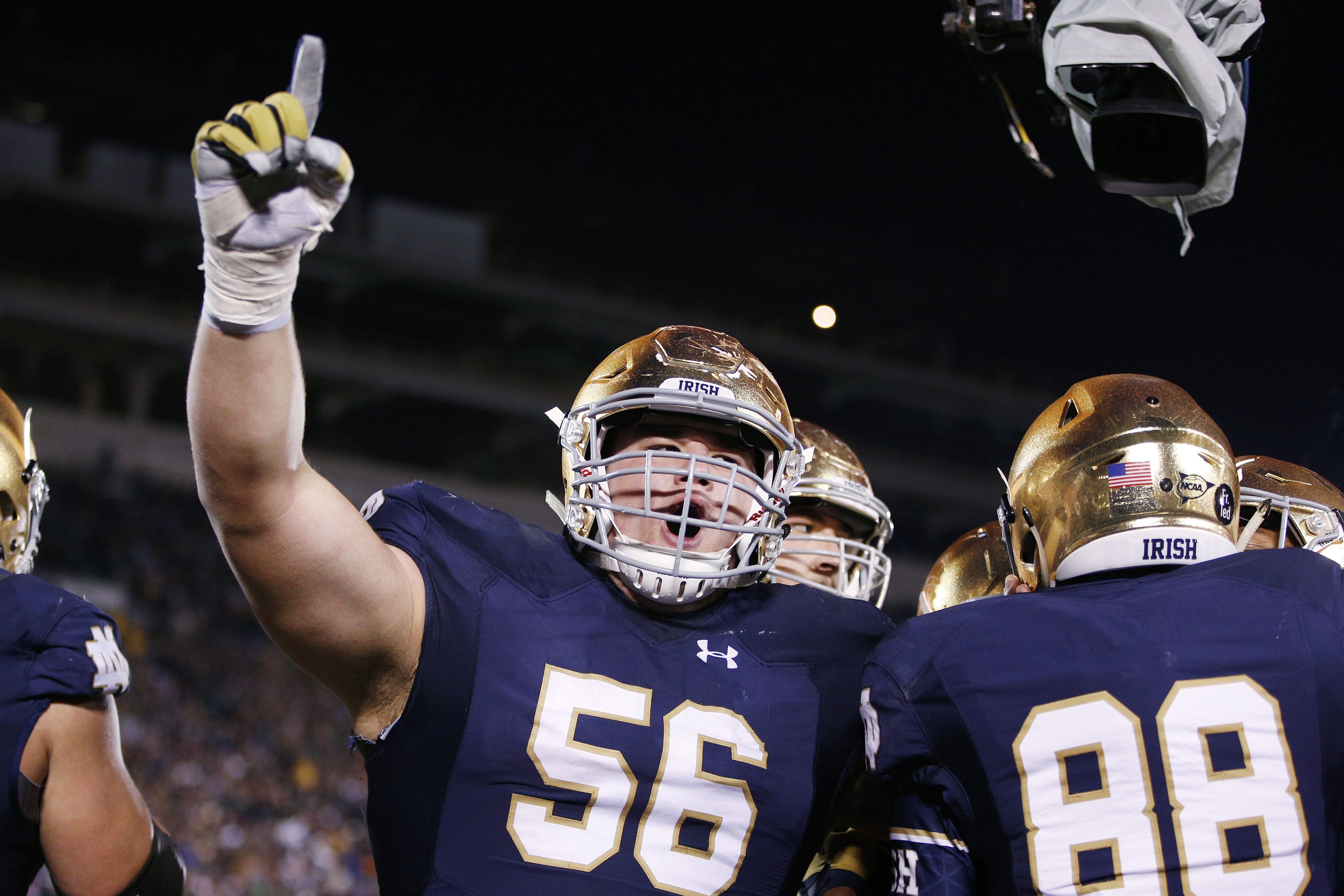 After putting together an impressive 2017 draft class with just five picks, Bears general manager Ryan Pace will look to stack together another good group in a class that fits the team's needs at positions like wide receiver and cornerback.
Pace started last year's draft with seven picks, so this of course is all subject to change, but in these team-specific mock drafts, we always operate with current selections and needs as if the draft was taking place today.
Amazingly, this is already the eighth year I've been doing these Bears mock drafts, which start with "1.0" on the Tuesday following the Super Bowl. As always, I'm making these picks not based on what I think the Bears will do, but based on what I think they should do. Keep in mind that it's still early February and hard to pin down the exact rounds in which these players will land. The whole point of this exercise is simply to evaluate some of the prospects that could be good fits for the Bears in April. Let's jump right in with one of my favorite prospects in years:
1st Round, No. 8 overall — OG Quenton Nelson, Notre Dame (6-5, 329)
Spare me the comments about how an offensive guard should not be drafted this high. Quenton Nelson is good enough to go in the top five, but a likely run on quarterbacks should make him available to the Bears at No. 8. He's a big, mean, yet athletic guard who built a long reel of highlight-worthy blocks in South Bend.
Y'all keep acting like Quenton. Nelson didn't do this too… pic.twitter.com/HAbxNIw8Xz

— Lance Zierlein (@LanceZierlein) February 3, 2018
Quenton Nelson (LG #56) is an elite prospect. Blocks like this are why 😳 pic.twitter.com/JQVRte6XM8

— Jordan Reid (@JReidNFL) January 29, 2018
The Bears need a tackle and a guard, but Nelson would really solidify the interior of the offensive line as a Week 1 starter. Nelson's presence would allow Cody Whitehair to stay at center and give the Bears insurance with Kyle Long's health issues. Josh Sitton doesn't necessarily have to be let go, but he'll be 32 next season. It would be foolish for the Bears to ignore the interior of the line with Sitton's age and Long's lengthy list of surgeries.
2nd Round, No. 7 — WR D.J. Moore, Maryland (5-11, 215)
One of the most impressive pro prospects I saw in person this season, Moore is a smaller slot-like receiver who is constantly open. Maryland couldn't keep any of their quarterbacks healthy in 2017, yet Moore kept putting up big numbers every week. He's really quick and a crisp route runner who can be used in a variety of ways. Given Moore's size, you could argue that early second round is too soon, but there's some Steve Smith-like physicality in his smaller frame. Bears assistant director of player personnel Champ Kelly watched Moore put up 12 catches for 210 yards and two touchdowns against Northwestern in October and I wouldn't be surprised if the team takes a closer look at the wide receiver leading up to the draft.
4th round, No. 5 — CB Nick Nelson, Wisconsin (5-11, 204)
Nelson transferred from Hawaii and had to sit out the 2016 season, but quickly became a legitimate pro prospect in Wisconsin's dominant defense this past season, breaking up 21 passes. He was tasked with 1-on-1 coverage against the top opposing target almost every week and proved to be a physical corner who could jam larger receivers. Sometimes he was overly physical, leading to penalties, and his 40-time will determine if he rises higher than this, which is a legitimate possibility. For now, in a deep corner class, early fourth round seems right.
4th round, No. 15 — WR Marcell Ateman, Oklahoma State (6-4 1/4, 216)
After addressing the slot position with Moore, the Bears still need to grab a bigger, go-up-and-get-it receiver. Fortunately, this is a really deep receiving class and there will be starting caliber players in the fourth round. With two fourth round selections, I'd say it's likely the Bears use one of them on a receiver in April.
Ateman was overshadowed in numbers by teammate James Washington, but every time I watched Oklahoma State, it was Ateman who caught my eye. He's a big-bodied receiver who lacks top speed, but high-points the football and adjusts naturally in the air. He almost never loses jump ball situations. Even with Cam Meredith and possibly Kevin White in the mix next season, the Bears still lack the type of target they used to have in Alshon Jeffery. Ateman could fill that void. One reason why he'll slip a bit: He turns 24 in September.
5th round, No. 8 — LB Jack Cichy, Wisconsin (6-2, 234)
My evaluation of Cichy actually goes all the way back to high school as I saw him play a few times at Hill-Murray in Minnesota. He walked-on at Wisconsin and quickly became a key special teams contributor before exploding onto the scene in the 2015 Holiday Bowl with three sacks on three consecutive plays against USC. The only thing that has slowed him down is injuries, which is why he currently projects as a mid-to-late round pick. Cichy suffered a torn ACL in August, but is on track to participate in the NFL Combine later this month. If he can prove he's healthy, he will rise. An underrated, high-character player, Cichy has shown the ability to rush the passer, which would give him some very useful versatility in Vic Fangio's 3-4 scheme.
6th round, No. 7 — EDGE Shaquem Griffin, UCF (6-0 1/4, 222)
One of the better stories in this year's draft, Griffin would be at least a second round talent, but he does not have a left hand because of a prenatal condition. He's fast, athletic and shows very good instincts on tape. Honestly, his lack of a left hand really didn't seem to limit him in college, as he racked up 166 tackles, 33.5 tackles for loss and 18.5 sacks in his last two seasons after becoming a full-time player. He even intercepted two passes and broke up 10 others. There's no question Griffin can play football at a high level — it's just a matter of how far he falls because he only has one hand.
7th round, No. 6 — S Tre Flowers, Oklahoma State (6-3 1/4, 193)
After a good career in Stillwater, Flowers was snubbed by the Senior Bowl, but had a good week at the East-West Shrine Game instead. He is not the fastest of free safeties, but he has great size and length with 34 inch arms and an 80 inch wingspan. One talent evaluator I spoke with said Flowers impressed on special teams during the East-West Game, which would give him a lot of value this late in the draft. The Bears are sitting pretty well with Eddie Jackson and Adrian Amos at safety, but their depth is questionable. If they can add a solid backup and good special teamer late in the draft, that would be a big win.
Adam Hoge covers the Chicago Bears for WGN Radio and WGNRadio.com. He also co-hosts The Beat, weekends on 720 WGN. Follow him on Twitter at @AdamHoge.