This is an archived article and the information in the article may be outdated. Please look at the time stamp on the story to see when it was last updated.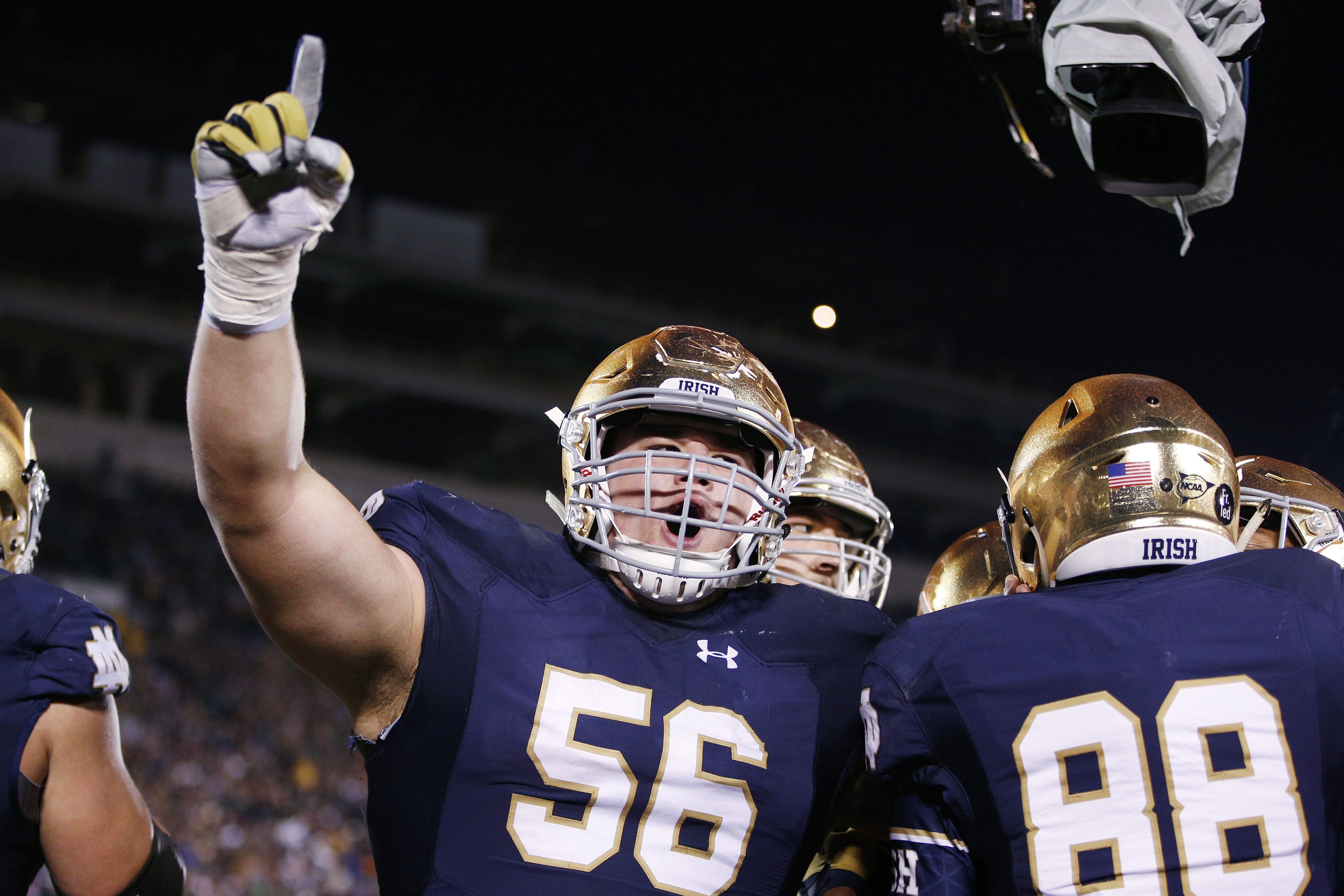 Barring a big trade back, Bears general manager Ryan Pace will select in the top nine of the NFL Draft for the fourth straight year Thursday night. So far, those picks — Kevin White, Leonard Floyd and Mitch Trubisky — have come with mixed results and it's important the Bears successfully add an impact player who can contribute right away.
After months of reviewing tape and researching the top prospects, here's how I would stack the top 20 on the Bears' Big Board this year:
1. OG Quenton Nelson, Notre Dame (6-5, 329)
My favorite offensive line prospect since Joe Thomas came out of Wisconsin in 2007. Nelson is built like a refrigerator and plays a physical brand of football that is unmatched by any other lineman in this draft. He fills an immediate need for the Bears and I will not be surprised if 15 years from now Nelson is getting inducted into Canton.
2. RB Saquon Barkley, Penn State (6-0, 233)
I can't find a weakness in Barkley's game, and that's despite the fact that I watched him run for -1 yards in the first half at Northwestern last fall (a game that was attended by all of the major players in the Bears' front office, by the way). Barkley is special and I have him rated very closely to Nelson, especially because the running back actually touches the ball. I have Nelson ranked higher simply because I am more confident he is going to be difference maker for a longer period of time in the NFL.
3. EDGE Bradley Chubb, North Carolina State (6-4, 269)
If the Bears want the best pass rusher in the draft, they are likely going to have to trade up for Chubb, who seems like a top five lock. He's big, he's long, he's fast and he's athletic. Really, Chubb just needs some small tweaks to his technique at the next level, especially if he ends up in a 3-4 defense, but he's going to be a good one. Honestly, I wouldn't have a problem if Ryan Pace moved up for any of the top three players on this big board.
4. S/CB Minkah Fitzpatrick, Alabama (6-1, 201)
If the Bears can't get Chubb, the next best thing they could do to help their pass rush is add Fitzpatrick to the secondary. Right now, the Bears have four good, but not great players in their secondary and Fitzpatrick has the ability to be special. He could step in right away in the slot and be a major upgrade, with the ability to eventually play outside or at safety as Pace continues to evaluate Adrian Amos and Eddie Jackson.
5. ILB Roquan Smith, Georgia (6-1, 236)
Smith is one of the safest players in this draft. He's a reliable sideline-to-sideline interior linebacker with some of the best instincts you will ever see. He's slightly undersized, but he's always around the ball because he anticipates so well. Smith could be the quarterback of the Bears' defense for many years.
6. S Derwin James, Florida State (6-3, 215)
Safety might not be a top need for the Bears, but Amos is entering the final year of his rookie deal and there isn't a whole lot of depth at the position. James would probably be the best safety on the roster if he was drafted and it's time the Bears stop settling for "good" players and started finding difference makers.
7. CB Josh Jackson, Iowa (6-1, 192)
I'm already on record as saying I prefer Jackson to Denzel Ward, but given that the Bears locked up Prince Amukamara and Kyle Fuller, it was tempting to move Ward ahead of Jackson simply because he projects better to the slot. But remember what I just said about not settling for "good" players just because they are already on the roster? Jackson can be a ballhawk on the outside, which is something Amukamara and Fuller are not.
8. CB Denzel Ward, Ohio State (5-10, 183)
Ward is probably the more realistic of these two cornerbacks if the Bears go that route. He's smaller, but extremely quick and athletic. He could plug into the slot right away and give the Bears an immediate upgrade.
9. WR Calvin Ridley, Alabama (6-0, 189)
I'm surprised Ridley isn't getting more credit. He's an extremely crafty route runner who always finds a way to get open. His hands are outstanding and he has experience running the entire route tree. Ridley might not be built like Calvin Johnson, but you don't need to be built that way in Matt Nagy's system. With Cam Meredith out the door, Ridley would immediately be a very good No. 2 to Allen Robinson and might surpass Robinson within a year or two.
10. OT Mike McGlinchey, Notre Dame (6-8, 312)
Clearly the top tackle prospect in this year's draft, McGlinchey is a huge, athletic lineman who is already technically sound and can play on either side. He can probably get a little stronger and that has been used against him, but he's 6-8 so of course he has more room on his frame. I consider that a positive, giving him even more upside. Ending up in Chicago with his former O-line coach, Harry Hiestand, would be a plus too.
11. WR DJ Moore, Maryland (6-0, 210)
Moore was the third-best NFL prospect I saw in person last season, behind Barkley and Jackson. He's harder to project because his quarterbacks at Maryland were so bad, but I think that works in his favor. When the Terps found a way to get the ball in Moore's hands, he was electric. I see a lot of Steve Smith in his game.
12. EDGE Marcus Davenport, UT-San Antonio (6-6, 264)
Davenport is similar to Leonard Floyd in that he's tall, long and raw. But Davenport has a bigger frame and already carries more bulk with the room to add more strength. He also plays a more physical game than Floyd did coming out out college. Davenport was very productive at UTSA, but will need some time to develop and adjust as he makes a big jump in competition. He has a very high ceiling though.
13. EDGE/ILB Tremaine Edmunds, Virginia Tech (6-5, 253)
I have doubts that Edmunds will ever be a great interior linebacker in the NFL because the natural instincts just don't show up on tape. The natural size and athleticism are there though and I think he can eventually be a very good pass rusher if converted to the outside. Patience will be needed though.
14. EDGE Harold Landry, Boston College (6-3, 252)
Based on the tape alone, Landry is probably second best pass rusher behind Chubb, but he's smaller than Davenport and Edmunds and it was alarming to see his production go down last year as every offense he faced game-planned to stop him. It won't get any easier in the NFL.
15. G/C Billy Price, Ohio State (6-4, 312)
After suffering a torn pec at the Combine, Price has been overlooked by many. He's a top 15 prospect in my book, but could fall to the second round because of the injury. He's strong and athletic and has experience at both center and guard. While the injury is a concern, he never missed a game at Ohio State. If the Bears miss out on Nelson and Price is available at No. 39, he would be a steal.
16. ILB Rashaan Evans, Alabama (6-3, 234)
While not as good as Roquan Smith, Evans would actually be an outstanding fit in Vic Fangio's scheme. He's bigger than Smith and has room to get stronger. His instincts are good enough and he has experience at outside linebacker, showing the ability to rush the passer. Fangio likes to blitz his inside backers, and Evans has proven to be dangerous in that regard.
17. WR Courtland Sutton, Southern Methodist (6-3, 218)
Sutton is similar to Alshon Jeffery in that he's not the fastest wide receiver and won't always get huge separation, but he's big and will go up and get the football with his outstanding hands. He adjusts to the football very well and is probably better than Jeffery when it comes to picking up yards after the catch. I mentioned earlier that having a big wide receiver isn't a necessity in Nagy's system, but it would be a luxury and Sutton is worth taking if he somehow slips into the second round.
18. OG Will Hernandez, UTEP (6-2, 348)
Hernandez is an old-school offensive guard who plays with a mauling physicality that is rarely matched by his opponent. Unfortunately, that sometimes extends to after the whistle, so discipline could be an issue with him. I wish he were just a little bit taller, but he's good enough to play right away at left guard and keep Cody Whitehair at center.
19. DL Taven Bryan, Florida (6-4, 291)
Bryan is extremely athletic and plays with a non-stop motor, which is why he's so disruptive. His technique is average, which leaves a lot of untapped potential if he's coached up the right way. Some believe he's ideally suited as a three-technique in a 4-3, but I believe he's athletic enough to move around as Vic Fangio uses numerous fronts.
20. WR Christian Kirk, Texas A&M (5-10, 210)
Kirk isn't the tallest wide receiver, but he's built well and is explosive in his route running. His hands are outstanding and he has a knack for finding the open areas in the field. Kirk is very dangerous once he gets the ball in his hands and that extends to the return game, where he had seven touchdowns.
Adam Hoge covers the Chicago Bears for WGN Radio and WGNRadio.com. He also hosts "The Hoge & Jahns Podcast." Follow him on Twitter at @AdamHoge.