This is an archived article and the information in the article may be outdated. Please look at the time stamp on the story to see when it was last updated.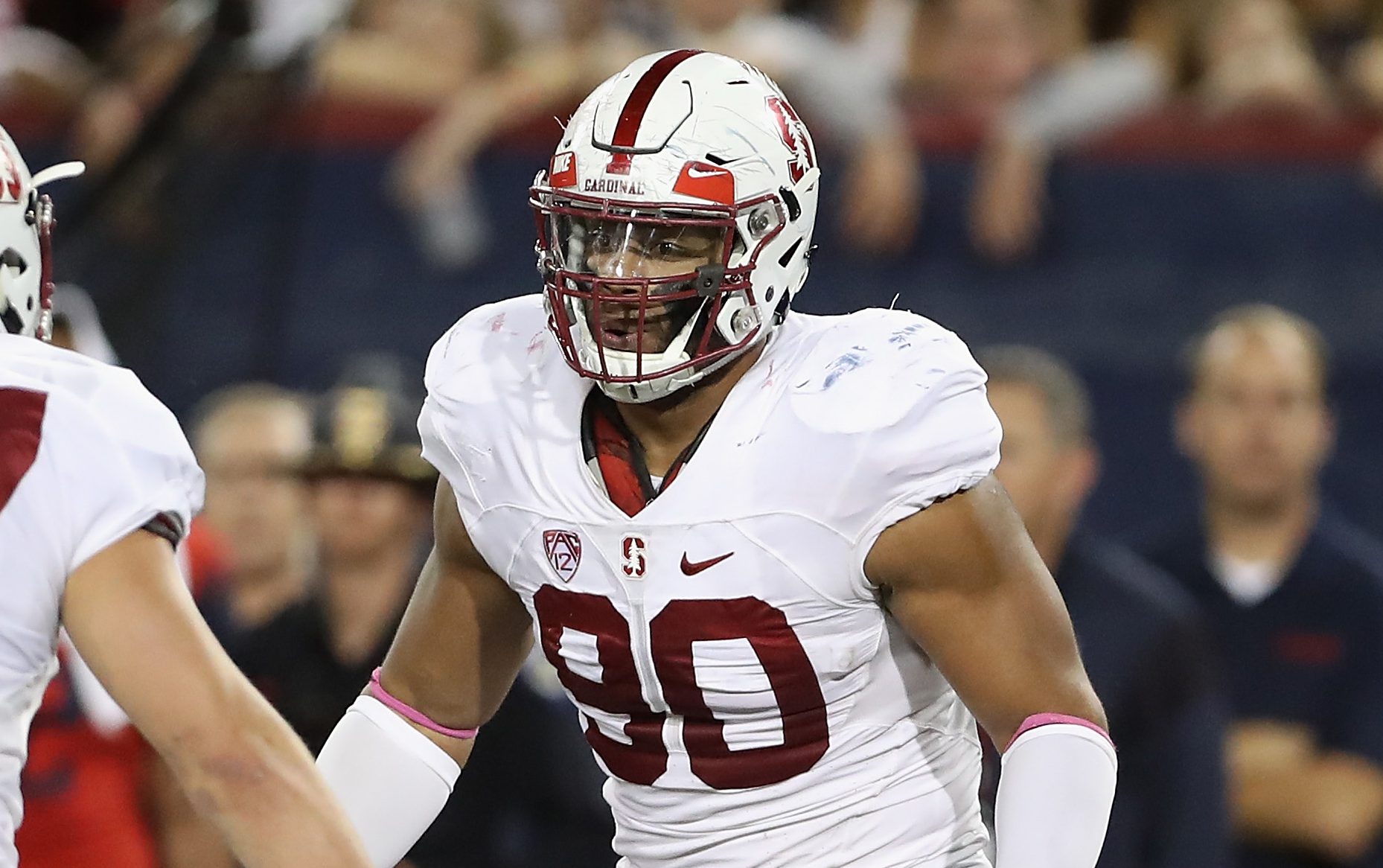 The quarterback "buzz" around the Bears has certainly picked up in the last two weeks and some seem to be convinced that general manager Ryan Pace is going to draft a QB with the third overall draft pick.
I'm not one of those people.
I'm sticking to my original thinking that Pace thoroughly evaluated this quarterback class and decided that Mike Glennon provided similar upside at a cheaper (guaranteed) price without burning the No. 3 overall pick. If the Bears wanted to bring in a one-year stop-gap while a first round quarterback developed, they could have just re-signed Brian Hoyer, which is something they never got too serious about. Glennon is here because Pace believes he can be the Bears' answer at the position.
Hoge & Jahns Podcast: Mock Draft Roundtable
Regardless of what I think the Bears will do, I've always been consistent in my approach with these mock drafts — I make my picks based on what I think they should do and so far I've been very clear that I don't think there is a quarterback worth taking at No. 3 overall.
As a reminder, my fourth and final Bears mock draft is the only one in which I'll repeat picks from previous editions, but in the interest of simulating different scenarios, I will not repeat a previous first round pick this year. That said, let me make it clear (and I'll put it in bold print this time): I believe LSU safety Jamal Adams is the pick the Bears should make, assuming Myles Garrett is not available. He was my original pick in Bears Mock Draft 1.0.
More NFL Draft Coverage:
Hoge's Bears Big Board
Ranking The Top 10 Quarterbacks
Bears Mock Draft 3.0
So, for the sake of this particular mock draft, let's assume Garrett and Adams are off the board. The Bears are now on the clock. Let's get to the picks:
1st round, No. 3 overall — DE Solomon Thomas, Stanford (6-2 5/8, 273)
Thomas is certainly in play for the Bears at No. 3 overall and he should be. He is a young, athletic and versatile defensive lineman with outstanding character and an arrow that is pointing up. These are all staples of previous Pace draft picks. I admittedly have questioned Thomas' exact position because he appears to be undersized as either a tackle or a 3-4 defensive end, but much like Aaron Donald proved that size isn't everything, Thomas has the quickness, motor and pure strength to put weight concerns to rest. And it's his flexibility that makes him so attractive in Vic Fangio's defensive scheme. I think Thomas will hold up as a five-technique, but he'll also be able to kick inside in sub-packages or even rush from a two-point stance (which is something he'll need to learn). Thomas is young and still nowhere near his ceiling. He'd bring an immediate impact to the Bears' defense and is probably the one missing piece in the Bears' front-seven right now.
2nd round, No. 4 (No. 36 overall) — FS Justin Evans, Texas A&M (5-11 5/8, 199)
My one and only repeat pick this year, I had Evans in the third round of Bears Mock Draft 3.0. Subsequent conversations make me believe he'll be selected in the Top 50 though and I'm a big enough believer in his talent to take Evans at No. 36. With extensive experience at both strong and free safety, I believe he has the ball skills to be one of the better "centerfielders" in this draft. With 32-inch arms and a 41.5-inch vertical, Evans can go up and make plays on the football. He needs to work on becoming a more reliable tackler, but the willingness is not a problem as Evans proved at Texas A&M that he was a thumper in the SEC, despite a body type better suited at free safety. If the Bears don't draft Adams or Malik Hooker in the first round, Evans would be a very good consolation prize in the second round.
3rd round, No. 3 (No. 67 overall) — WR Chris Godwin, Penn State (6-1, 209)
One of my favorite receivers in this draft, I think Godwin will be a steal after the first two rounds. He may not have ideal height, but he plays much bigger than he is because of a large catching radius and an ability go up and high-point the football. Godwin isn't going to run away from you, but he still proves to be a vertical threat because of the way he adjusts to the football and wins 50-50 balls. His tape is littered with big plays, especially in big games (see: Rose Bowl vs USC). I think Godwin will be a very good No. 2 wide receiver at the next level, providing great value in the third round.
4th round, No. 4 (No. 111 overall) — ILB Anthony Walker Jr., Northwestern (6-0 5/8, 238)
As the sideline reporter on Northwestern's radio broadcasts, I saw every game Walker played in the last two seasons. Some have criticized him for playing too heavy in 2016, but the reality is a training camp knee injury severely limited Walker for a big portion of the season. As the guy everyone looked up to on that defense, Walker gutted his way through the injury and looked much better later in the season when he was closer to full health. In 2015, Walker proved that he has the speed and athleticism to be a very good linebacker at the next level and those traits were on display at the Combine and his Pro Day when he was fully heathy. Walker is a high-character guy with strong leadership skills and a floor that will keep him in the NFL for a long time. Given Jerrell Freeman's age (almost 31) and Danny Trevathan's ruptured patellar tendon, the Bears need more options at inside linebacker and Walker would be a tremendous pick.
4th round, No. 10 (No. 117 overall from Buffalo)** – QB Brad Kaaya, Miami (6-3 7/8, 214)
While I believe Cal's Davis Webb and Pitt's Nathan Peterman are going to be over-drafted, it seems that Kaaya could be the mid-round quarterback who exceeds expectations. I expected him to do more in 2016, but he was playing hurt and adjusting to Mark Richt's pro-style offense. That experience should help him transition to the NFL, where he'll still need a year or two to develop. Kaaya's arm strength is "good enough" and while I don't love his release, I believe he'll be a solid backup who has the traits to develop into a starter. Kaaya is my No. 6 ranked quarterback this year.
5th round, No. 3 (No. 147 overall) — OLB Carroll Phillips, Illinois (6-3 1/4, 242)
Phillips is a 24-year-old "one-year wonder," which is why I think he'll still be available early in the fifth round. Despite seeing Phillips post three TFLs and a sack against Northwestern in November, I didn't seriously consider him as an NFL prospect until I saw him working as an outside linebacker at Senior Bowl practices. He was a 4-3 defensive end at Illinois, but is too small to play there in the NFL. Despite his inexperience standing up, Phillips looked good bending and rushing the edge in Mobile. He has the speed and athleticism to be an explosive pass rusher at the next level, but lack of strength could be an issue. At a minimum I think he can be a rotational 3-4 edge rusher and a solid special teamer. It's worth noting that the Bears coached Phillips at the Senior Bowl.
7th round, No. 3 (No. 221 overall) – CB Gareon Conley, Ohio State (6-0, 195)
I'm sure I'll take some heat for this pick, as Conley has been accused of sexual assault in an April 9 hotel incident. Details are very limited at this point and teams are scrambling for more information as Conley was considered a first-round lock before the news broke Tuesday. The situation is similar to La'el Collins who, just days before the 2015 NFL Draft, was linked to the murder of a woman he had a previous relationship with. Despite not actually being a suspect, Collins went undrafted in part because his agent threatened that he would sit out the entire 2015 season and re-enter the 2016 draft if he was selected after the third round. Eventually Collins signed with the Cowboys as an undrafted free agent and became a quick starter.
It would not surprise me if Conley goes undrafted like Collins, but it might be smart to use a seventh round pick on him in case he's completely exonerated. In terms of talent available in the seventh round, it isn't much different from the talent available in the undrafted free agent pool, except for that you secure the rights to the player without a negotiation. It is very unlikely there is a resolution to this Conley situation by Thursday, so there's really no way of knowing if he is guilty or innocent of the accusation. I don't condone sexual violence in any way and have been very vocal about this in the past, but the thinking here is that you draft Conley with almost no risk in the seventh round and don't sign him until more information is available. If charges are pressed (or even if they aren't and ownership determines Conley crossed a moral line), you cut ties with him immediately. On the flip side, if he is cleared and ownership still feels comfortable with Conley representing the franchise, then you just secured a first-round talent at a huge position of need.
Of course, given what the Bears endured during the brief Ray McDonald saga, I'm not sure they would even entertain this idea. But the difference is that McDonald had a well documented history of domestic violence. It was absolutely clear when they signed him that he was a bad guy and it had been proven multiple times. The risk the Bears took in that situation was completely unwarranted and reckless. In Conley's case, we know very little, and that's the point. I look at this as an opportunity to buy extra time to investigation the situation and nothing more.
Adam Hoge covers the Chicago Bears for WGN Radio and WGNRadio.com. He also co-hosts The Beat, weekends on 720 WGN. Follow him on Twitter at @AdamHoge.