This is an archived article and the information in the article may be outdated. Please look at the time stamp on the story to see when it was last updated.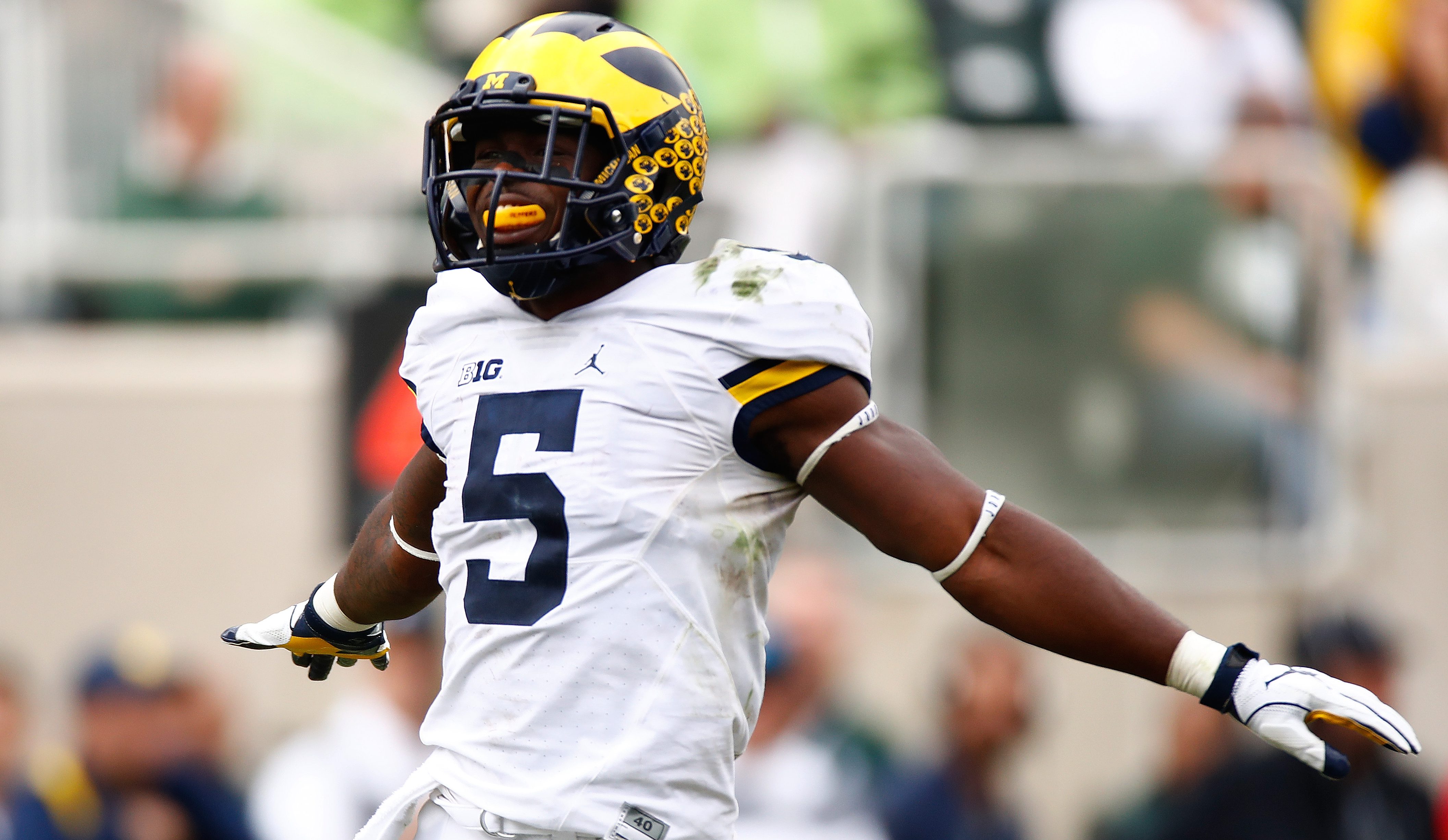 This will go down as the "cursed" Bears mock draft.
A week ago I had planned on using Alabama defensive lineman Jonathan Allen as my pick going to the Bears at No. 3 overall. It was already written up and I had moved on to the second round. Then the NFL Combine happened. It was there where Allen came clean about two mildly arthritic shoulders, which were immediately downplayed.
More: Bears Mock Draft 1.0
Look, Allen has already proven he can play through the injury (both were already operated on in college), but arthritis isn't going to get any better. While every team will have different medical opinions, I don't think the Bears can take a chance on a guy whose career could be cut short. There's no questioning Allen's talent — I think he's an All-Pro player if he stays healthy — but it's too risky to take a guy who already has shoulder issues third overall. I still believe Allen is worth a top 15 pick, but Bears general manager Ryan Pace cannot miss at No. 3.
Podcast: "Hoge & Jahns" From The NFL Combine
[audio http://serve.castfire.com/audio/3307410/3307410_2017-03-03-172910.64kmono.mp3?ad_params=zones%3DPreroll%7Cstation_id%3D3757.mp3]
Before moving down my draft board to the next best player available, I decided to take another look at North Carolina quarterback Mitch Trubisky, who at this point is the only quarterback I would consider taking in the first round. Nope. Not at No. 3. I watched three more of his games and just could not talk myself into taking him that early.
From there, I moved on to Ohio State cornerback Marshon Lattimore, who I also believe will quickly become an All-Pro if he can stay healthy. But Lattimore comes with a history of hamstring injuries. That said, soft tissue issues aren't nearly as concerning longterm as arthritic shoulders, and Lattimore didn't miss a game in 2016 while playing at a very high level. Monday morning, I watched Lattimore run a 4.36 40-yard-dash at the NFL Combine, and I immediately started writing.
My mistake, Marshon.
Despite running a 4.37 on his second attempt, Lattimore pulled up slightly at the end of his run. ESPN's Adam Schefter reported Lattimore suffered a minor hamstring injury, while Lattimore claims it was a hip flexor and said he'll be able to participate in Ohio State's Pro Day later this month. Either way, for this purposes of this mock draft, it was enough to scare me off the pick.
Allen and Lattimore aren't the first "top-end" draft prospects to have issues. I like Ohio State safety Malik Hooker a lot, but his offseason surgeries are worrisome — especially the labrum tear in his hip. Then there's Alabama's Reuben Foster, who was sent home from the combine after an argument with a hospital worker. There were already questions about his medicals (and background) so that incident was more than concerning.
All of these problems verified two things for me:
The medicals are extremely important and any issues found cannot be glossed over. The medicals are the one aspect of the draft process that teams, players and agents guard the most. Thus, they are the one aspect of the draft process that those of us in the media know the least about. No matter how many phone calls we make, there are always surprises on draft day, and many times, it's because of the medicals.
The Bears should really draft LSU safety Jamal Adams. He was already featured in Bears Mock Draft 1.0, and for the purpose of this exercise, I won't double up until my final version in April — but Adams has the least amount of questions among all of the top end players (other than Myles Garrett, who is by far the best prospect in the draft and should go No. 1 overall).
Let's hope draft day goes smoother for Ryan Pace than this mock draft did, but with all of these recent developments in mind, let's get to the picks:
1st round, No. 3 overall — S Jabrill Peppers, Michigan (6-1, 205)
I know what you're thinking and I look forward to your tweets about trading back. I agree with you. If the draft was today and there were all of these lingering questions about the top players (and Garrett and Adams were not available), I would seriously look to trade back and acquire more picks. That said, I'm still very high on Jabrill Peppers and think he's a top 10 talent. If you can't find a trade partner (and I don't simulate trades in these mock drafts), then there's nothing wrong with taking Peppers third overall. Many are concerned about where to play him, but I don't think it's a concern — it's just a good question. Peppers is definitely talented enough to play in the NFL and if I was a GM, I couldn't wait to get him on the field and find out how he can help me the most.
At worst, Peppers is a dynamic slot guy who will make an immediate impact in the return game Week 1. That's a high enough floor to use the No. 3 pick on in today's pass-happy NFL. More likely, Peppers is a versatile defensive weapon who can be moved all over Vic Fangio's defense. Imagine Fangio using Leonard Floyd and Peppers all over the field and the headaches that would cause opposing offensive coordinators.
If you want to get crazy and let Dowell Loggains borrow Peppers on offense, fine, but I would just let him loose in the return game where he would immediately be the Bears' best returner since Devin Hester. That's an area I don't think the Bears have given enough attention since they let Hester go. An explosive return man flips field position and helps both the offense and defense. Peppers can be that guy on Day 1.
The bottom line: Peppers is an explosive, rare athlete wherever he lines up. He breaks down and tackles. He's rarely out of position and has the speed to recover when he is. He's an effective blitzer who is highly instinctual. As for the lack of interceptions (just one in his three years at Michigan), that doesn't bother me because he played primarily in the box as a safety/linebacker hybrid in 2016 and when he was more of a true safety in 2015, he had 10 pass breakups. Peppers does have ball skills and proved that on his interception against Ohio State when he made a tough catch on a pass that was deflected right in front of him.
I feel very confident that Peppers is going to be a big-time playmaker at the next level. And if that's the case, No. 3 is not too early.
2nd round, No. 4 (No. 36 overall) — QB Patrick Mahomes, Texas Tech (6-2, 225)
The closer we get to the NFL Draft, the more confident I am in saying that this quarterback class is not good enough to risk a swing-and-miss at No. 3. That said, Trubisky, DeShaun Watson, DeShone Kizer and Patrick Mahomes are good enough to take a chance on at No. 36. Part of me is starting to wonder if this year's draft will play out similar to 2014 when four quarterbacks (Blake Bortles, Johnny Manziel, Teddy Bridgewater and Derek Carr) all received first round attention, but only one (Bortles at No. 3) went in the top 21. I could see a team trading up into the late first round if these quarterback start to slip (similar to what the Vikings did with Bridgewater), which ensures a fifth-year option on the rookie contract, but I could also see one or two of them fall out of the first round completely.
In 2014, Carr ended up slipping into the second round at No. 36 and he ended up being the best of the bunch. At this point, Mahomes seems to be the most likely candidate to still be available at No. 36, and I think he's worth the Bears taking a chance on here.
I was a little skeptical Mahomes was actually 6-3 and sure enough he came in at exactly 6-2 at the NFL Combine. That's still good size at the quarterback position, so no concerns there. There are also no concerns about his talent. Mahomes might have the highest ceiling among all of the quarterbacks. He possesses a cannon of an arm with plus-mobility and confidence/swagger that shows up on tape.
So what's the problem? The mechanics are all over the place. He appears to be freewheeling it out there and nothing seems consistent. Decision-making is a concern at times. But here's what I love: despite all of those issues, Mahomes is actually very accurate and has improved each year. In fact, his 74.8 adjusted completion percentage against Power-5 opponents ranks only behind Watson in this year's draft (according to Pro Football Focus).
A few weeks ago, I wrote: "There are times when Mahomes looks like Aaron Rodgers and then there are others when he looks like Jay Cutler's evil twin." That will inevitably scare Bears fans, but just because Cutler never figured it out, that doesn't mean you pass on a talent like Mahomes. He's a different player.
3rd round, No. 3 (No. 67 overall) — TE Jake Butt, Michigan (6-6, 250)
Confession: The first round wasn't the only place where I had to do a re-write in this mock draft. I originally had Connecticut safety Obi Melifonwu slotted here until he blew up the NFL Combine Monday. At 6-3 7/8, Melifonwu ran a 4.40 to go along with a 44-inch vertical and an 11.9 inch broad jump. Those numbers are stupid good. Sure, there are still questions about how well he can play football at the next level, but at this point, there seems to be no chance he'll last until the third round.
While medical concerns can keep you away from otherwise very good players at No. 3 overall, they can also land you a first or second round talent later in the third. That's what could be the case with Michigan tight end Jake Butt, who tore his ACL in the Orange Bowl and will fall as a result. But clean tears of the ACL don't end your career and there's still a good chance Butt will be a very good pro, even if he is limited in his rookie season. Butt has great hands and strength to catch the ball in traffic. He runs routes well, finding the soft spots to make himself a quarterback's best friend. The blocking needs to get better and Butt will likely need to add some strength, but the Bears' need at tight end is more on the receiving end and Butt is a guy who can line up all over and be a reliable receiving tight for a long time.
4th round, No. 4 (No. 111 overall) — S John Johnson, Boston College (6-1, 205)
This versatile defensive back proved he can play corner and both safeties spots at a high level in the ACC. Johnson's 4.6 40-time at the Combine means corner probably isn't ideal at the NFL level, but his instincts on the back end are especially impressive and he has good size and length to be a ball hawk as a free safety. Pairing Johnson with Peppers in the secondary is especially intriguing. A big reason why Johnson would provide a lot of value in the fourth round is because he's probably one of the better special teams players in this draft. He should be a beast on coverage teams right away.
4th round, No. 10 (No. 117 overall from Buffalo) – WR Kenny Golladay, Northern Illinois (6-4, 194)
One of the better wide receivers in Northern Illinois history, the St. Rita (Chicago) product has been flying under the radar. Somewhat surprisingly, Golladay wasn't invited to the Senior Bowl and missed out on playing in the East-West Shrine Game because of injury. But Golladay showed up in Indianapolis and put on a strong showing at the NFL Combine, running a 4.5 40-time. That's excellent speed for his size and he has some room to get stronger. Golladay has an excellent wingspan and has been making highlight-reel catches since he was a true freshman at North Dakota (he played there for two years before transferring). A very deep wide receiver class may prevent Golladay from going earlier, but his size and speed will make it tough for him to fall out of the fourth round. I think he would give the Bears a ton of value here, providing much needed depth at the position.
5th round, No. 3 (No. 147 overall) — OLB Ejuan Price, Pittsburgh (5-11, 241)
If you just looked at Price's statistics over the last two seasons (23.5 sacks and 40.5 tackles for loss), you would assume he's a 6-5 monster defensive end who cannot be stopped. Amazingly, he's only 5-11, which is ridiculously short for a 4-3 defensive end. That, plus an injury history that kept him in college for six years, will keep Price from getting drafted earlier. But how do you ignore that production?
Price isn't a guy who wins with straight-line speed and crazy athleticism (his combine numbers were ordinary), but he's a twitchy pass-rusher who keeps offensive linemen on their toes with a variety of crafty moves. I had a chance to see Price in person at the Pinstripe Bowl and I saw a guy whose get-off is extremely quick. He beats longer offensive tackles with shifty changes in direction, often to the inside.
He'll be playing a much different position than his former Pitt teammate Aaron Donald, but there's a lot of similarities in terms of being undersized athletes who win with their quickness and are just incredibly productive. I'm more than willing to take a chance on Price in the fifth round.
7th round, No. 3 (No. 221 overall) – QB Alek Torgersen, Penn (6-1 1/4, 215)
If the Bears are really going to get rid of Jay Cutler and the best they can do in free agency is Mike Glennon, then why not draft two quarterbacks in April? Torgersen is my sleeper of all sleepers in this draft. I had never heard of him until positive reviews came out of the East-West Shrine Game and when I turned on the tape I saw a guy with good enough size, a strong arm and a very quick release. In a weak quarterback class, I'm struggling to understand why Torgersen was not invited to the NFL Combine.
Of course, there's no doubt Torgersen will be a project. He played in an offense primarily focused around the zone-read with some option sprinkled in. But that's an added benefit to Torgersen's game: he can run. The jump from the Ivy League will be tough, but this is a smart guy who would be great in the quarterback room even if he's stashed on the practice squad while he develops. I really think there's some upside with this kid and you can do a lot worse in the seventh round.
Note: The Bears traded their 2017 sixth round pick (No. 190 overall) to the Houston Texans in 2015 for tight end Khari Lee, who is no longer with the team.
Adam Hoge covers the Chicago Bears for WGN Radio and WGNRadio.com. He also co-hosts The Beat, weekends on 720 WGN. Follow him on Twitter at @AdamHoge.