This is an archived article and the information in the article may be outdated. Please look at the time stamp on the story to see when it was last updated.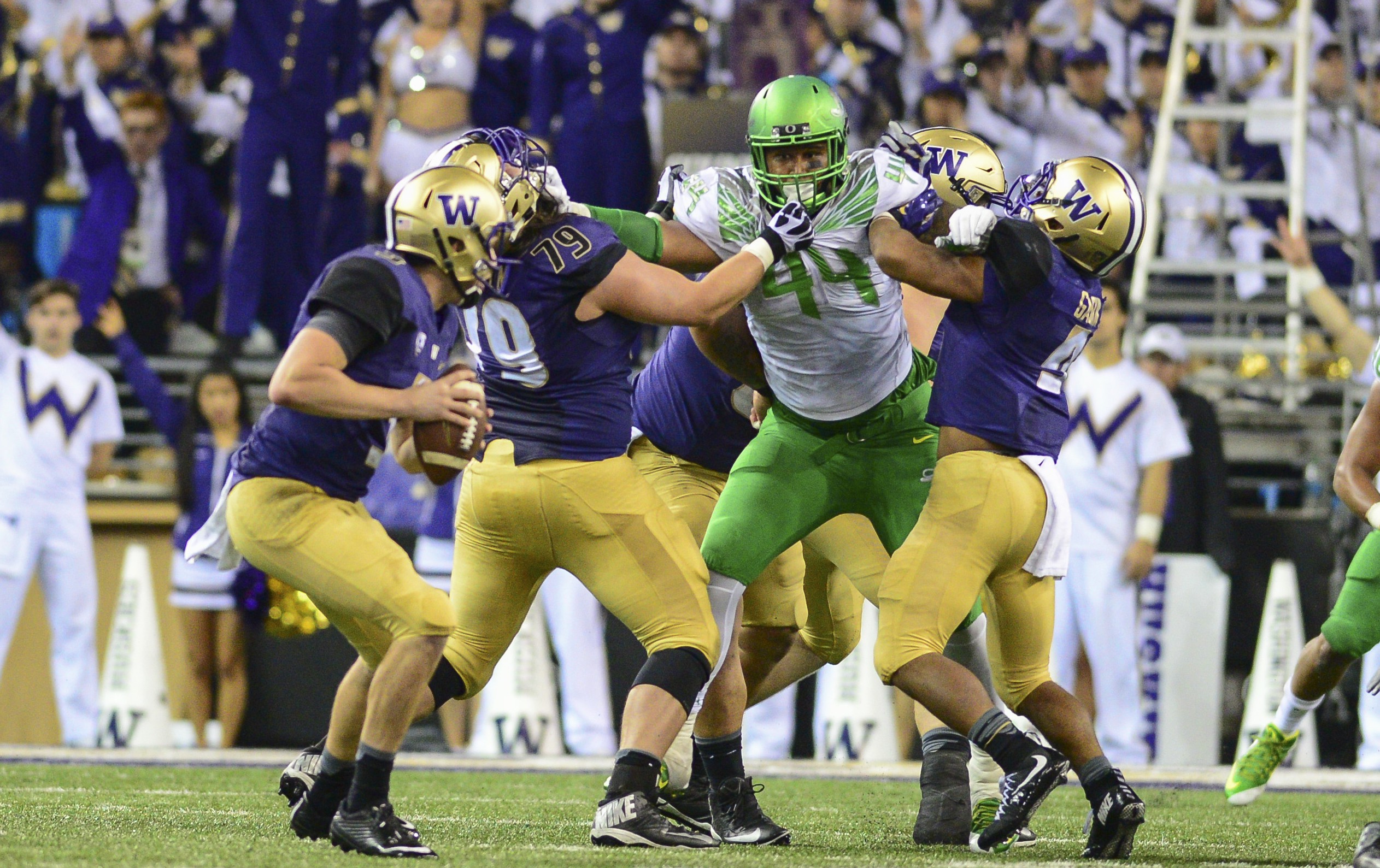 After years of "talking" about the need to stockpile draft picks, the Bears finally have a general manager who went out and did it. By trading Jon Bostic to New England and Jared Allen to Carolina, Ryan Pace was able to add two extra sixth round picks in April's NFL Draft.
Now with nine picks in the draft, this is by far the most selections I've had to address in a Bears Mock Draft.  It's crazy to think this is already the sixth year I've put these together and if you've read them before, you know the first one is released the Tuesday after the Super Bowl, with three more to follow before the draft.
As always, I'll remind you that the point of this exercise is not to successfully predict who will be wearing a Bears uniform next season. Rather, it's to simulate possible ways in which the Bears will execute their draft selections this year. If anyone thinks they can pinpoint exactly who a team is taking in the sixth round, they are kidding themselves. The picks are not based on what I think the Bears will do — they're based on what I think the Bears should do based on my own evaluations. The Bears' scouts may agree with me on some of these picks, and they'll inevitably laugh at some others. Such is the NFL Draft evaluation process — the debates are endless.
Let's get to the picks:
1st Round, No. 11 – DE DeForest Buckner, Oregon (6-7, 281 pounds)
At some point the Bears are going to have to draft an edge rusher to improve their depth, but in today's NFL, where quarterbacks are consistently getting the ball out quicker, I believe the fastest way for the Bears to improve their pass rush is to draft a dominant 3-4 defensive end.
So allow me to introduce you to Oregon's DeForest Buckner.
At 6-7, 281, Buckner possesses an impressive build that has NFL GMs drooling. Add in the way he controlled the line of scrimmage and rushed the passer in 2015 (10.5 sacks, 17 TFLs, 83 tackles), and we're talking about a Top 15 talent. In fact, there's a chance Buckner will be gone by the time the Bears are on the clock.
A year ago, Buckner was very raw. He chose to go back to school and refine his game and he now enters the draft as an NFL-ready defensive end who can be plugged into a 3-4 defense and make plays Week 1. If he's still available at No. 11, it would be very hard for Ryan Pace to pass on Buckner.
2nd Round, No. 10 – S Jeremy Cash, Duke (6-1 3/4, 219)
Opinions at the Senior Bowl were mixed on Cash, who wasn't a centerfielder in college and probably doesn't have the foot speed to be one at the NFL level. But that shouldn't be his game in the pros anyway.
Cash popped out on film immediately as I was preparing for Northwestern's game at Duke this season and he was probably the best player on the field that Saturday, even though the Blue Devils lost the game. Duke used Cash as a hybrid safety/linebacker in their 4-2-5 scheme, playing him all over the field. His instincts are off the charts and he's a true "playmaker" — a label that is at the top of the Bears' defensive wish list this offseason.
Vic Fangio doesn't really use centerfielders anyway, preferring interchangeable safeties who have the freedom to roam within the defense. That's what Cash does best. He diagnoses plays quickly, rarely gets caught out of position and always seems to be around the football. You can't teach his instincts and his height/wingspan are added bonuses that should allow him to get his hands on the football.
I could see Cash going anywhere from the late first round to mid-third, but if he's on the board for the Bears in the second round, I'd take him.
3rd Round, No. 9 – ILB Scooby Wright, Arizona (6-0, 246)
Continuing with the theme of "playmakers," Scooby Wright was college football's most eye-popping defensive playmaker in 2014 and earned national defensive player of the year honors. Unfortunately, a torn meniscus limited him to three games in 2015, but he returned in time to deliver a dominating performance in Arizona's bowl game (15 tackles, 3.5 TFLs and two sacks), and he announced after the game he was turning pro.
Unlike Buckner and Cash, size is a concern with Wright, which is why he projects as a third or fourth round pick. I like him on the high end of that projection, however, because he comes with high instincts, quickness and a motor that never stops. On film, he reminds me of Chris Borland, another small, highly-instinctive linebacker who I advocated the Bears select in the second round back in 2014. The Bears passed, Borland fell to the third round, and he went on to pile up 107 tackles as a rookie with the 49ers before shockingly retiring.
Assuming Wright won't retire after just one season, I expect similar production early in his NFL career. Much like Borland, Wright uses his smaller size to his advantage, hiding from blockers and slipping through gaps to make plays in the backfield. He has good athleticism and speed to change direction and run sideline-to-sideline. Coming from a 3-3-5 defense at Arizona that used him in a variety of ways, I think Wright would thrive as an inside linebacker in a 3-4 defense that allows him to occasionally get after the quarterback.
4th Round, No. 8 – OG Spencer Drango, Baylor (6-6, 320)
The next three months will be huge for Drango, who has the potential to move up a round or two, or fall back. An up-and-down Senior Bowl week dropped him into the fourth round in my eyes, but he's still worth taking here as a guard.
Drango was a four-year starter at left tackle at Baylor and some think he can play tackle in the NFL, but with shorter arms and limited quickness, I think he projects best as a guard — but one who can play early. He has the traits to be able to pull and he very rarely makes technical mistakes (zero sacks allowed in 2015). There will be an obvious adjustment from Baylor's offense to the NFL, and he did have back surgery in 2013, but if Drango is still available early in the fourth round, the Bears would be getting value and a possible immediate starter at right guard.
5th Round, No. 11 – WR Tajae Sharpe, UMass (6-2, 189)
I didn't know a whole lot about Sharpe going into the Senior Bowl, but he impressed the first two days of practice before leaving with an injury/family emergency. He has small hands, but they proved to be strong as he consistently showed an ability to high-point the football and pluck it out of the air. Sharpe's height is ideal, but he'll need to add muscle to his frame to get off NFL jams. If he had elite speed, he'd be an early round pick, but he still has the ability to surprise as a rookie in 2016. The Bears need depth at wide receiver and Sharpe would be a great addition.
6th Round, No. 10 – CB Deiondre' Hall, Northern Iowa (6-1 5/8, 192)
Early opinions are mixed on the tall, long corner who will be making a big jump up from the FCS level. Hall got a lot of people in Mobile excited when he measured in with 34 3/4-inch arms and a ridiculous 82 3/8 wingspan, but the reality is that his play during Senior Bowl practices left a lot to be desired.
On measurables alone, Hall projects as a good fit in Vic Fangio's defense and he comes from a 3-4 hybrid scheme where he played a lot of press-man coverage. His long arms allow him to get his hands on the football a lot and he registered 13 interceptions in college, returning four of them for touchdowns.
But I see two major problems that will prevent him from being an early starter: He doesn't have the strength to be able to jam at the NFL level like he did so easily in the FCS, and his change of direction and reaction skills are too slow to play off-coverage on a regular basis. Ohio State's Braxton Miller — who isn't exactly a polished route-runner yet — proved as as much when he made Hall look silly during Senior Bowl practices.
The bottom-line is that Hall is very raw. He has potential if he can add strength to jam NFL wideouts, but I think it's just too risky to invest a third or fourth round pick in this kid, as some have suggested. He's a late-round pick in my opinion, it will not surprise me if a team reaches on him earlier just given the measurables.
6th Round, No. 29 – OT Tyler Johnstone, Oregon (6-6, 295)
Trivia question: Who did Tyler Johnstone share time with at left tackle in 2012? The answer: Kyle Long.
In fact, Johnstone was so good as a freshman that it was Long who was moved to left guard when an injury created the need. And when Long was drafted in the first round by the Bears in 2013, it didn't seem like it would be long before Johnstone joined him as a fellow first round pick.
But then Johnstone tore his ACL. Twice.
The first tear happened at the end of the 2013 season and the second early in fall camp in 2014, costing him the entire season. Finally able to play again in 2015, Johnstone was pretty rusty and struggled early on before finishing the season strong.
It's Johnstone's resiliency that will convince a team to still use a draft pick on him. The medical examinations will be interesting — and probably determine his fate — but there are still signs that he can play in the NFL. He's a very physical and tenacious blocker, carrying the same nastiness that attracted the Bears to Long and center Hroniss Grasu, who also played at Oregon. If the doctors sign off, Johnstone is definitely worth a chance in the sixth round.
6th Round, No. 32 – DE Dean Lowry, Northwestern (6-6, 295)
I've been very surprised with the lack of attention given to Lowry so far in the draft process. I thought he was worthy of an invitation to the Senior Bowl, but he never got the call, even after a strong week at the East-West Shrine Game.
If nothing else, Lowry can lean on his game film to get drafted (check out the Nebraska tape with six TFLs and two sacks). He might not have the explosiveness that suggests he'll be a dominant pass rusher at the next level, but he's a very sound, reliable player who will provide good depth at a minimum.
While Lowry played in a 4-3 at Northwestern, his size and ability to set the edge suggests to me that he can be a good five-technique playing opposite of a more elite pass rusher (like Buckner). He'll hold his own against NFL offensive linemen, stop the run and clean up when the action is forced his way. This is an easy pick in the sixth round.
7th Round, No. 9 –  OLB Dadi Nicolas, Virginia Tech (6-3, 235)
After racking up 18.5 TFLs and nine sacks in 2014, many thought Nicolas would leave Virginia Tech early.
He probably should have.
Shockingly, Nicolas' numbers dropped to just seven TFLs and 2.5 sacks in 2015. Even when factoring in the obvious attention and double-teams he received, those numbers are awful.
He's also a tweener who doesn't project as a defensive end at the NFL level. Factoring in his poor senior season, lack of an obvious position, and even a report from Mobile indicating he was struggling in team interviews, it's no wonder his draft stock has plummeted.
All that said, Nicolas has very good athleticism (the Combine should help him) and with the right coaching could develop into an above-average edge rusher in a 3-4 defense. The Bears should feel good about their OLB trio of Pernell McPhee, Lamarr Houston and Willie Young, but they need to look toward the future with younger depth. With nine draft picks, it would be surprising to see Pace ignore the outside linebacker position in the draft for the second year in a row.
Nicolas is big time boom-or-bust prospect, but in the seventh round, that's fine, especially because he should be a very good special teamer.
Adam Hoge covers the Chicago Bears for WGN Radio and WGNRadio.com. He also co-hosts The Beat, weekends on 720 WGN. Follow him on Twitter at @AdamHoge.