This is an archived article and the information in the article may be outdated. Please look at the time stamp on the story to see when it was last updated.
Sports Central airs Monday – Friday, 1pm – 2pm, on wgnradio.com and WGN Radio app
On Tuesday, January 30, WGN Radio launches Sports Central, a new sports show streaming weekdays from 1pm to 2pm on wgnradio.com and the WGN Radio app.
Hosted by Adam Hoge, Sports Central will serve as WGN Radio's daily hub for Chicago's sports conversation. The show will focus on the day's top stories and a "best of" the station's sports content. Sports Central airs immediately after the bonus hour of The Bill and Wendy Show on the stream.
"Listeners can interact with Sports Central live while also having the freedom to consume it on-demand throughout the day," said host Adam Hoge. "There's no better place to launch than from Radio Row at the Super Bowl. I can't wait to get started!"
Sports Central broadcasts live from Minneapolis leading up to the big game on February 4.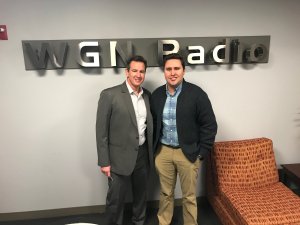 In addition, Chris Boden, Radio Studio Host for the Chicago Blackhawks, joins WGN Radio's weekly podcast "Blackhawks Crazy" as co-host. Boden will join WGN Radio's hockey insider Scott King for this fun and informative listen offering an in-depth look at the team. WGN Radio's on-demand sports content, including blogs and podcasts like "Blackhawks Crazy" can be found on wgnradio.com.