This is an archived article and the information in the article may be outdated. Please look at the time stamp on the story to see when it was last updated.
David Chandler is a master furniture maker who decided to use his unique skill set to make baseball bats safer. David's company, Chandler Bats, makes high-end baseball bats for some of the greatest hitters in the game, Chicago Cubs Kris Bryant, Dexter Fowler, and Jorge Soler. David joins Roe Conn and Anna Davlantes to talk about how the unique coating on his bats helped the Cubs beat the Dodgers and advance to the World Series for the first time since 1945. Plus, David brought a very special custom bat for Anna that features a hand painted rendition of the Chicago skyline.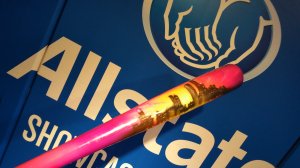 Follow your favorite Roe Conn Show characters on Twitter, we'll follow back, we promise!
Follow @RoeConn Follow @AnnaDavlantesFollow @WGNGoodBuyGirl Follow @VioletaPod Follow @kpowell720
And be sure to follow Roe on Facebook!