This is an archived article and the information in the article may be outdated. Please look at the time stamp on the story to see when it was last updated.
Outside the Loop Radio with Mike Stephen
Saturdays 5-6 a.m.
Outside the Loop Radio is a weekly audio magazine featuring fun segments and interviews with local newsmakers, artists, musicians, and others who are doing some cool stuff around the Chicago area. The show covers topics that don't always get the proper attention in the media, all with a strong and independent Chicago slant. OTL provides for discussion that goes beyond just the headlines in our local papers.
For more on Outside the Loop Radio, visit outsidetheloopradio.com.
To subscribe to the OTL podcast, please visit our iTunes page or RSS feed.

Mike Stephen (Storyteller, Urbanologist, Golden Voice) …
…was raised in Elmwood Park, just on the outskirts of Chicago proper. He graduated from Loyola University, where he worked at WLUW 88.7-FM. After kicking around at various internships in Chicago radio, in 2001 he landed at the legendary WGN Radio where he produced a variety of shows over the course of six years. He enjoys inspiring people of all ages.
Mike enjoys the color blue, doing athletic type stuff, blowing on harmonicas, collecting Star Wars memorabilia, and drinking anything in bars.
Collin Seaman …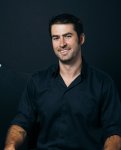 …received his BA in Radio and Television from San Francisco State University. He has 10 years experience working in media production and digital marketing. Since moving to Chicago in '09, he's worked as a Director and content creator for brands such as Nike, World Kitchen, Kenmore, MSD, Craftsman, and many more. He is humbled and honored to be working at WGN Radio as a producer for Outside the Loop.
When not focusing on media, Collin runs, drums, volunteers, travels, and keeps Mike Stephen's head small enough to fit through the door.