This is an archived article and the information in the article may be outdated. Please look at the time stamp on the story to see when it was last updated.
HOMETOWN VOICES TOUR
Presented by Allstate
The Allstate Hometown Voices Tour makes its next stop in Willowbrook on Friday, November 21st!
Bill Leff and Wendy Snyder are broadcasting live from  Dell Rhea's Chicken Basket from 3pm-7pm. Enjoy the "best Chicagoland chicken" with a $7.95 Chicken Basket special at the historic Route 66 establishment .
Dell Rhea's Chicken Basket
645 Joliet Road
Willowbrook, IL
The WGN Radio Hometown Voices Tour to Willowbrook, Illinois is presented by Allstate Agent Rick Kaleel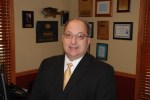 As an Exclusive Agent/Owner of an Allstate insurance agency for over 37 years,.  We been at our current location of  Downers Grove for the past 13 years.  I have won numerous awards with the company throughout the many years I have been with Allstate. We offer a complete line of property and casualty, life, and accident and health.
 I come from a long line of insurance agents including my father, his brother, myself, a son and son in law, along with a couple of cousins. I try to treat my clients as family (some of them actually are!) and am proud of the multiple generations of families that are part of my agency.  The trusted advisor title is really what sets us  apart from the "1-800" carriers.  I am always available to help consult with my clients, and it is a role that I take very seriously and enjoy.
 I grew up on the south side of Chicago and graduated from Fenger High School. My family moved to Downers Grove after my graduation and have lived in the area ever since. I attended college in Phoenix Arizona where I met my wife of 42 years and have 3 children and two grand kids.
 I have been a member of the Downers Grove Chamber of Congress,  been a baseball coach, and was VP of the Downers Grove High School boys baseball team. I also have sponsored and participated in the Autism Speaks fund raiser as my grandson is autistic.