This is an archived article and the information in the article may be outdated. Please look at the time stamp on the story to see when it was last updated.
HOMETOWN VOICES TOUR
Presented by Allstate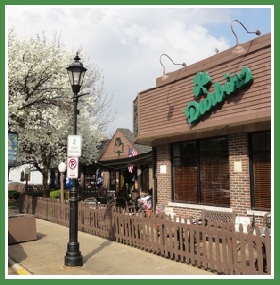 The Allstate Hometown Voices Tour makes its next stop in Tinley Park on Thursday, September 25!
Pete McMurray is broadcasting live from Durbin's from 7-11pm.  Check back soon for more details!
Durbin's Tinley Park
17265 Oak Park Ave
Tinley Park
The WGN Radio Hometown Voices Tour to Tinley Park, Illinois is presented by Allstate Agent Jay B Lindberg

Jay B Lindberg Agency
16575 So. Oak Park Ave.
Suite 225
Tinley Park, IL
708-429-1802
jaylindberg@allstate.com
An Exclusive Owner / Agent, of an Allstate insurance agency, located on Oak Park Avenue, Tinley Park, since June, 2010. An established agency, located within the Southwest Suburbs for over 25 years. We are licensed in Illinois and Indiana, to protect your assets, family, business and employees. We offer a complete line of property & casualty, life, accident & health protection. Our primary goal is to act as "your trusted insurance advisor". We provide outstanding customer service to both residents and businesses, throughout the south & southwest suburbs.
My working career began at the Chicago Sun-Times & Daily News, in the Classified Advertising Department. I accepted a job with R.H. Donnelley, publisher of the Illinois Bell Telephone directories. My positions included various sales and operational management roles, for nearly 20 years. Prior to purchasing our Allstate agency, I was with AT&T (Ameritech / SBC) in various posts, including Channel Account Manager, Global Account Manager and Authorized Distributor Manager. I am proud to bring over 40 years of experience networking and dealing with other businesses to our Allstate agency.
Our family has resided in the southwest suburbs for 27 years. Barb (my wife) & I were brought up in the south suburbs, both graduating from Homewood Flossmoor High School. We have 2 children and our very recent addition, a grandchild (born 7/20/14). Both Jennifer and Blake graduated from Carl Sandburg High School, Orland Park. Jennifer is the Director of Housing for the University of Northern Colorado, living with her husband Cord and their son, in Loveland, CO. Blake and his wife Melissa, live in Orland Park. Blake is my partner in the Jay B. Lindberg Agency. Blake will take over the agency upon our retirement.
I am an active member on the Tinley Park Chamber of Commerce, Board of Directors. Previously, on the Booster Board of Directors for the Orland Park Pioneer Football and Cheerleader program.
Our agency was awarded a "President's Council Member" designation for both our financial and volunteer efforts over the last 4 years, by Easter Seals Metropolitan Chicago. During the last two years, we have expanded our efforts to Together We Cope, Southwest Community Services and most recently, the Tinley Park Food Pantry.
We work closely with the Tinley Park High School & Oak Forest High School and The Allstate Foundation, promoting Operation Teen Safe Driving (OTSD). OTSD is a program which builds awareness to help save teen lives by eliminating driving distractions for teens. Not to mention, we have been asked to lead classes teaching the basics of automobile insurance, to driver's education students, in both schools. We employ students from Tinley Park High School, through their Cooperative Education Program.
Graduated, Florida Atlantic University, Boca Raton, Florida.
Alumni, University of Miami, Coral Cables, Florida.