This is an archived article and the information in the article may be outdated. Please look at the time stamp on the story to see when it was last updated.
HOMETOWN VOICES TOUR
Presented by Allstate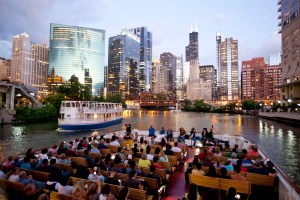 The Allstate Hometown Voices Tour makes its next stop along Lake Michigan on Tuesday, August 19!
Bob & Marianne are hosting a 3 hour summer cruise along Lake Michigan and want you to join in on the fun! Enter to win a pair of passes aboard Shoreline Sightseeing's "The Celebration" for a live broadcast from 12-3pm! Attendees will get to enjoy the majestic Chicago skyline views and beautiful summer weather.

Click here to enter. You must be a winner to attend.  Winners will be contacted on Thursday, August 14.
"The Celebration" Shoreline Sightseeing
Shoreling Sightseeing Ticket Booth
Navy Pier (Just south of Illinois Street at Gateway Park)
*Boarding begins at 11:30am. Dry snacks and beverages will be available for purchase only.
The WGN Radio Hometown Voices Tour to Chicago, Illinois is presented by Allstate Agent Joe Schneider

Joe Schneider is Agency Owner of the Joe Schneider Agency, an Allstate Insurance agency located in Chicago, IL. His focus is on protecting your assets and family from mayhem by ensuring that you have the appropriate products and coverage for your needs. He is licensed in Illinois to sell property and casualty, life, accident and health.
In his career with Allstate, Joe has won numerous awards for providing outstanding customer service and exceeding business expectations. He is a premier service agent, which is bestowed upon less than one-third of the agency force and recently was awarded the highly coveted Chairman's Inner Circle award, given to less than 2% of the Allstate Agency force. Joe's primary focus has always been the customer and he truly prides himself on providing an amazing customer experience to everyone that comes in contact with his agency. Prior to opening his agency, Joe worked as an outside homeowners insurance adjuster. It is this experience that has enabled Joe to communicate policy information in a clear and easy to understand way.
Joe is a 20 year cancer survivor and is actively involved in the Chicago non-profit community volunteering his free time with multiple organizations. Every summer, Joe travels to Washington DC to meet with his Congressman and Senators to discuss appropriate cancer research funding. Joe's cancer journey, told through his own words, was also included in the Chicken Soup for the Soul, The Cancer Book. His work with the community earned him a nomination for the 2014 Allstate Ray Lynch award, given to one Allstate agent for their work in the community each year. He is also a 2014 Kenny Smith Award winner for Leadership and Community Service
A native of Virginia, he holds a BS in Criminal Justice and Sociology from The University of Richmond.
Community Involvement:
Imerman Angels
The Leukemia and Lymphoma Society
LIVESTRONG Foundation
Movember USA
Awards:
Chairman's Inner Circle – 1 Year
Chairman's Conference – 2 Years
President's Conference – 2 Years
National Conference Award – 5 Years
Honor Ring – 8 Years
Allstate Leaders Forum – 2 years