This is an archived article and the information in the article may be outdated. Please look at the time stamp on the story to see when it was last updated.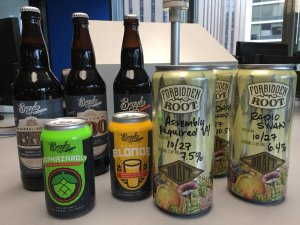 Brian Noonan is in for Dane Neal today during 'On The Road'. Brian on this short edition of the Brian Noonan Show is joined in-studio with Kevin Cary who is the owner at Begyle Brewing and the board president of the Illinois Craft Brewers Guild  along side Brian Krajack, general manager at Forbidden Root Restaurant and Brewery.
Kevin and Brian talk to Noonan about The Illinois Craft Brewers Guild barrel-aged beer festival and competition, FoBAB, that will be happening on November 16-17 at UIC Forum (725 W Roosevelt Rd.) in Chicago. More than 200 craft breweries from across the United States will showcase their rarest, most innovative wood and barrel-aged brews, each of which has been aged in a wooden barrel or in contact with wood. Nationally recognized for its unique and inventive barrel-aged beer, cider, and mead, FoBAB 2018 is expected to draw over 8,000 attendees to Chicago for the two-day event.
The FoBAB is on Friday Nov. 16  from 6:00 – 10:00 p.m. and Saturday Nov. 17 from 1:00 – 5:00 p.m. and then again at 6:00 – 10:00 p.m. FoBAB will be held at the UIC Forum at 725 W. Roosevelt Road in Chicago, IL 60608. Get your tickets here!
[audio http://serve.castfire.com/audio/3561089/3561089_2018-10-27-174829.64kmono.mp3]