This is an archived article and the information in the article may be outdated. Please look at the time stamp on the story to see when it was last updated.
Osteoporosis and You
According to U.S. Department of Health and National Institutes of Health, in United States, more than 40 million people either already have osteoporosis or are at high risk due to low bone mass. Osteoporosis can occur in both men and women and at any age. In the United States, bone diseases affect 10 million people and cause approximately 1.5 million fractures per year, and 50% of women (and 25% of men) over the age of 50 will have an osteoporosis-related fracture in their lifetime. In addition, a woman's risk for an osteoporotic caused hip fracture is the same as her breast, ovarian, and uterine cancer risk combined.
These statistics are very alarming, however there is a solution that can help. Break4Health offers a non-pharmaceutical and non- invasive approach to help aid in bone mass gains. These revolutionary technologies use the principals of whole body vibration and osteogenic loading to help reverse osteoporosis and osteopenia. Best of all they can be completed quickly, efficiently, and safely.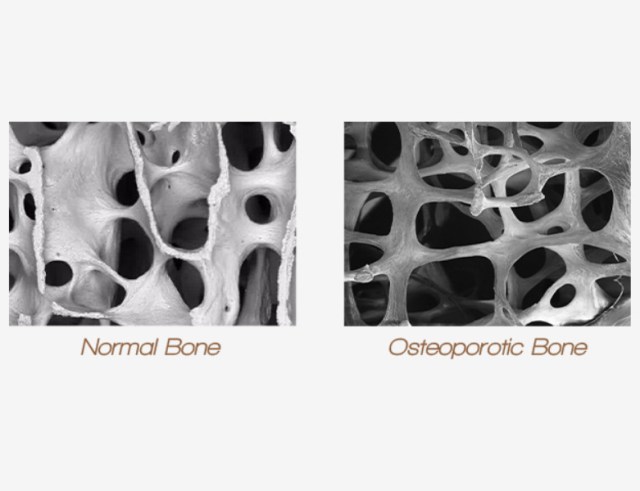 What is Osteoporosis?
Osteoporosis is a deconditioned state in which bones become weak and get worse over time. It is a loss of bone mineral density and bone mass, which can cause your bones to become fragile and more likely to break. You may not realize this is happening in your body because you can`t feel your bones getting weaker. People with osteoporosis most often break bones in the hip, spine and wrist. Osteoporosis is serious but we do not accept that it is has to be a normal part of aging.
What causes Osteoporosis?
Many risk factors can lead to bone loss and osteoporosis. Some of these things you cannot change and others you can.
Risk factors you cannot change include:
*Gender. Women get osteoporosis more often then men.
* Age. the older you are, the greater your rid of osteoporosis.
* Medication use. Some medicine increase the risk of osteoporosis.
* Body size. Small, thin women are at greater risk.
* Ethnicity.White and Asian women are at highest risk.
Black and Hispanic women have a lower risk.
* Family history.Osteoporosis tends to run in families. If a family member has osteoporosis or
breaks a bone, there is a greater chance that you will too.
Other risk factors are:
* Sex hormones. Low estrogen levels due to missing menstrual periods or to menopause can
cause osteoporosis in women. Low testosterone levels can bring osteoporosis in men.
* Anorexia nervosa. This eating disorder can lead to osteoporosis.
* Calcium and vitamine D intake. A diet low in calcium and vitamin D makes you more prone to
bone mass.
* Activity level. Lack of exercise or long-term bed rest can cause week bones.
* Smoking. Cigarettes are bad for bones, and the heart, and lungs, too.
* Drinking alcohol. Too much alcohol can cause bone loss and broken bones.
Additional Resources
To learn more about Osteoporosis and Osteogenic Loading visit the Osteoporosis Institute.
Click to read more at break4health.com.