This is an archived article and the information in the article may be outdated. Please look at the time stamp on the story to see when it was last updated.
Hear Kevin Pang reveal his fast food Top 10 to Bob and Marianne.
A Sirott-Murciano exclusive!
My Top 10 favorite fast foods of 2013.
1. Auntie Anne's Pretzel dog. A buttery, warm, slightly crisp pretzel cocoons a garlicky, zesty Nathan's Famous wiener. Every time I see an Auntie Anne's, I must stop for one. Must.
2. Steak 'n Shake's Original Double 'n Cheese. Steak 'n Shake has converted my burger preference from lumberjack-thick and red-in-the-middle to thin, crisp, beefy patties. Steak 'n Shake's are seared on a griddle, transforming the edges into a beef chip.
3. Five Guys' french fries. Creamy in the middle, crisp on the exterior, skin on, with a dusting of Old Bay seasoning. McDonald's has forever had a stranglehold on best fast food fries, but this may no longer be the case.
4. Red Mango's frozen yogurt. Why choose ice cream and its astronomical caloric count when frozen yogurt satisfies without the excess fat and sugar? Red Mango's frozen yogurt is velvety, tart and a topping of its namesake fruit is perfect on summer nights.
5. Wow Bao's spicy Mongolian beef. Of the assortment of steamed buns offered at Wow Bao, its spicy Mongolian beef is the best of the lot: Minced beef with ginger, garlic, bamboo shoots and blackened chilis. Complex, spicy and warming.
6. Popeye's spicy fried chicken. My childhood nostalgia roots for KFC, but my adult palate appreciates Popeye's more. Crispier breading and more zing than the Colonel makes for the best fried chicken in fast food chain land.
7-tie. Sonic's cherry limeaid. Tart, fresh limes are mellowed a touch by cherry's sweetness. The key here is the shaved ice. There's something about hearing the slosh in the cup that's especially satisfying. Also, Chick-fil-A's lemonade. Chick-fil-A's lemonade achieves that hard-to-balance sweet-tang equilibrium, without tasting of artificial additives. It's made from scratch in stores each morning.
8. Chipotle Chicken Burrito. I love that Chipotle's always been a conscientious chain, working with local farmers and using humanely-raised meats. And of course, the food is well thought out, and their chicken burrito is my favorite.
9. McDonald's Sausage McMuffin with egg. The best breakfast sandwich around, especially when you get an English muffin that's extra toasted and crunchy. Sausage, egg and cheese — none too greasy — is a classic combination that will work forever.
10. Wendy's Jr. Bacon Cheeseburger. If you're craving a burger while staring at your waistline in disgust, opt for a Jr. Bacon Cheeseburger. In 2010, Wendy's updated its bacon too — thicker, crispier, more pronounced applewood taste. It's a tide-you-over type of burger.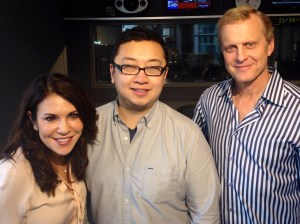 Normal
0
false
false
false
EN-US
X-NONE
X-NONE
MicrosoftInternetExplorer4
/* Style Definitions */
table.MsoNormalTable
{mso-style-name:"Table Normal";
mso-tstyle-rowband-size:0;
mso-tstyle-colband-size:0;
mso-style-noshow:yes;
mso-style-priority:99;
mso-style-parent:"";
mso-padding-alt:0in 5.4pt 0in 5.4pt;
mso-para-margin:0in;
mso-para-margin-bottom:.0001pt;
mso-pagination:widow-orphan;
font-size:10.0pt;
font-family:"Times New Roman","serif";}