This is an archived article and the information in the article may be outdated. Please look at the time stamp on the story to see when it was last updated.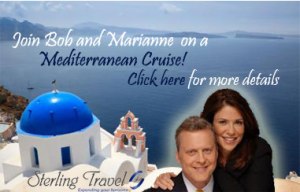 Join Bob Sirott & Marianne Murciano in the Mediterranean sailing the All-Suite, All-Balcony, Totally Renovated Regent Seven Seas Mariner.
Turn the pages of history on a journey brimming with art, culture and storybook charm. Stir your imagination with Greek theatres and Roman temples. Then indulge your peaceful, meditative side on sun burnished coasts and romantic isles. The legendary Mediterranean captivates with tinkling fountains, fragrant lemons and fabled wines. It will open your ears, widen your eyes and fill you with awe from beginning to end.
It's your time to explore sun-lit shores aboard a ship that weaves six-star luxury and authentic, in-depth travel into one single, unforgettable voyage. Each morning, the sun peeks over the horizon, bathing your private balcony with golden light. Enjoy all-inclusive cruising with Regent Seven Seas Cruises offering dining in Signatures, an exquisite restaurant that bends traditional and modern French cuisine, one of the four single, open-seating restaurants, and the highest level of personal service aboard the 700-guest Seven Seas Mariner. And who better to heighten your travel experience with than radio personalities, Bob & Marianne.