This is an archived article and the information in the article may be outdated. Please look at the time stamp on the story to see when it was last updated.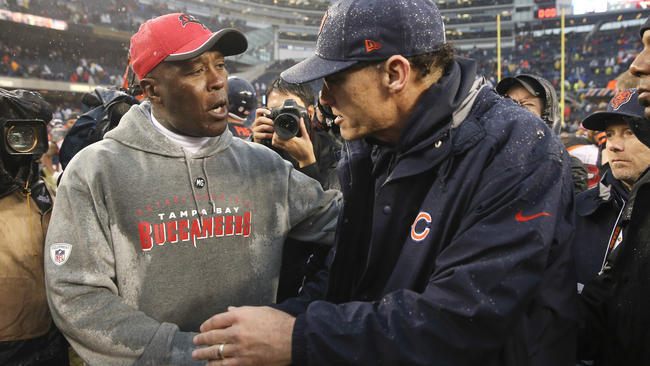 CHICAGO — The Buccaneers are who we thought they were — not very good.
And that's why the Bears' first half performance Sunday at Soldier Field was just as startling as either of their blowout losses in New England and Green Bay this season.
You know that doomsday scenario in which the Bears lost to the head coach they fired after a 10-6 season? The first half was worse than that.
The Buccaneers, frankly, looked awful. And yet, they had a 10-0 lead at the half because the Bears looked even worse.
According to Matt Forte and Martellus Bennett, head coach Marc Trestman told the team at halftime that they had played their "worst half of football", which is saying something considering the Bears were losing 38-7 to the Patriots at halftime and 42-0 to the Packers at halftime earlier this season. They set franchise records for first half points allowed in each of those games.
"Coach came in said, 'Hey, we're playing shi**y.' We already knew we were playing shi**y, so he just confirmed what we we're already thinking," Bennett said.
So what was the reaction from the players?
"Verbally, we questioned guys," Cutler said about what was a very vocal halftime locker room. "Made sure everyone was in this for the right reasons. Made sure when we left that locker room, everyone's mind was right on what we wanted to accomplish."
According to Cutler, Trestman challenged the offense and the players "challenged each other."
That included Bennett, who spoke up and said "stuff that Martin Luther King would have said if he played football," according to him.
"Yes, people were verbally challenged," Bennett said. "We're always challenging, physically, verbally. I think we're just leaning on each other for emotion and passion right now. Whoever can bring it, that's what we want. Wherever it comes from, we don't care."
It's been a season full of questions about coaching, leadership and identity — and from the sounds of it, those same questions were being asked inside the Bears' locker room at halftime.
"Everybody is just trying to get as much passion and emotion into every single thing that we do," Bennett said. "And I think that's what we're communicating verbally to each other right now. That it really matters. That guys really really care and not just one person, but everybody verbalizing in the locker room. Everybody wants to know that hey, this really matters. Hey, this is important to me, it's important to my family, it's important to you that I do my job. So that's basically what we've been communicating to each other."
At times this season, questioning the heart and desire of the Bears has been overkill, but Sunday was not one of those times. The offense was facing the 27th ranked defense in the NFL, one playing without star linebacker Lavonte David. Furthermore, it was a defense everyone on the Bears' offense is familiar with — not just because Lovie Smith used to run it in Chicago, but because Mel Tucker still runs most of it in Chicago. From a scheme and talent standpoint, there was absolutely no reason why the Bears should have been shutout in the first half — the third time in five games that that has happened.
"I don't think guys were frustrated (at halftime)," Bennett said. "I think it was more like, 'God damn, what the hell are we doing right now?' I was like, 'I don't know what the hell is going on, but this isn't us. We got 68 yards. We gotta come out here and do our thing.'"
Apparently it worked, because the Bears outscored the Buccaneers 21-3 in the second half to secure a 21-13 victory.
But here's the problem for the Bears' offense: The defense led the comeback just as much as the offense did. After an impressive six-play, 58-yard touchdown drive to start the second half, the last two scores came after the defense came up with timely takeaways and gave the Bears the ball at the Bucs' 13-yard-line and the Bucs' 15-yard-line.
And from there, the Bears punted on four straight series.
On one hand, it's great that the defense came up with four takeaways in the game (interceptions by Chris Conte and Ryan Mundy to go along with forced fumbles by Demontre Hurst and David Bass). And it's great that the front-four pressured Josh McCown all game with total of five sacks and 13 quarterback hits (Stephen Paea had an especially strong game with two sacks, three quarterback hits, two tackles for loss and forced fumble). But for all the good the defense Sunday, did the offense really do anything to make you think the problems are solved?
"In the moment, after the game, a win is a win," Cutler said. "Tomorrow, we'll talk about it and see exactly why we didn't win the way we wanted to win, if that's even a thing."
It is a thing. And it's been a thing in each of Bears' last two wins — unimpressive victories against the Vikings and Buccaneers.
But unimpressive wins are still better than losses, and the Bears are now 5-6, still not mathematically eliminated from the playoffs.
Now they have just three days to figure out how to beat a much better opponent on the road Thursday in Detroit. Until then, this is still a team that hasn't put together a full four quarters of good football in a single game this season. And because of that, this is still a team that hasn't made anyone think they have what it takes to win the final five games on the schedule.
Maybe a Thanksgiving win over the Lions would start to change that.