This is an archived article and the information in the article may be outdated. Please look at the time stamp on the story to see when it was last updated.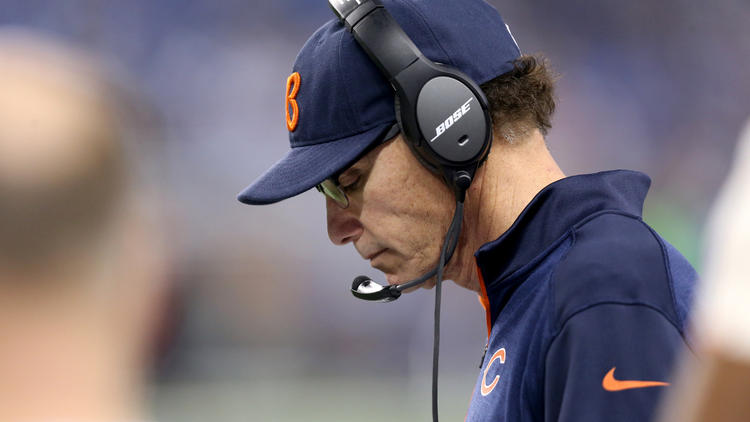 DETROIT — Marc Trestman officially punted on the 2014 season with 5:07 remaining in the Bears' 34-17 loss to the Lions Thursday.
Technically, the Bears' postseason hopes ended three weeks ago in Green Bay when the Bears fell to 3-6 with a 55-14 loss. Mathematically, the Bears still aren't dead, even if it would take a calculus professor to figure out how they can still make the playoffs.
But, officially, here's reality: The Bears needed to beat the Lions Thursday to have any chance of salvaging an extremely disappointing season, and Marc Trestman should have approached every single down like it was the last of 2014.
Especially since that's what he's been preaching to his players since the embarrassing loss in Green Bay.
But with the Bears losing by 17 with 5:07 left in Thursday's Thanksgiving dud, Trestman elected to punt on 4th & 13 from his own 17-yard-line, a move that only made sense if he was waving the white flag on 2014.
Would the Bears have converted the 4th-and-long? Probably not. Would they have somehow found a way to erase a 17-point deficit and win the game even if they did convert the first down? Probably not. And even if they had completed a miracle comeback against the Lions, would they have won their last four games and received the help they needed to make the playoffs? Probably not.
But that's not the point. If every game is supposedly a season in and of itself (a Trestman mantra that has since morphed into every down being a season in and of itself) then the only thing to do in that situation is to go for it on fourth down.
Instead, Trestman elected to punt.
"I just didn't want to put our defense in a position at that — If it would have been a shorter distance, something more manageable, I think that would have been the right decision," Trestman said. "But not with that kind of yardage to go."
It's as if Trestman caught himself mid-sentence realizing that being worried about pinning your defense back at that point of the game is futile. So instead he resorted to being worried about the distance, something that of course doesn't matter when punting the football effectively ends your season.
Yes, theoretically the Bears could have gotten three straight stops (despite every ounce of evidence suggesting otherwise) and used all three of their timeouts to get the ball back quickly, but then how do you expect to erase a three-possession deficit with no timeouts in under five minutes?
You can't.
Intentional or not, punting the football in that situation sent the message that the Bears were giving up.
Again, the sequence didn't really have an impact on the outcome of the game or the 2014 season, but it was indicative of how the Bears have been led this year.
Just like a number of other plays from Thursday's loss were also indicative of the 2014 Bears:
– Roberto Garza's holding penalty in the second quarter, which stalled a drive and handed all momentum to the Lions, who had just closed the deficit to four points after the Bears had jumped out to a 14-3 lead. The Lions took the lead on the ensuing drive and never looked back.
– Senorise Perry making a great tackle in punt coverage, but celebrating while the football was sitting on the ground (replays showed Jeremy Ross was probably down, but how many times have you seen the Bears not pick up loose footballs in the last two seasons?)
– Brandon Marshall going down in-bounds with less than two minutes to go instead of getting to the sideline (although if the head coach was waiving the white flag, then I guess Marshall should be excused).
– Defensively, pick a play. Coverage was nowhere to be found, as Matthew Stafford racked up 390 passing yards on 34 completions.
Picky? Maybe. But you know who else is picky? Coaches and general managers — well, at least they should be.
Publicly, all the Bears' front office and coaching staff has done this season is protect a roster of mostly underachievers, leaving accountability in the dust.
And of course, Trestman did that again Thursday, lauding the amount of work his team has put in over the last three weeks — which included two ugly wins against two bad teams and a reality check against the Lions.
Thursday's loss was a familiar story: A questionable game plan (48 pass attempts to just seven runs), a lack of adjustments (the offense essentially shutdown after the Lions realized that all they had to do was defend short passes), and a defense that was lost and overmatched.
The Bears worked the field so horizontally Thursday you started to wonder if they thought the sideline was the end zone.
"We're definitely underachieving," Matt Forte said. "Some guys have to do some soul searching for the rest of the season to figure out how they want to play the rest of these games."
That's about as close as Forte — a true professional — will ever come to calling out his teammates, but if there is one person in that locker room qualified to do so, it's him. And yet, amazingly, Forte only received five carries Thursday. Five. The Bears' best offensive weapon received five carries.
Yes, someone needs to do some searching. The head coach/play caller needs to search through the playbook for a better way to use his best player.
Of course, at this point, that would be too little too late. And with four games left — two of which are primetime contests on national television — what is this team left to do?
"I don't think anybody is going to quit," Cutler said. "I don't think the coaches will let us."
Unfortunately, Trestman's decision to punt says otherwise.
Adam Hoge covers the Bears for 87.7 The Game and TheGameChicago.com. Follow him on Twitter at @AdamHoge.