This is an archived article and the information in the article may be outdated. Please look at the time stamp on the story to see when it was last updated.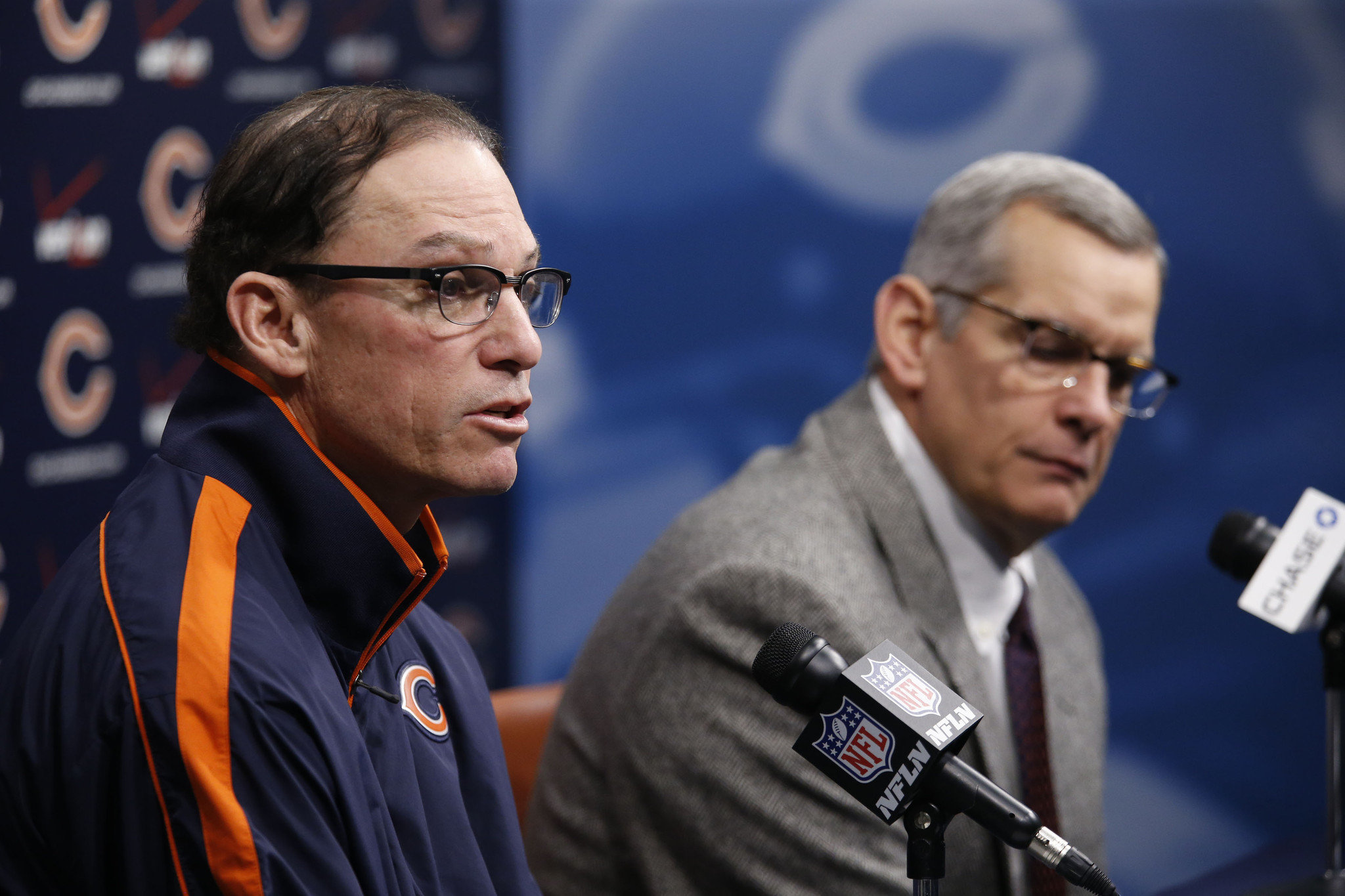 LAKE FOREST, Ill. — Assuming that someone inside the Bears' organization is actually going to take a step back and evaluate the state of the program, that person does not need to look any further than the declarations made by general manager Phil Emery and head coach Marc Trestman when they were hired to understand how far away this team is from success.
Not only have the Bears not reached Emery's and Trestman's own public expectations, but they've collectively fallen further away from them in each season.
On Jan. 30, 2012, at his introductory press conference, Emery promised to deliver a team that would "be consistent winners and consistently be in the hunt to win championships."
Plural.
Instead, he's produced a team that has regressed in each of his three seasons in charge.
Meanwhile, on Jan. 17, 2012, Marc Trestman walked up to the lectern at Halas Hall and made a number of declarations during a 15-minute opening statement as he was introduced as the Bears' head coach:
"There's going to be clarity and truth in our communication, created by a development of what I would call truly working on having authentic relationships with everybody in this building."
What unfolded with offensive coordinator Aaron Kromer in the last week underscores how far away the Bears are from this ideal. Whatever "authentic relationships" were established in the last two years are now scarred. And as for "clarity and truth in our communication," that's the last thing the Bears have excelled at in 2014, both on and off the field. Kromer's and Trestman's press conferences Friday are a reminder of that.
"There's going to be a sense of peer-to-peer accountability not just within each side of the ball, but connected to each and every phase our football."
No team lacks accountability more than Trestman's Bears. Skip practice to open a restaurant? No problem. Tell your own fans to "eat dirt"? Cool. Offer a Detroit Lions fan $25,000 to fight you? Sounds fun.
Just like the players haven't been held accountable, neither was Kromer, who was able to keep his job after breaching the trust of the team. When asked if he thought about firing Kromer, Trestman just said:
"Everybody on our staff is important. Everybody's important. And as I said already, Aaron has talked through this with you."
Actually, Kromer didn't talk through it with reporters. He admitted what he did, apologized and then refused to answer any questions about it, which may not have been by choice.
"I've, again, communicated my disappointment with him," Trestman said. "And we've moved forward in processing this. And we will continue to do that in getting ready for the Saints, which our team has done an excellent job of moving forward the last two days."
Nowhere in that response was an answer to whether or not Trestman actually considered firing Kromer, which makes a mockery of the idea of "peer-to-peer accountability."
"Our overall philosophy will be very simple. We want to create a locker room based on a humble, hard-working, disciplined environment. An even-keeled, yet passionate, common-sense, no-nonsense approach to our business."
Nonsense has been an overriding theme at Halas Hall this season and every time you think the nonsense can't be topped by more nonsense, the sun comes up the next day.
"To continue on this level of winning consistently and playing for championships, we got to play smart and we've got to play unselfishly. We've got to play tough, physical football — disciplined football."
In two years under Marc Trestman, the Bears have rarely appeared smart and unselfish, and the defense has certainly not been tough and physical. As for disciplined? Penalties have been a problem all year as the Bears have had 20 stalled drives due to penalties and can't run a special teams play without a yellow flag being thrown.
"On special teams, we all know it's winning the battle of field position. It's creating game-changing and explosive plays. We've seen it around here and we're going to use the best players when possible to get those plays run and those plays done during the course of a game. And, most importantly, we want to see our team's pride, we want to see our team's passion, within our special teams' play that will extend throughout our football team and in the stands."
Has any special teams unit in the NFL been as poor as the Bears' over the last two seasons? Even worse, the unit seems to be regressing, having just produced an all-time clunker against the Dallas Cowboys last week.
"I get to do the job I have the most fun with. I get to be the team's compass and roadmap. Or, in modern day terms, I get to be the GPS system of the team. Everyday our team will know where we are, where we're going and how to get there."
And where is this team again? Right now they've arrived at 5-8, headed for 5-11. Most would call that lost.
"What Phil is going to do, he and his staff are going to give their best efforts to give us, our coaches, the best players that he possibly can. And then what our coaching staff is going to do, they're going to embrace that opportunity to not only develop those players, but put them in a position with systems and a science of football that is flexible to their skills. And then together, in an on-going collective process, we're going to put a team together that the City of Chicago and its fan base will be very, very proud of. That's what we're going to do and I can't wait to get started, Phil, and doing it with you."
Sadly, the result has not only been a team that Chicago is not proud of, but one that has alienated and insulted its alumni. Many former players, including Patrick Mannelly, Brian Urlacher, Dan Hampton, Glen Kozlowski, Doug Buffone and Dez Clark, among others, have not been shy about voicing their frustration with this regime.
And then there's this:
"Finally, and most importantly, we all have to understand that the quarterback absolutely must play at an efficient level."
This, ultimately, was Trestman's most important job and something he clearly understood the day he was hired. But not only has Jay Cutler not played at an efficient level, he has somehow regressed under Trestman's tutelage.
These were expectations not set by the fans, the media, or even former players who still care deeply about the organization. These were expectations set by Emery and Trestman. And the problem isn't so much that the expectations haven't been met yet, it's that the Bears aren't moving any closer to meeting them.
Instead, they're moving in the opposite direction.
Adam Hoge covers the Bears for 87.7 The Game and TheGameChicago.com. Follow him on Twitter at @AdamHoge.