This is an archived article and the information in the article may be outdated. Please look at the time stamp on the story to see when it was last updated.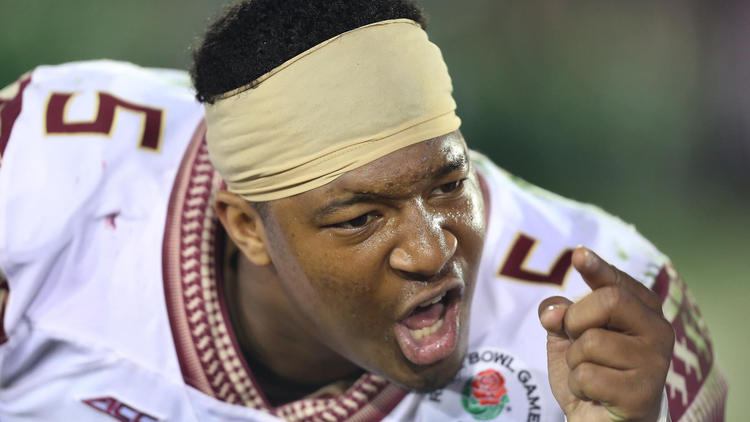 Jameis Winston was bound for Tampa ever since February when Buccaneers head coach Lovie Smith held a press conference at the NFL Combine and told the world he was willing to overlook reality because Winston hadn't been charged with a crime.
Asked if he'd be comfortable making Winston the face of the Tampa Bay Buccaneers, Smith said: "Right now, with the information that we have right now. I understand the allegations against him. I understand that he went through the justice system, the court system to be exonerated on some allegations against him."
Winston, of course, did not go through the court system because prosecutors refused to charge the Florida State quarterback after he was accused of sexually assaulting Erica Kinsman Dec. 7, 2012. In fact, saying Winston went through the justice system is laughable, when in fact the New York Times specifically detailed how the justice system repeatedly botched its investigation into Winston, essentially protecting him.
Even two weeks before the NFL Draft, as a civil lawsuit was filed against Winston by Kinsman, new information emerged that continued to show how poorly the case was handled by the Tallahassee Police Department and state attorney's office. Kinsman's legal team found a remorseful Facebook message posted by Ronald Darby, one of Winston's teammates and a witness to the alleged sexual assault, and also managed to find the cab driver who took Kinsman to Winston's apartment that night.
That's right. The Tallahassee Police and state attorney's office somehow didn't bother to check Facebook and were unable to locate the cab driver who took the alleged victim to Winston's apartment. Right.
Of course, none of this mattered to the Tampa Bay Buccaneers who had no problem selecting Winston with the No. 1 overall pick two weeks after this new information was revealed.
And then, four days later, via Peter King's Monday Morning Quarterback column, came this disturbing quote from Lovie Smith:
"There was a serious accusation we had to come to grips with. That was investigated three times. No charges were filed. I understand something happened. But when do you get to the point where you say, 'We have to let the courts decide, and we abide by their ruling?' They did not charge Jameis with anything. And at that point, I am going to make the judgment that I am not going to hold this incident against him."
So there it is. Straight from Smith. He understands something happened, but he's not going to hold it against Winston because he wasn't charged with anything.
The Bucs, of course, did their own investigation, interviewing a total of 75 people, according to MMQB. And yet, they didn't interview Kinsman, Winston's accuser. Why?
"We read the depositions," Bucs GM Jason Licht said. "We knew what she was going to say."
If this sounds familiar, it's because it is. After the Chicago Bears signed Ray McDonald in March, team chairman George McCaskey said they didn't talk to McDonald's domestic violence and sexual assault accusers because: "An alleged victim, I think — much like anybody else who has a bias in this situation — there's a certain amount of discounting in what they have to say."
Oh.
And then there's the Seattle Seahawks, who drafted Michigan defensive end Frank Clark in the second round Friday even though he was arrested and charged with two first-degree misdeamors for domestic violence and assault back in November. Amazingly, just before the NFL Draft, Clark was able to  reach a plea deal with prosecutors and ended up pleading guilty to a reduced charge of persistent disorderly conduct. He had to pay a $250 fine — essentially a speeding ticket — and won't have a domestic-violence conviction on his record.
Hello, second round.
And, just like the Buccaneers and Bears, the Seahawks said they conducted a thorough investigation of Clark, but their definition of "thorough" was even more loose. The Seattle Times revealed Monday that not only did the Seahawks not talk to the victim, they didn't talk to the witnesses who actually saw the attack occur. The details are frightening.
And then there's La'el Collins, a first-round worthy offensive tackle from LSU who went completely undrafted because police wanted to talk to him about a murder. They've insisted he's not a suspect, but just the association with a murder investigation resulted in Collins falling completely out of the draft.
So this begs the question: Why are teams willing to overlook domestic violence and sexual assault accusations, but not willing to touch a player who is merely being questioned by police in a murder investigation?
The answer is quite easy. You can't make a murder go away. You can't intimidate a dead body. You can't pay off a dead body.
In the real world, like murder, domestic violence and sexual assault is inexcusable. But in the NFL world, it's excused all the time, as long as you can play football.
The league might be talking like it cares more about domestic violence and sexual assault in the aftermath of last year's Ray Rice mess, but the actions paint a much different picture.
The NFL still does not care how its players treat women.
Adam Hoge covers the Chicago Bears for WGN Radio and WGNRadio.com. He also co-hosts The Beat, weekends on 720 WGN. Follow him on Twitter at @AdamHoge.