This is an archived article and the information in the article may be outdated. Please look at the time stamp on the story to see when it was last updated.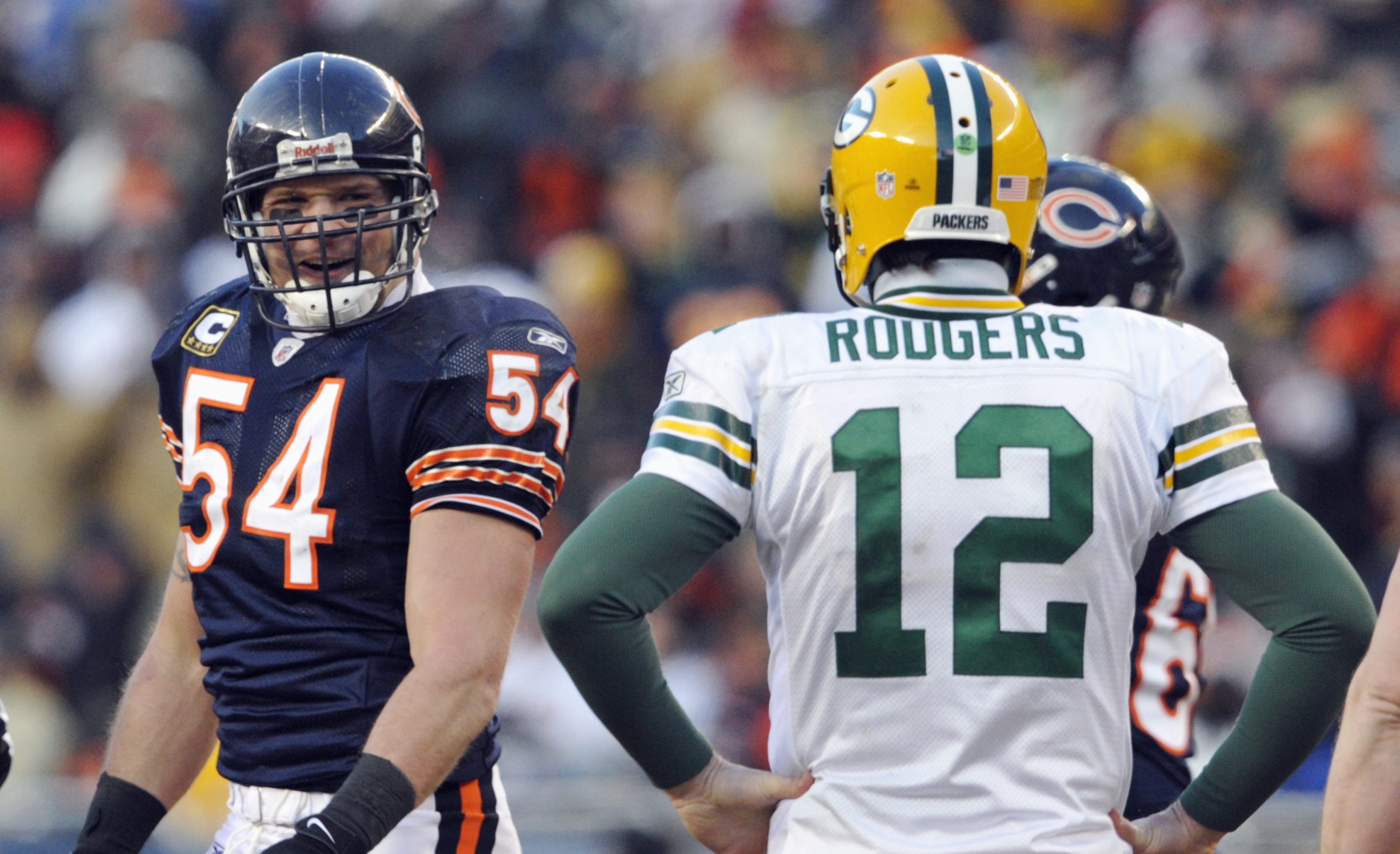 MINNEAPOLIS — For weeks, Brian Urlacher tried not to worry about getting into the Pro Football Hall of Fame. He insists he didn't think about it too much.
But that changed Saturday afternoon as he wondered if Hall president David Baker would be knocking on his hotel door. Urlacher started to get nervous.
"I think it was because it was finally down to decision time. I'm not a big stresser, I try not to do things that are going to stress me out. So I didn't think about it a whole lot up until this point," Urlacher told WGN Radio. "But today, about 3:30, I was like, OK, something should be happening soon — good or bad — so I got a little more on edge."
Urlacher was on edge enough to forget to take the "Do Not Disturb" sign off his door, which his wife likes to use when they stay in hotels.
When Baker arrived at the door, he turned to the cameras documenting the moment and asked, "Do you think he really means this?" Baker knocked on the door anyway. Urlacher was sure glad he did: "I said, 'You can disturb us, no problem.'"
And thus unfolded the best moment of the linebacker's storied career, topping the NFC Championship he won with the Bears in 2006 —another great accomplishment he said now moves to No. 2 on the list.
"I don't see how this couldn't be the (exclamation point on my career). I don't know what else I can do now. This is about as far as you get in the football world," Urlacher said.
There was little doubt Urlacher would get into the Hall of Fame, but it was unclear if it would happen in his first year on the ballot. In the end, it seemed like a pretty easy call, as Urlacher stood tall next to Randy Moss, Ray Lewis, Brian Dawkins, Jerry Kramer and Robert Brazile as the newest members of the Hall were introduced in a press conference. Terrell Owens and Bobby Beathard are also members of the 2018 class, but were not in attendance.
As Urlacher was being greeted by Baker in his hotel room Saturday afternoon, former teammates and opponents were gathering on the red carpet at the NFL Honors at the University of Minnesota, voicing their support for the former Bears linebacker. Of all the strong statements made, Packers quarterback Aaron Rodgers delivered the most impactful compliment.
"I think he's the smartest player that I've ever played against," Rodgers said. "No one has played the position like he did, with the freedom to check in-and-out of coverages. And obviously the talent is second to none — a guy that big, that fast, that athletic, and with those instincts."
When informed of Rodgers' comments, Urlacher reacted with a "wow" and needed a second to gather a response.
"It's a huge compliment coming from him. We had some good, good battles. We went back and forth. Most of our battles happened at the line of scrimmage before the ball was even snapped. So to have him say that means a lot to me," Urlacher said.
Former teammate Charles Tillman echoed a similar sentiment on the red carpet.
"Football IQ, I think that's what set him apart from everybody else," Tillman said. "He was the leader. He was the cornerstone. He was the rock. He was like that point guard. He set the tone, he set the pace for everybody. He was that big brother that you didn't want to let down."
Carolina Panthers tight end Greg Olsen, who played with Urlacher in Chicago for four years, focused on the linebacker's character.
"I think the best thing I can say about Brian is that he treated everybody in that organization — from the star quarterback all the way down to the ticket guy — the exact same. He made everybody feel important, he made everybody feel special. He was the ultimate leader. I can't say enough about what he did for me personally and so many other guys," Olsen said.
One of the first people to congratulate Urlacher Saturday was former Bears head coach Lovie Smith, whose Tampa-2 defensive scheme allowed the linebacker thrive.
"We didn't play 'run down the middle every play' Cover-2, we played attack-and-aggressive pass defense and we rushed the passer," Urlacher said. "So (Lovie) just let me do things with my athletic ability and be around the line of scrimmage more — more picks, more passing plays, so he developed me."
With Saturday's voting, Urlacher now becomes just the 28th linebacker in the Pro Football Hall of Fame, joining four other Bears linebackers in that group.
"It's unreal. It's a great thing, a great tradition. I'm happy to carry it on."
But mostly, he's just happy Baker ignored the "Do Not Disturb" sign on his door.
Adam Hoge covers the Chicago Bears for WGN Radio and WGNRadio.com. He also co-hosts The Beat, weekends on 720 WGN. Follow him on Twitter at @AdamHoge.