This is an archived article and the information in the article may be outdated. Please look at the time stamp on the story to see when it was last updated.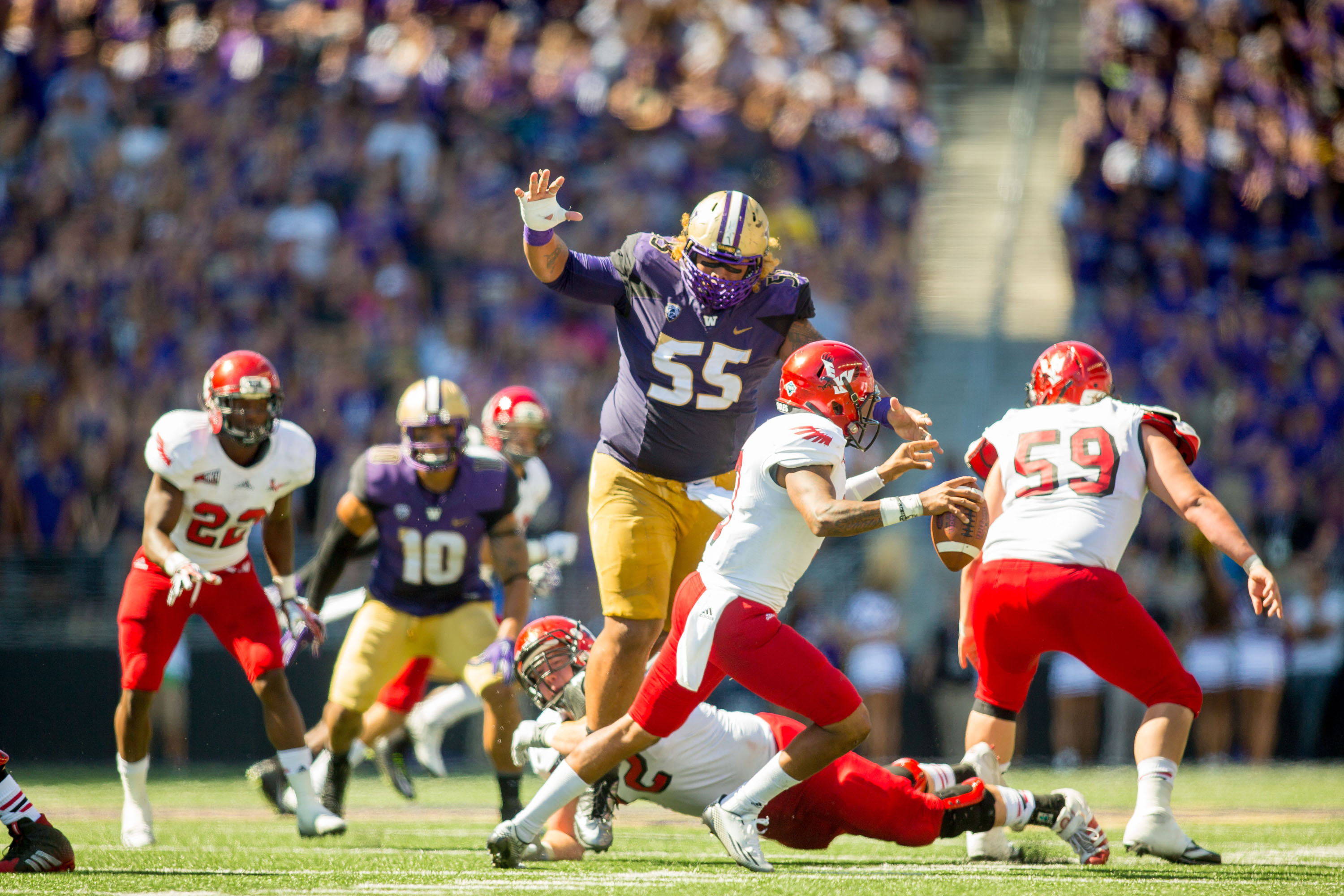 The NFL Draft is just about here, which means it's time for the fourth and final Bears mock draft of the offseason. As you'll see below, my 2015 Bears draft class has a very "defensive" feel to it, as I still believe that should be the main focus for new GM Ryan Pace and head coach John Fox.
If you missed any of the first three mock drafts, you can check them out here. As for Bears Mock Draft 4.0, let's get to the picks:
1st Round, No. 7: DT Danny Shelton, Washington (6-2, 339 pounds)
Shelton was my first round pick in Bears Mock Draft 2.0 and I still believe he's a very viable option at No 7 overall. His stock has dipped a little bit in the last couple of months, but that could be to the Bears' benefit as they could theoretically trade back a few spots and still land Shelton. Of course, finding a trade partner on draft day is never easy.
Shelton is a rare talent in that he's a true two-gapping nose tackle with legitimate pass-rushing ability. That makes him a very intriguing player in Vic Fangio's scheme and someone the new regime can build the defense around.
2nd Round, No. 7 (No. 39 overall): EDGE Owamagbe Odighizuwa, UCLA (6-3, 267)
Odighizuwa came in at No. 13 on my Bears Big Board, but most seem to believe he'll be drafted in the second round. That means, at least in my view, that the Bears would be getting tremendous value with the edge rusher at No. 39 overall.
Odighizuwa is a bit of a projection as a pass rusher because he wasn't asked by UCLA to strictly rush the passer that often, but when he did, he showed good potential. He's also very strong against the run and will be a reliable edge setter at the next level. Odighizuwa will be most successful if he's moved around and Vic Fangio's system would provide him that opportunity.
3rd Round, No. 7 (No. 71): S Cody Prewitt, Ole Miss (6-2, 208)
Surprise, surprise. The Bears taking a safety in the third round. Actually, after a strong Senior Bowl, I had Prewitt in the second round in Bears Mock Draft 1.0, but his stock has fallen since a poor showing at the NFL Combine. I'm sticking with what I see on tape and what I saw in person at the Senior Bowl though, and that's a free safety who can play at the next level. Prewitt came in at No. 17 on my Bears Big Board so if they can still land him in the third round, he would be steal.
4th Round, No. 7 (No. 106): WR Vince Mayle, Washington State (6-2, 224)
After going with three defensive players in the first three picks, it's time to go with a wide receiver in the fourth round. This is exactly where I had Mayle in Bears Mock Draft 3.0 and I'm sticking with him here because I think he has the highest upside of any of the wide receivers who will still be available. The former basketball player is still very raw and will need some coaching, but he has a rare size/speed combination and I like his potential working with wide receivers coach Mike Groh. Mayle is sleeper.
5th Round, No. 6 (No. 142): ILB Ben Heeney, Kansas (6-0, 231)
Heeney was a bit of an unknown when I had the Bears taking him in the seventh round of Bears Mock Draft 1.0, but since then he's helped himself even more and the Bears swapped their seventh rounder for a fifth in the Brandon Marshall trade. Heeney carried his strong momentum from the East-West Shrine Game over to the NFL Combine and turned some heads with the best short shuttle, 60-yard shuttle and 3-cone drill times of all the linebackers. Still, he's undersized and has limited strength, which on the surface doesn't make him an ideal 3-4 inside linebacker. But didn't Chris Borland prove that a highly productive, agile linebacker can overcome size limitations to play inside in a Vic Fangio 3-4 defense? Heeney's floor screams special teams captain, while his ceiling suggests he could provide significant depth at inside linebacker, something the Bears desperately need. He's worth a fifth round pick.
6th Round, No. 7 (No. 182): CB Imoan Claiborne, Northwestern State (5-9, 189)
Despite his limited size, Claiborne stood out at the Senior Bowl while taking a huge step up in class. He's probably destined to the slot, but shows the feistiness to be a good nickel corner at the next level. He can play man or zone coverage and his quickness and ball skills should translate to takeaways on Sundays. This is a depth pick and a good one in the sixth round.
Adam Hoge covers the Chicago Bears for WGN Radio and WGNRadio.com. He also co-hosts The Beat, weekends on 720 WGN. Follow him on Twitter at @AdamHoge.