This is an archived article and the information in the article may be outdated. Please look at the time stamp on the story to see when it was last updated.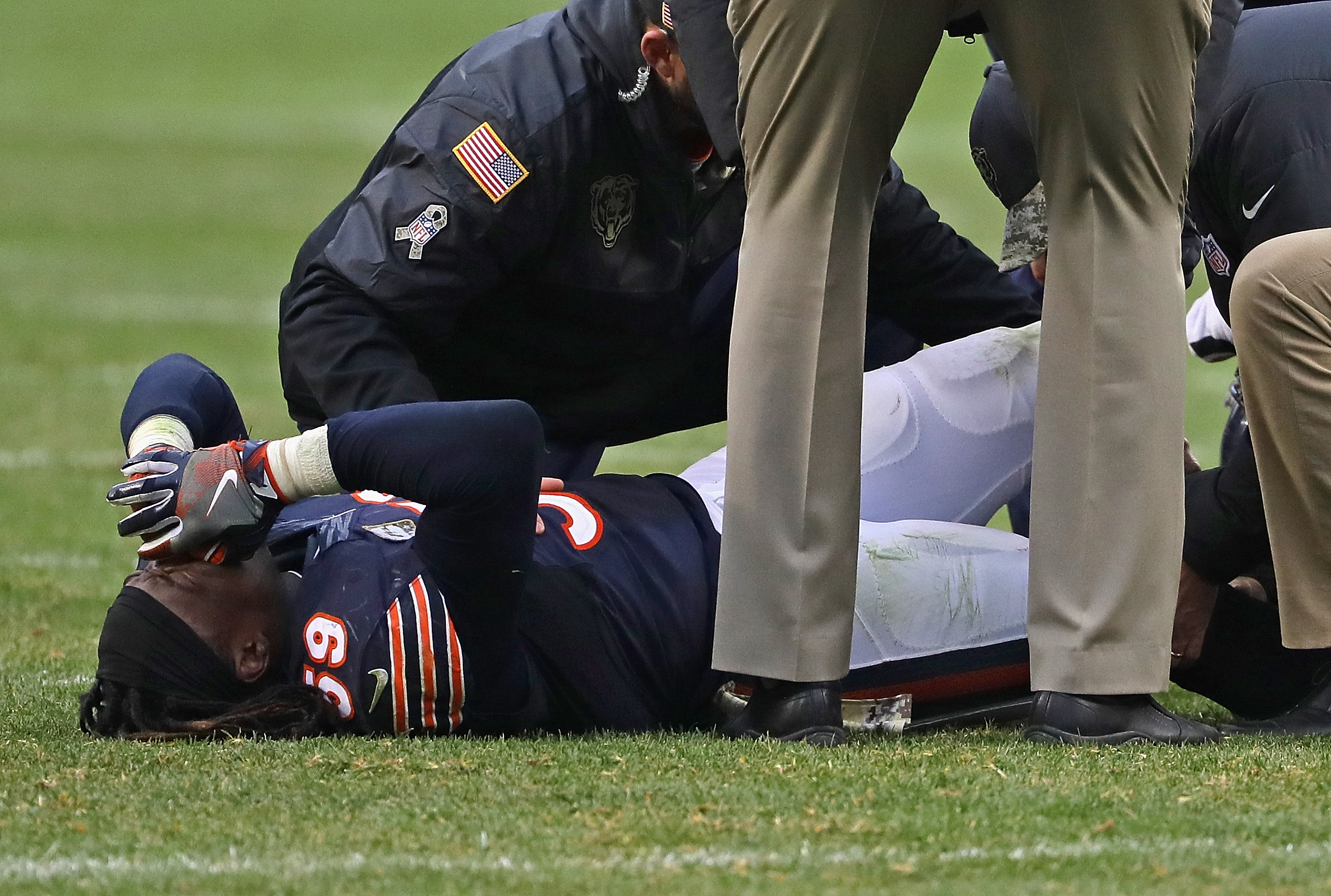 BOURBONNAIS — Danny Trevathan suffered a gruesome, ruptured patellar tendon in his right knee last November, but that wasn't the only thing that prevented him from having the type of debut season with the Bears that he wanted.
"I was partying a little bit, just because I came here a little bit later," Trevathan said. "I didn't really do what I usually do, which is get back to work, get right back to work, stay on it throughout the whole season, all of that. I wasn't myself."
The partying occurred after Trevathan won Super Bowl 50 with the Denver Broncos and before he signed with the Bears about a month and a half later. But the celebration and, perhaps, the literal Super Bowl hangover, cost him in 2016.
"It was a humbling experience for me and thank God I got people that (were) in my ear talking to me. Coach Fox, Ryan Pace, those guys did a great job communicating with me. They did a great job with pushing me and knowing the player that I am," Trevathan said.
Speaking Thursday at Olivet Nazarene University, it was obvious that Trevathan wasn't happy with his 2016 season. He mentioned multiple times that he could have "made more plays" before his season ending injury Week 12 against the Titans.
The extent of that injury potentially could have cost him his career. After suffering two fractures and a dislocated knee cap in his left knee in 2014, it was fair to wonder how Trevathan would handle a torn patellar tendon in his right knee — an injury that sometimes takes a full year to heal. Back in November, it seemed like a certainty that Trevathan would not be ready in time for training camp, but there he was Thursday with his helmet on, ready for the first practice.
"I'm looking to be even better," he said. "I didn't do as well as I thought I would last year — new scheme. I can make a lot of excuses, but that's not the type of person I am. I'm here to make this team better. They brought me here to help win some championships."
At this point, Trevathan is still limited and will be eased back into training camp slowly but the fact that the Bears did not place him on the Physically Unable to Perform list is a sign that they expect him to be ready for the regular season.
Long Returns Too
Trevathan isn't the only Bear coming off a serious injury that threatened his availability for training camp. Long's broken ankle — and the complications after surgery — kept him out of most of the offseason program. But Long was also able to practice on a very limited basis Thursday and credited Trevathan's attitude for pushing him during his recovery.
"I probably wasn't productive, or as productive, as I should be but being a lazy sack isn't what I'm good at," Long said about his early recovery time. "Getting back with the team has been awesome. And also being around guys like Danny, he's so optimistic every day. To be able to push me through recovery, it was a real blessing to have a guy like Danny with me in the training room."
Speaking with reporters for the first time since the end of last season, Long opened about the difficult ankle surgery and how it impacted his decision not have the torn labrum in his left shoulder repaired.
"I had real extensive surgery on my ankle and lower leg, both sides of my leg," Long said. "It was a really, really tough process going through that with the medication that they provided me — it was protocol, standard operating procedure — but my body didn't handle it very well. I just thought it was in my best interest being that the shoulder wasn't a super serious thing, it wasn't something that was going to limit me completely, to take it one procedure at a time. The timetable would not have added up to be able to be ready when I wanted to be ready."
To aid the injured left shoulder he will play with for the second straight season, the Bears are moving Long to left guard, with Pro Bowler Josh Sitton shifting to the right side. It will be the third position Long has played with the Bears in five seasons, and so far he's not sure if this switch is easier than when he moved to right tackle in 2015.
"I haven't really figured that out yet," Long said. "There's certain things that bug you as a player and there's certain things under your control and there's certain things you can capitalize on. I can take the knowledge I have acquired the last few years at guard and at tackle and apply it to my new position. Also having Charles Leno (at left tackle) is a great help."
It's Still Miller Time
Another player coming off a significant injury is tight end Zach Miller, who broke his right foot last November. Miller, now 32, has spent most of his career recovering from major injuries, including a broken left foot a few years ago.
"I mean, it's the same as always. Get through it. Grind through it. Do what's necessary," Miller said about his latest rehab. "There's a lot of things you've got to do to, there's little stuff. Boring things you need to get done to get back and get ready to grind through that rehab and then the rehab process itself and getting back into football."
Many wondered this offseason if the Bears would let Miller go, especially after they signed veteran Dion Sims and drafted rookie Adam Shaheen in the second round. Admittedly, Miller thought about that too.
"As things happen where they draft a guy, they sign a guy, are you going to be here? Are you going to be somewhere else? I mean it's the business side of the game," Miller said. "If there was (a time when I wondered about my job), it wasn't long. I've had multiple conversations with people that have a plan to play some football. We'll see how it unfolds."
Right now the Bears have a deep group of tight ends and Miller's job will likely only be in jeopardy if guys like Daniel Brown or Ben Braunecker earn roster spots, making a 32-year-old more expendable. Miller is still a good fit for the Bears and he knows exactly what he needs to prove to keep his job.
"Be healthy. I don't think ability-wise that there's any question I can play and Coach Fox always says ability is availability. I've got to be healthy, I've got to stay healthy and let my game kind of take care of itself," Miller said.
Play(s) Of The Day
There were two, and they both involved rookie quarterback Mitch Trubisky. In 7-on-7 drills, Trubisky threw a deep touchdown pass down the right sideline to rookie wide receiver Tanner Gentry, who was covered well by cornerback Sherrick McManis. It was a great pass and a great catch.
Then, later in team drills, Trubisky flicked his wrist while running to his right and delivered an laser right into the hands of wide receiver Daniel Braverman near the sideline. It was a good glimpse at Trubisky's mobility and ability to zip a tough throw on the run. It was an NFL-level throw.
Extra Points
The offense dropped too many passes on Day 1. Kevin White had two drops, while rookie running back Tarik Cohen and wide receiver Markus Wheaton each dropped one too.
The defense failed to get any takeaways with cornerback Prince Amukamara dropping what would have been a tough interception.
Nose tackle Eddie Goldman and safety Deon Bush were both held out of practice Thursday after failing to complete their conditioning tests Wednesday. Head coach John Fox said both were expected to practice Friday.
Cornerback Marcus Cooper started Thursday's practice, but did not finish. Fox said he is still recovering from the hamstring injury he suffered in OTAs.
Friday's practice will be a light workout and will not be open to the public. It is one of three "recovery" days built into the new schedule. The Bears are not permitted to hold their first padded practice until Saturday, so in this case, Friday's lighter schedule will help maximize participation Saturday when the real evaluations start.
Shoutout to whoever looked at the weather forecast and moved Thursday's practice up an hour. As soon as practice ended, it started raining.
Adam Hoge covers the Chicago Bears for WGN Radio and WGNRadio.com. He also co-hosts The Beat, weekends on 720 WGN. Follow him on Twitter at @AdamHoge.