This is an archived article and the information in the article may be outdated. Please look at the time stamp on the story to see when it was last updated.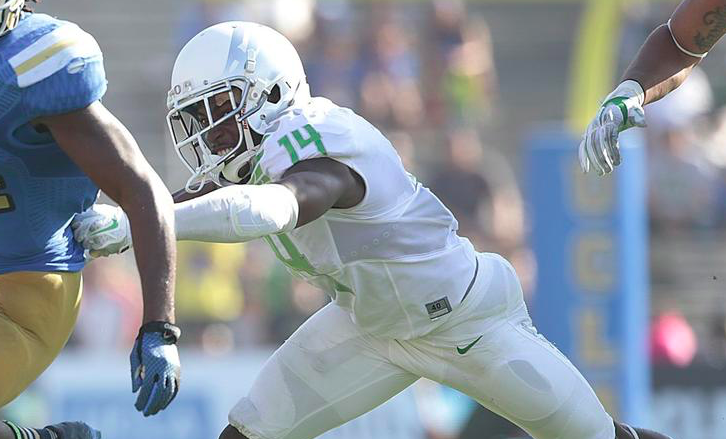 CB Ifo Ekpre-Olomu, Oregon
Age: 21
Height: 5-9
Weight: 192
College Career: Played all four years for the Ducks. Three-time first-team All-Pac 12 (2012-14). 2014 All-American. Suffered a knee injury in practice leading up to the College Football Playoff, but was very durable throughout his college career up to that point.
Strengths: Turnover machine with great ball skills. Forced 18 takeaways (nine interceptions) during his college career. Very fluid in his movements with a quick twitch to react to the football. Despite smaller size, he's very physical and not afraid to mix it up in run-defense. Can play both press and off-man coverage.
Weaknesses: Lack of height will turn off some teams. The knee injury will turn off even more. Speed was already a bit of a concern before the injury and he won't be able to workout for teams before the draft. Technique needs work, as he's guilty of freelancing at times.
Bears Outlook: I've been high on Ekpre-Olomu for a few years now. In fact, I thought he was a first-round pick had he come out a year ago. Unfortunately, the knee injury is going to cost him a bunch of money as he'll almost certainly fall to the second round and maybe even further. That said, I still believe Ekpre-Olomu projects as an outstanding slot corner at the next level. I wouldn't have a problem with the Bears taking him 39th overall, but there's a chance he'll still be sitting there in the third round. If that's the case, Ekpre-Olomu would be providing great value to the team that drafts him.
More: Hoge's Entire Bears Big Board
Adam Hoge covers the Chicago Bears for WGN Radio and WGNRadio.com. He also co-hosts The Beat, weekends on 720 WGN. Follow him on Twitter at @AdamHoge.