This is an archived article and the information in the article may be outdated. Please look at the time stamp on the story to see when it was last updated.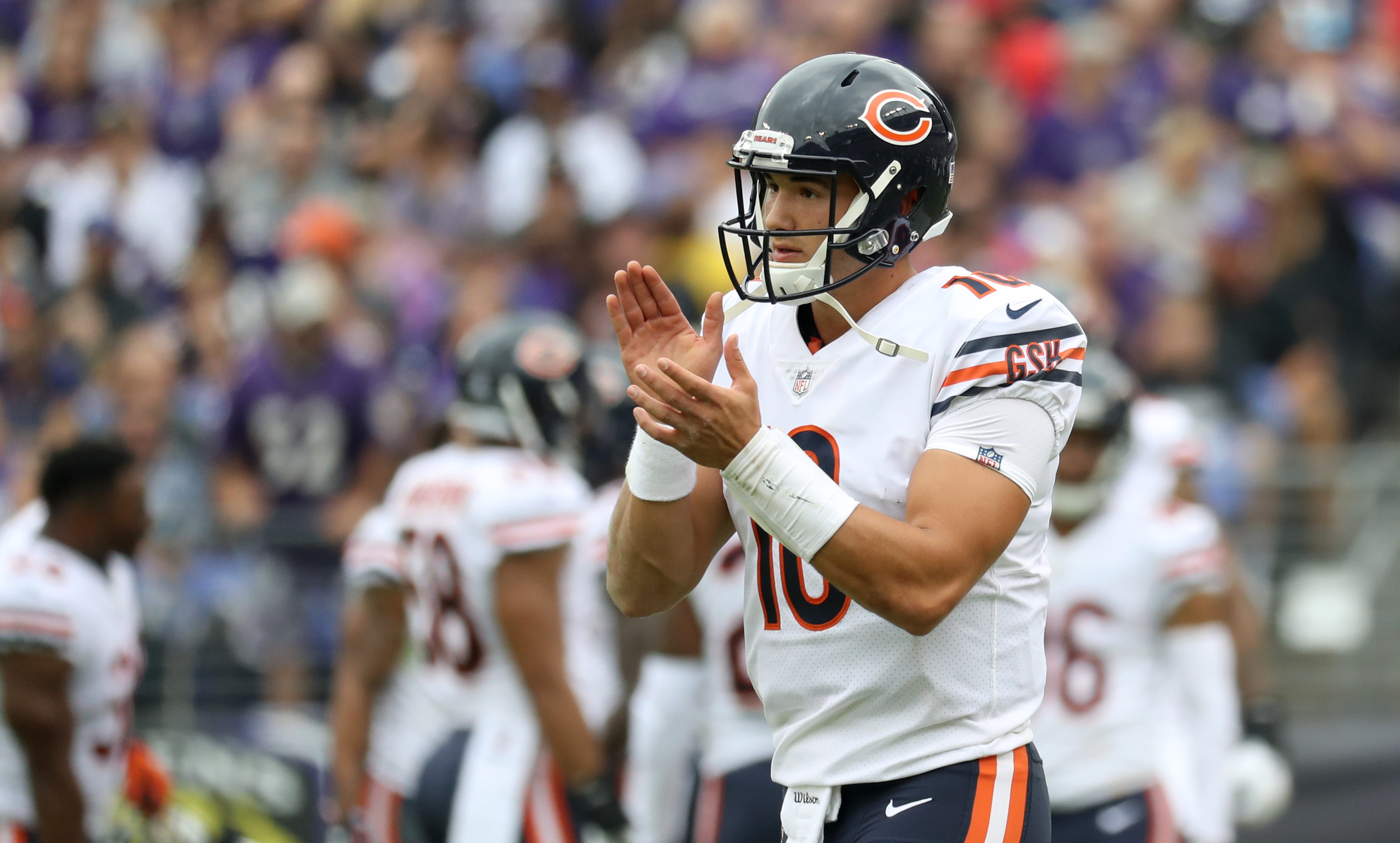 The Bears got a win in Baltimore Sunday, but you almost wouldn't know it based on the reaction to John Fox's team blowing an 11-point lead in the final three minutes, which forced rookie Mitch Trubisky to work his magic in overtime. Let's break the craziness down before looking ahead to the Carolina Panthers:
1. I understand why fans are frustrated with the run-pass (50-17) ratio from Sunday. They want to see the rookie throw the ball, they don't want to see 50 handoffs to the running backs. Trubisky is exciting and it's been a long time since we've been able to say that about a Bears quarterback.
That said, there was some legitimate strategy behind the Bears' game plan against the Ravens:
Initial plan: The Bears are a run-first team and have been all season. They have two good running backs with two very different styles, which is hard to prepare for. The Ravens were also missing run-stuffing defensive tackle Brandon Williams, a weakness the Bears wanted to exploit.
In-game adjustments: According to Bears offensive coordinator Dowell Loggains, the Ravens played 41 snaps of Cover-2 (two safeties back, splitting the field) after only playing one snap of Cover-2 in their first five games. The Bears were not expecting that, which Trubisky hinted at in his postgame press conference. There's no doubt this had an impact on Loggains' playcalling. The Bears were having enough success running the ball, and with a rookie quarterback, there was no reason to risk throws into windows Trubisky didn't see on film during the week.
The scoreboard: The Bears were playing with a lead. In fact, they were in control of the game for three-and-a-half quarters. It wasn't pretty — in fact, it was boring at times — but it made sense for the Bears to continue to chip away on the ground with a lead. And yes, the head coach has a lot of say over how many runs/passes are called and it was obvious during the game that Fox's generally conservative style wasn't going to change.
Just a warning: As long as the #Bears have the lead, I wouldn't expect much to change offensively. And that has more to do w/ HC, not OC.

— Adam Hoge (@AdamHoge) October 15, 2017
"This is a combative game, a will-breaking game," Fox said Wednesday. "Running the football is not the easy way to do it. You're not finessing people. I think it's a little bit like a championship boxing match. Body blows aren't real sexy, but they take their toll in the later rounds. It's a way to win. Maybe not as flashy, or as exciting as knockouts and those kinds of things, but it works."
It's interesting that the Ravens chose to play so much Cover-2. So far the Steelers and Ravens are the only two teams to primarily play their safeties back and those are the only two wins the Bears have this season.
"I'm sure a lot of it was to take away (Trubisky's) strengths and certain things he does," Loggains said. "First thing he said after the game was, 'Wow, they did a bunch of things they had not shown.' He handled that well."
If that's true, that means that opponents are already respecting Trubisky. I also wonder if the Ravens felt comfortable keeping their safeties back because the Bears' heavy-run formations were bringing the cornerbacks closer to the box. Either way, it helped the Bears win the football game.
2. Trubisky had four plays that I categorize as "next-level" quarterback plays when I grade the film, and three of them were on third down. 
2nd quarter, 3rd & 5 at Ravens 31: Trubisky dropped back and had adequate protection, but his first two reads to the right were not open. With the timer going off in his head, he saw an opening to his left and briefly looked at Sims who was slightly open running an out-route at the first down marker. But Sims was also taking his defender away from Trubisky, opening up a large running lane. Trubisky easily picked up the first down and then realized he had even more room and cut back to the middle of the field, ultimately picking up 19 yards. This set up a field goal to put the Bears up 3-0.
3rd quarter, 3rd & 7 at Ravens 27: The Ravens had a busted coverage, which allowed Sims to go uncovered up the seam right at the snap. But Sims wasn't Trubisky's first read and right guard Kyle Long allowed immediate pressure, which flushed Trubisky to the right. Sims made a nice adjustment, turning his hips in the direction Trubisky was moving and the quarterback was able to make a nice throw on the run. Touchdown.
3rd quarter, 2nd & 17 at Bears 13: Cody Whitehair snapped the ball over Trubisky's head and the quarterback had to run back to the 1-yard-line to scoop it up as his momentum carried him into the end zone. Right as he turned around, Ravens defensive lineman Chris Wormley was in his face at the goal line. Trubisky somehow eluded him with his athleticism, ran out to the right and was able to throw the ball away before getting sacked. This play came right after the Ravens' 96-yard kick return touchdown and a 17-3 lead could have easily turned into a 17-17 tie in just 1:04 had Trubisky not made this enormous save.
Overtime, 3rd & 11 at Ravens 41: The Bears had a protection error as Long initially looked to block inside instead of outside. That allowed Ravens defensive tackle Michael Pierce to get upfield quickly, while safety Anthony Levine Sr. blitzed the A-gap. Fortunately, Jordan Howard was able to block Levine just enough while Trubisky somehow sidestepped Pierce. Trubisky then stepped up in the pocket and slid to his right as more pressure came from Za'Darius Smith and C.J. Mosley, who put his arms up to block the pass. Throwing off his back foot, Trubisky somehow delivered a strike to Kendall Wright in the middle of the field, and Wright made a great catch. This play was exactly why general manager Ryan Pace and Co. fell in love with the rookie quarterback. These are unteachable instincts in the pocket. His footwork and athleticism are sack-savers and his eyes were somehow downfield during this entire play.
"When we messed up the protection up front, he gave a soft shoulder and tucked the ball with two hands and slid in the pocket," Loggains said. "To be able to throw that ball with both (of Mosley's) hands in the air and changing your arm angle – that's why you draft a kid second (overall). Because of things like that."
The Bears have to be thrilled that the natural pocket instincts that littered Trubisky's North Carolina film are translating to the NFL level so quickly.
3. Perhaps that's why John Fox couldn't hide his love for Trubisky on Monday. The Bears have done a good job of downplaying their excitement publicly, but sometimes it seeps through the usually mundane answers given out at the PNC Media Center lectern.
"Mitch made some great plays," Fox said this week. "I mean, if you look at the snap over his head in the end zone, there's probably only five or six or seven quarterbacks in this league that could get out of that. I go back to the touchdown pass to Dion (Sims). He (was) flushed, we adjusted and he dropped a dime in the end zone for a touchdown. And the play obviously at the end where more than likely if we don't get that we're punting, the play he made to Kendall (Wright). I think Mitch played outstanding. Did he throw the ball 45 times? No. To me that doesn't define outstanding."
4. Sometimes you just have to give credit to the other coaching staff. The Bears were dealt a huge blow on special teams with Sherrick McManis and Benny Cunningham both suffering hamstring injuries in this game. So when the Bears had to punt with a 24-16 lead and 1:55 left in the fourth quarter, they did so with two new players on the right edge of their punt formation. And the Ravens took advantage.
Baltimore special teams coordinator Jerry Rosburg appeared to call an all-out punt block, which brought gunners Josh Bellamy and Cre'Von LeBlanc from the outside into blocking positions. As we look at the formation, Le'Blanc (No. 22) is in for McManis while tight end Daniel Brown (No. 85, and circled below) is in for Cunningham.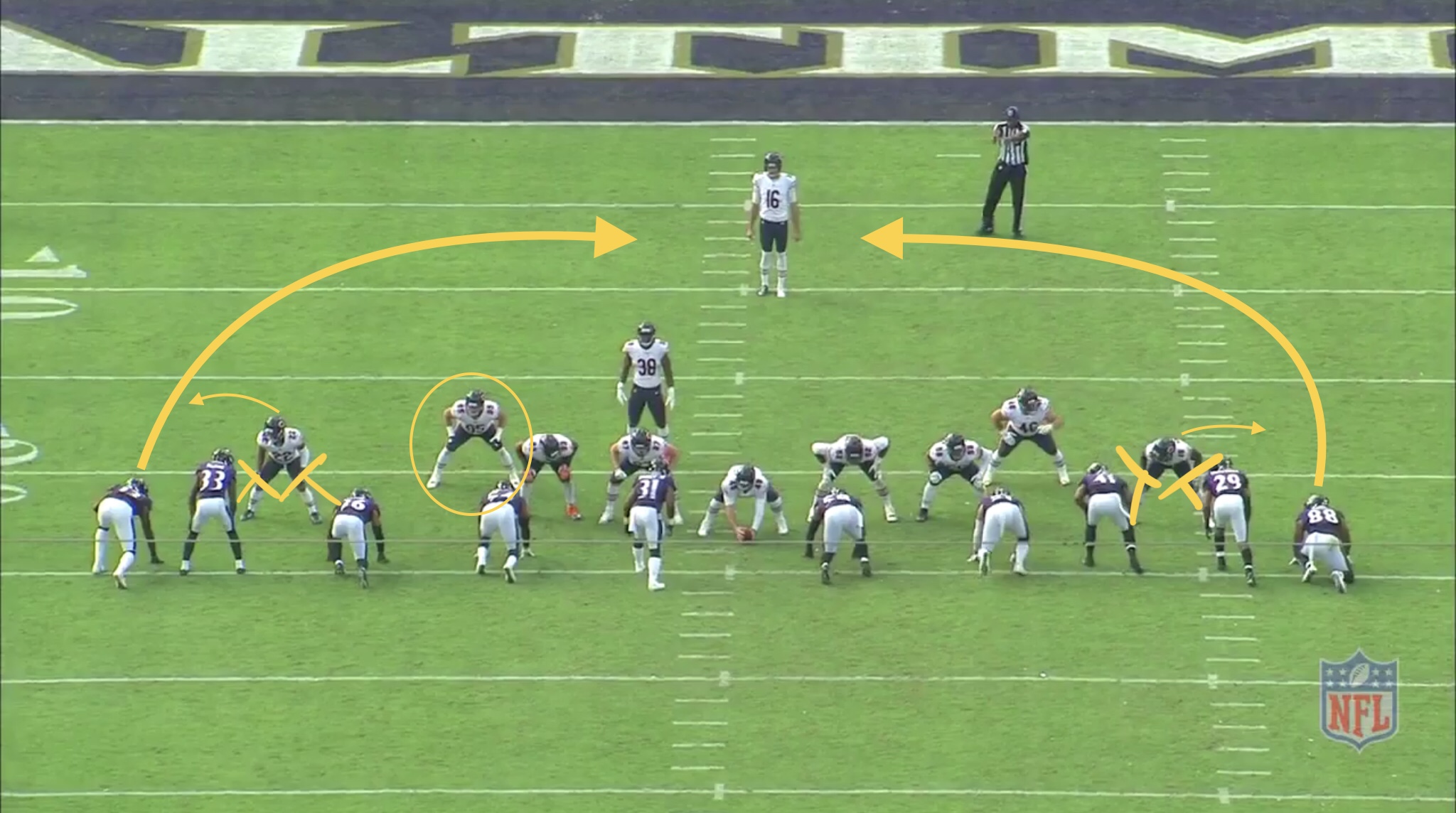 But the Ravens don't sellout on the block. The edge rushers do, and those players are the gunners' responsibility so both LeBlanc and Bellamy take steps backward after the snap. In reality, those edge rushers are just setting up brutal double-team blocks on both gunners, which catches them both off guard and pins them back by the line of scrimmage.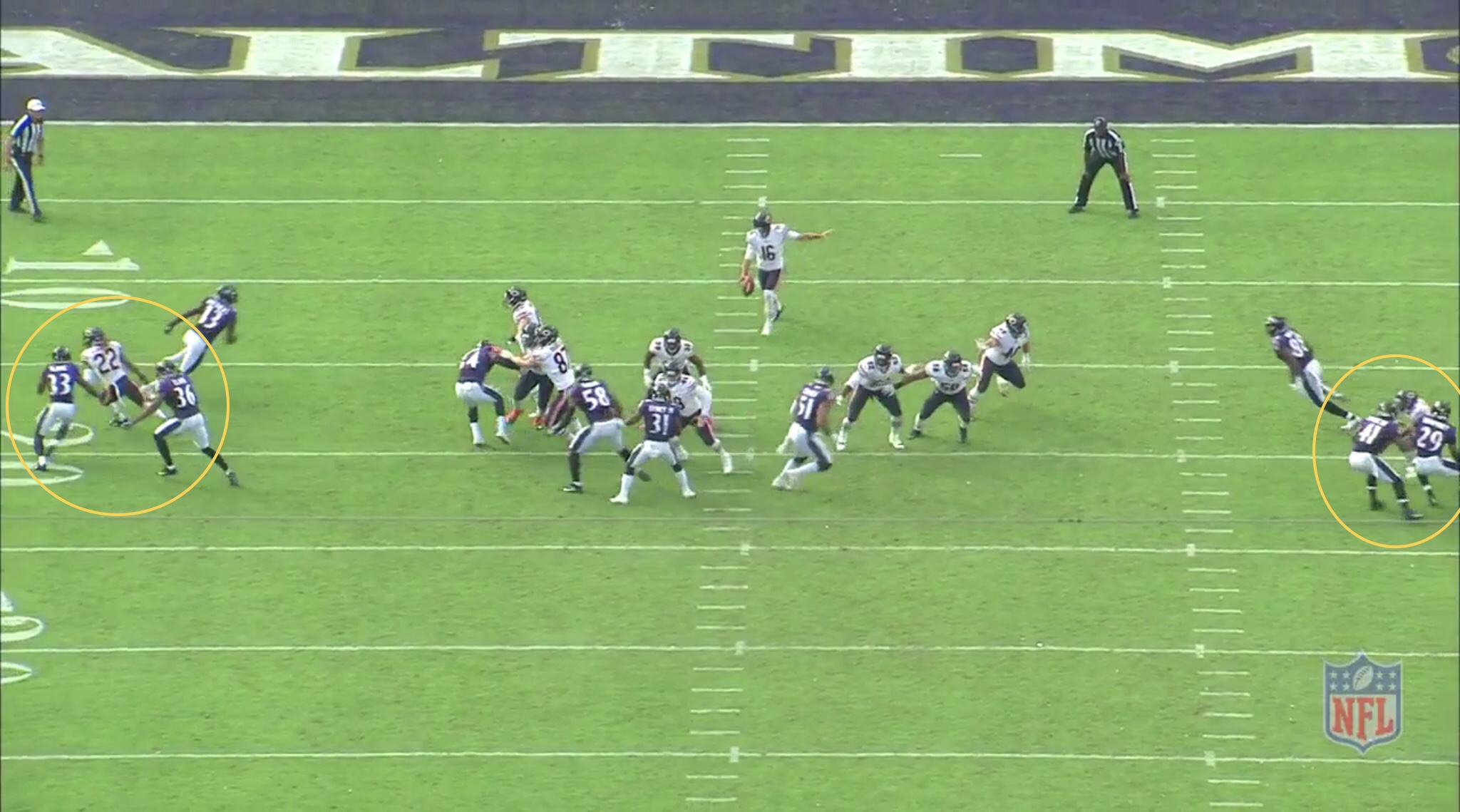 Meanwhile, Brown (and fullback Michael Burton on the other side) don't even have anyone to block, but their coverage downfield is delayed. This sets up a massive return for Michael Campanaro. The screenshot below shows the moment Campanaro catches the punt and look where LeBlanc is — at his own 15-yard-line! That's nine yards behind the line of scrimmage.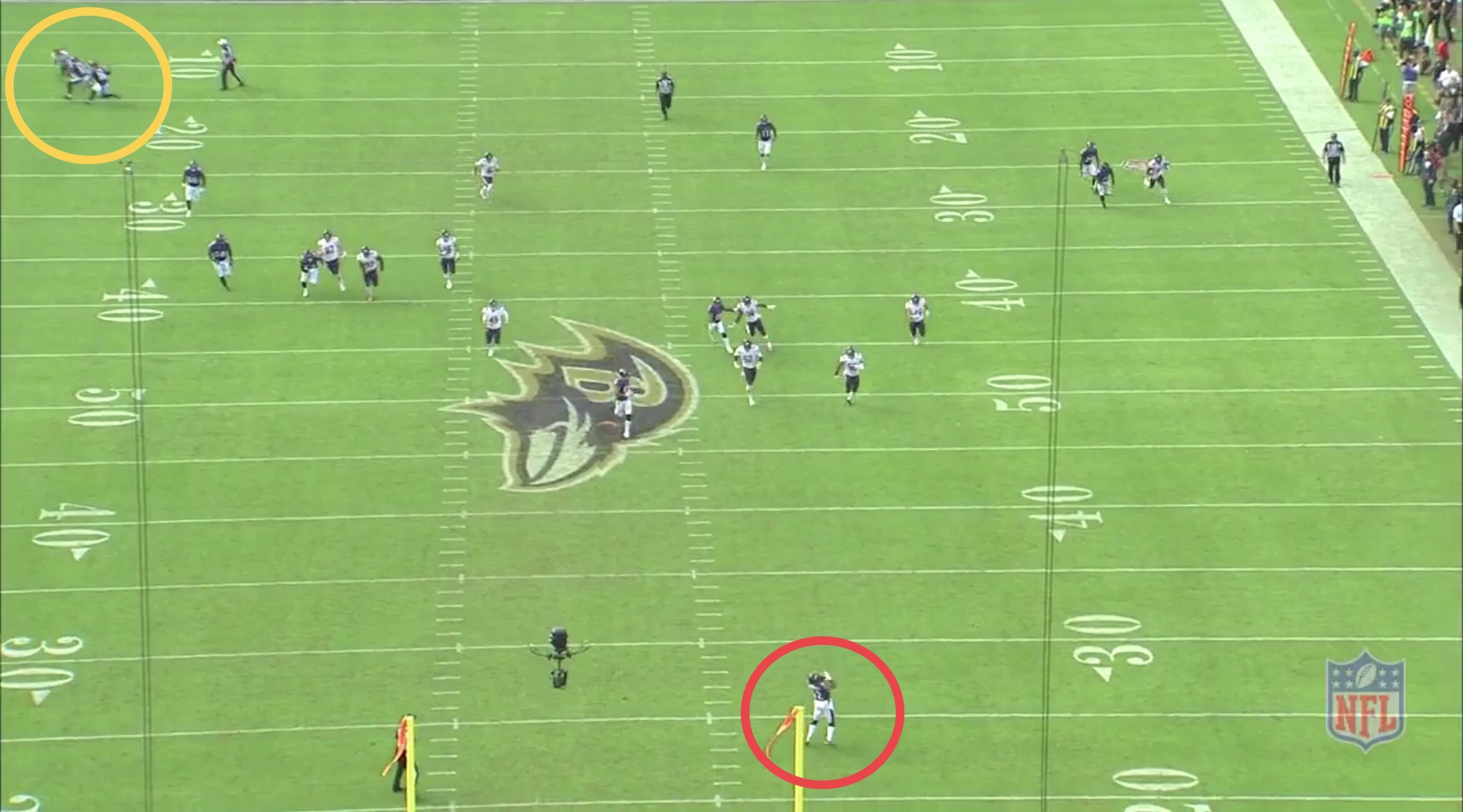 It's a pretty brilliant setup by the Ravens so McManis probably would have been pinned back too, but he likely would have gotten out of it faster. Bellamy, on the other side, is already 15 yards ahead of LeBlanc at the point Campanaro catches the ball. Cunningham also would have gotten downfield faster than Brown and, like McManis, is one of the better special teams tacklers.
Not surprisingly, this was the end result:
5. A question I've been wondering: Why doesn't Kendall Wright play more? He's clearly the team's best available wide receiver, leading Bears' wideouts with 20 catches for 236 yards and a touchdown. The next closest is Deonte Thompson (11 catches) and he was released last week.
Against the Ravens, Wright played just 25 snaps while rookie Tanner Gentry played 76 and Tre McBride played 58. Wright had two catches for 36 yards while Gentry and McBride combined for zero.
So, again, why doesn't Wright play more?
"It's by design," Loggains explained. "He's a guy in my opinion who's better when he doesn't play 75 snaps, when he gets to play in that 25-35 range and he's fresh and can bring the energy and juice like he did on the last third down."
With that in mind, Gentry and McBride were both on the field for a ton of running plays and both did a good job blocking. Wright can block too — he actually leveled Terrell Suggs at one point — but if Loggains wants to keep him fresh then it makes sense not to waste his energy on run downs.
My understanding is that the Bears feel like Wright's talents are maximized in the slot, and if conditioning is an issue then he's going to be limited to "11" personnel with three wide receivers on the field. Still, if Gentry and McBride don't develop into reliable weapons for Trubisky then Wright is going to have to play more than 25-35 snaps in games when the Bears have to throw the ball more.
6. Akiem Hicks and Eddie Goldman are among the best defensive line combos in the NFL. I've mentioned pretty much every week that Hicks is playing at an All-Pro level, but Goldman has been getting better each and every week and is a huge part of the Bears' success in stopping the run.
You want to see two defensive linemen destroy an offensive line? Check this out:
7. Julius Peppers will return to Soldier Field for the fourth year in a row, trying to win his fourth straight game against his former team in Chicago. It's amazing that Peppers has now been gone for as many seasons as he played with the Bears. And at 37, he's still making big plays, forcing a sack-fumble last week against the Eagles.
"I think with all veteran players, whether it's a Peyton Manning or any extended vet guy, how you use them is critical," Fox said. "I think Ron (Rivera) and them are doing a good job of not playing him every down. They're not playing him in the real face-knocking downs. He's a pass rush specialist and he's very good at it. So they're getting good production out of him without wearing him down which I think is very smart."
Fox, of course, knows Peppers well. Peppers was his first draft pick in Carolina and he watched him leave for the Bears in 2010.
"We got criticized quite heavily by the talking heads for not taking a quarterback," Fox recalled. "I know Joey Harrington was available, as was David Carr, who went the pick before us. You could tell he was going to be special, and the fact that he's still playing is pretty special."
Amazingly, Peppers hasn't missed a game since 2007 and he's only missed four in his entire career.
8. The status of Panthers linebacker Luke Kuechly this week will be a huge factor in Sunday's game. He's still in the concussion protocol and did not practice Wednesday. Kuechly has a long history of concussions and the Panthers are being very careful with him. Fox put it perfectly when he said: "Luke Kuechly, you can tell when he's in and when he's not in."
Linebacker Thomas Davis, another ageless veteran, has also been dealing with a groin injury and was playing limited snaps before Kuechly got hurt last week. He's not 100 percent.
9. It's been a bad year for captains of both these teams. With McManis now hurt, Josh Sitton is the only Bears' Week 1 captain who will play Sunday and even he missed a game earlier this year. Mike Glennon was benched while Jerrell Freeman and Quintin Demps are on injured reserve.
Meanwhile, all six of the Panthers' captains have dealt with injuries. They'll continue to be without tight end Greg Olsen and safety Kurt Coleman this week, but are expected to get Pro Bowl center Ryan Kalil back Sunday. The Charlotte Observer detailed the Panthers' injury problems here.
10. Your referee for Sunday's game between the Bears and Panthers at Soldier Field: Walt Anderson, a 22-year NFL veteran.
Adam Hoge covers the Chicago Bears for WGN Radio and WGNRadio.com. He also co-hosts The Beat, weekends on 720 WGN. Follow him on Twitter at @AdamHoge.