This is an archived article and the information in the article may be outdated. Please look at the time stamp on the story to see when it was last updated.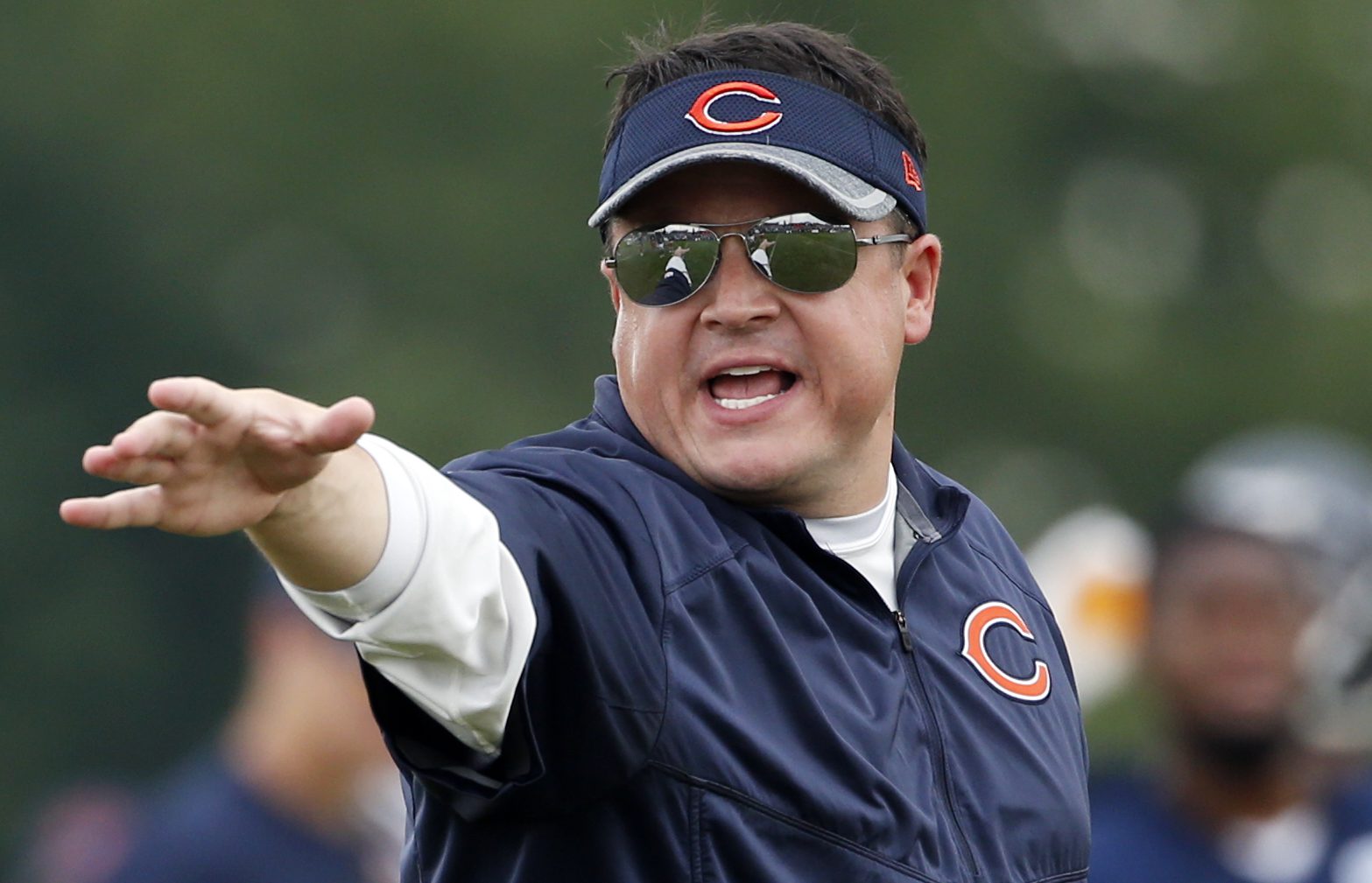 BOURBONNAIS, Ill. — The Bears are now a full week into training camp and have had an off day to evaluate their talent and make adjustments. Here are 10 "things" from Olivet Nazarene University:
1. If healthy, the Bears should be able to open up the playbook a little more on offense this year. That's a big "if" however, as the Bears know how important it is for wide receivers Alshon Jeffery and Kevin White to stay healthy. Jeffery didn't finish Wednesday's practice because of what John Fox called "muscle tightness," as the trainers are likely taking a very conservative approach with the wideout this year.
"It just got tight and we're going to be cautious with that type stuff, especially in the hot weather," Fox said.
But if Jeffery and White stay healthy, quarterback Jay Cutler will have two talented weapons he lacked last season. White continues to look explosive, even if he still needs help with the fundamentals.
"I think he's getting better every day," offensive coordinator Dowell Loggains said Wednesday. "Everything's a little bit new to him. He had the limited route tree coming from West Virginia . I think that he's gotten better with getting off press (coverage)."
Those were the two biggest knocks on White coming out of college and the wide receiver will need live action in the preseason to show that he's made improvements in those two areas. If he has, there should be more offensive explosion this season.
2. That said, this is still a run-first team. In fact, the Bears have been using the fullback more in camp after stashing Paul Lasike on the practice squad last year. Lasike is a New Zealand native who grew up playing rugby until he joined the BYU football team in 2012.
"As an offensive staff we haven't decided how much of that we're going to use, if we use any at all," Loggains said.
Part of that decision will depend on if Lasike is worthy of a roster spot. If not, the Bears could still use defensive lineman Mitch Unrein as a fullback in short-yardage situations like they did last year.
3. We've been down this road in training camp before, but so far the relationship between Loggains and Cutler is rosy.
"I hate saying this, but we're probably a little more similar than maybe I'd like to be," Loggains said.
Right guard Kyle Long agrees.
"It's like Jay and Mini Jay in the building," he said.
Long praised both for being very smart — "they have gigantic brains" — and said their relationship has led to some creative scheming: "They're on a similar frequency. I think Dowell is somebody that can get inside Jay's head and that is reciprocated with Jay and Dowell. From a scheme standpoint, I think they have a really good open line of communication and it shows. They brainstorm a lot together and you see it come out and we can get creative with stuff. They work really well together."
Of course it helps that Cutler and Loggains worked closely together last season when Loggains was the quarterbacks coach. The Bears wouldn't have promoted Loggains if there was any friction there.
"He's kinda like fine wine — he's better with age a little bit," Cutler said about his offensive coordinator. "He's getting more of a feel. I think the offense has really come into its own, at least on paper."
4. But on the field, it's still a work in progress and Wednesday wasn't the offense's best day.
"I thought today was a little kind of a half-step back after the off day," Cutler said. "We started off fast, didn't end it that well."
Loggains agreed, as the offense committed some costly mistakes in the red zone towards the end of practice.
"If we want to be a good team, we need to finish that practice, just like we need to finish in the fourth quarter when it's hot," Loggains said. "We need to deal with some adversity and it was good for us to deal with that a little bit today."
5. Cutler singled out the offensive line for having a strong start to training camp. 
"I thought the O-line has played really well in the six practices we've had," Cutler said. "Receivers have kinda been up and down a little bit. But overall, I think we're definitely taking some big steps."
The offensive line has been short-handed without Kyle Long, who returned to practice in a limited role Wednesday, but really didn't do a whole lot. In his place, veteran Ted Larsen — the favorite to serve as the Bears' swing guard — has played well. Center Hroniss Grasu has also looked good, showing more strength in a daily competitive battle against nose tackle Eddie Goldman. Rookie left guard Cody Whitehair has been through the normal rookie struggles, but he looks like he belongs. Both tackles — Charles Leno Jr. and Bobby Massie — have been steady.
6. Here we go again: Once again, Cutler was forced to respond to a comment made by a former teammate. And once again, Cutler showed nothing but class.
This time, it was former Bears tight end Martellus Bennett and his brother, Seahawks defensive end Michael Bennett, who provided the shots. In a recent ESPN The Magazine story, Michael Bennett called Cutler "the worst quarterback in the NFL" and Martellus responded by adding: "I'd be open and he'd throw into double coverage."
Cutler's response: "Most receivers and tight ends are always open. So hopefully Tom (Brady) can do a better job of finding him than I did."
Meanwhile, Brandon Marshall recently said Cutler can still be an MVP.
"You can't please everybody," Cutler said. "We're at both ends of the spectrum here. We wish both those guys good luck. I had fun playing with them here, and that's just kinda how it goes. Guys play for different teams, and we wish them both the best of luck."
7. The Bears may have dodged a bullet with Danny Trevathan Wednesday. The inside linebacker injured his right knee dropping back into coverage and immediately went down in pain. He was eventually able to walk to the sideline on his own power where trainers tested his knee. Eventually they helped Trevathan back up and gave him his helmet back, which is usually a good sign. He did not return to practice and just watched from the sideline.
8. Something that's still a problem: The Bears' secondary catching interceptions. They drafted three defensive backs this year in hopes of improving in that area, but two of the rookies — safety Deon Bush and safety DeAndre Houston-Carson — dropped easy picks on Wednesday.
When asked if he's seen his secondary make enough plays on the ball, Fox said: "I think it's too early to tell. Everybody is still learning right now … I don't think we're playing as fast as we can play at this point, which is understandable."
9. Veteran tight end Tony Moeaki — a Wheaton, Ill. native — is taking advantage of his opportunities. Like Zach Miller, he's always been a player with talent, but injuries have held him back. With Miller (concussion) out, Moeaki has received some reps with the first team and looked pretty good.
"We feel that if he can stay healthy he can help us," Loggains said. "He's a smart football player. We'll see. He's got an opportunity to compete like the rest of 'em and there's no roles that have been defined at this point."
10. Still the camp hero: Daniel Braverman. The seventh-round draft pick continues to make the splashiest plays of camp and he's being rewarded. After spending the majority of the first week with the third-team, Braverman worked mostly with the second-team Wednesday and made a really nice over-the-shoulder catch on veteran cornerback Sherrick McManis in the end zone.
"He just keeps making plays," Fox said. "You know we're performance based and I know it's just practice but we try and simulate games as much as we can in practice and he continues to flash and make plays."
Despite being small, Braverman showed an impressive ability to get open in college, even against tough opponents like Ohio State and Michigan State. So far, that has translated to the NFL, even if he hasn't faced starter-caliber talent yet.
"He's got a knack to get open," Loggains said. "He just has to understand to continue to grow and get open in the timing of the play and not just when the route's at 10, break it off at 6 — but he's open. So the quarterbacks get a better feel for him, and as he grows and learns what each play means and the concepts and the timing of each play, he'll continue to grow that way."
Adam Hoge covers the Chicago Bears for WGN Radio and WGNRadio.com. He also co-hosts The Beat, weekends on 720 WGN. Follow him on Twitter at @AdamHoge.