This is an archived article and the information in the article may be outdated. Please look at the time stamp on the story to see when it was last updated.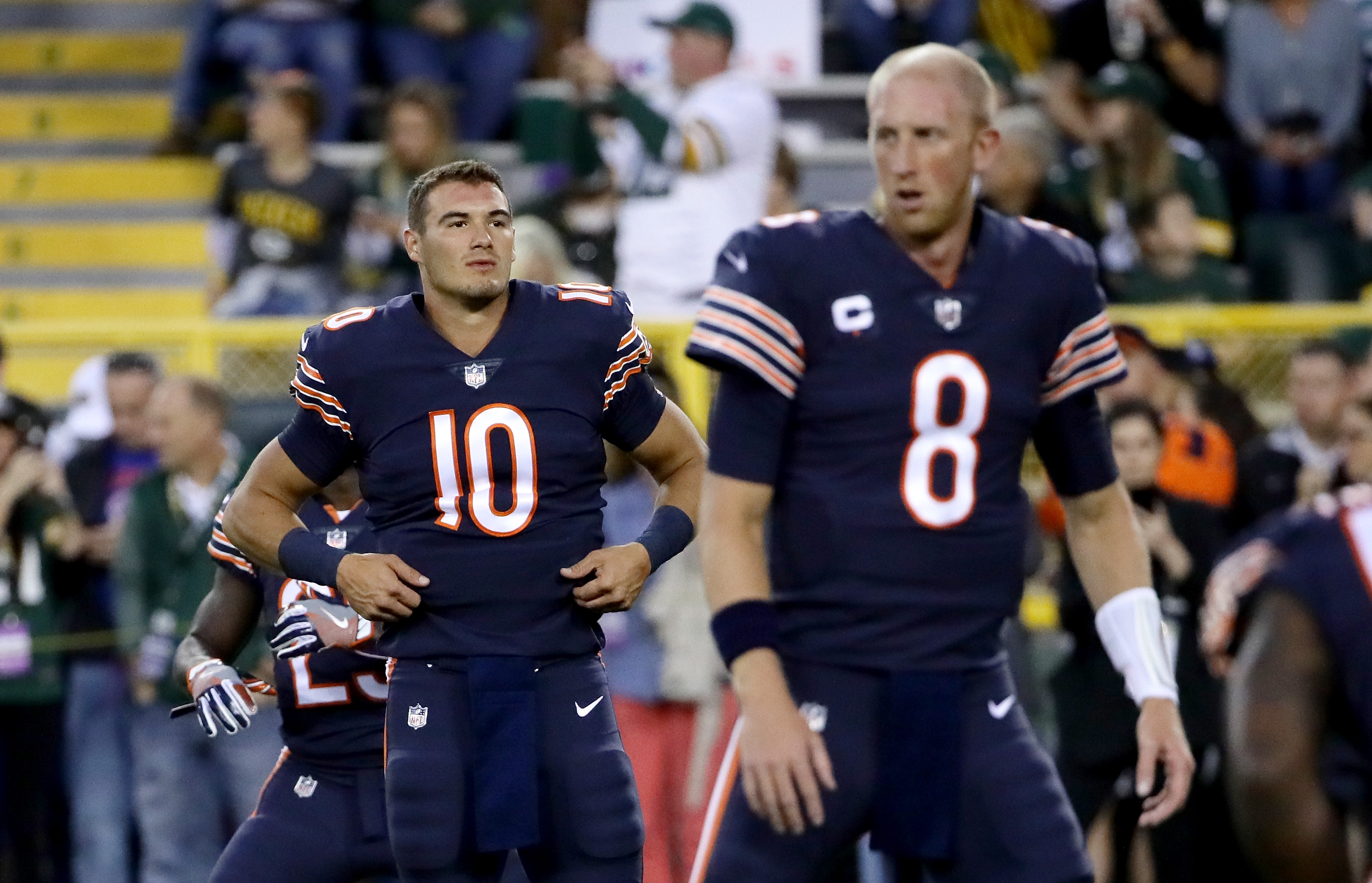 LAKE FOREST, Ill. — It's all about the quarterbacks this week as Mitchell Trubisky takes over as the Bears' starter. Here are 10 things you need to know now that the No. 2 overall pick is in charge of the Bears' offense:
1. Now that Trubisky is the starter, it's important to take a step back and understand what he is and is not as a quarterback.
Let's start with what he is not: a polished quarterback. Sure, no rookie NFL quarterback is polished, but it's important to remember that Trubisky only started 13 games in college, ran an offense completely out of the shotgun and had pre-snap reads relayed to him from the sidelines. This is why general manager Ryan Pace's plan was develop Trubisky slowly. He wanted Trubisky to learn the intricacies of an NFL offense in practice, study opposing defenses in the film room and watch how a veteran quarterback like Mike Glennon handled the highs and lows and weekly grind of the NFL. Glennon did not hold up his end of the bargain (although, that's not exactly what he signed up for), and now Trubisky will have to learn all of this on the field.
Hoge and Jahns Podcast: It's Mitch Trubisky Time
So what is Trubisky as a quarterback? Well, in his own words, he'll bring "a gunslinger's mentality" to the field. He is athletic, has great footwork and shows an impressive feel for the pass rush on film, which is really hard to teach. He's often at his best when plays break down or late in games when he has to put the team on his shoulders. No game encompasses this more than the Sun Bowl against Stanford, which Pace witnessed in person.
That time Mitch Trubisky threw 4 touchdowns on one last-minute drive: pic.twitter.com/fzkVMhjOe8

— Adam Hoge (@AdamHoge) April 28, 2017
"When things break down, I'm able to make plays and get the ball to my playmakers," Trubisky said Tuesday. "Because I'm not the best athlete on the field. There are other guys who do that. But when things break down I can maybe make something happen."
As for the concerns, Trubisky's struggles came against defenses that were good at disguising coverages. He threw two interceptions — including a pick-six — against Stanford when he didn't properly read the Cardinal's defense. He'll obviously be facing more complex defenses in the NFL, which is why there are sure to be growing pains.
The good news? Trubisky has passed every test since entering the Bears' facilities in May. Glennon's poor play accelerated the timetable, but Trubisky is actually ahead of schedule in his development, impressing the coaching staff in training camp with his sharp learning curve.
"I see a lot more odd fronts than I did in college. That's something I had to learn a lot about," Trubisky said. "I've come a long way in learning protections and knowing when you're hot, when you need to change protections and when the defense is in rotation or false rotation or things of that matter."
Trubisky is incredibly confident and works overtime at his craft, which is why he has earned this opportunity so quickly. It's a cliché during NFL Draft season, but "football is important to him," and that's a quality that often leads to a high level of success for players with Trubisky's level of talent.
2. The Bears' offense instantly becomes harder to defend with Trubisky on the field. This is a big reason why John Fox could no longer justify keeping Glennon as the starter. It was just too easy to load up against the Bears' running game and dare Glennon to beat you — a proposition that just led to him turning the ball over.
While Trubisky is unproven, the Vikings have seen the film and know they will have to contain him to the pocket, which slows down the pass rush. They'll also have to respect his ability to throw the ball downfield, which has not been the case through the Bears' first four games.
It will be interesting to see how Vikings head coach Mike Zimmer chooses to defend the Bears' new-look offense. Offensive coordinator Dowell Loggains will have the element of surprise in his pocket, something he hasn't had access to since he unveiled Tarik Cohen against the Falcons' in Week 1.
My guess is Zimmer will still choose to stop the Bears' running game first until Trubisky earns the extra attention. That said, Zimmer has seen Trubisky's college tape and I would expect the Vikings to mix up blitzes and coverages to test the rookie as much as possible. A lot of Trubisky's success Monday night will be determined before the snap. It's a big test.
3. We'll learn a lot more about the wide receivers now. They haven't been great, but I've been hesitant to criticize them because Glennon's poor play was making it very hard to evaluate an undermanned unit.
"The turnovers had nothing to do with the receivers," Glennon said Tuesday. "Those were on me, and that's ultimately what was costly."
Indeed, the turnovers were on Glennon, but he also was victimized by drops and put up a few deep passes that could have been hauled in (i.e. Markus Wheaton against the Steelers and Josh Bellamy against the Packers). Trubisky isn't going to have receivers who can go up and get the football either.
That said, Glennon missed plenty of open receivers on shorter routes and was terribly inaccurate on screens, which renders those plays useless. This is not a wide receiver unit that will win quickly at the line of scrimmage, but Kendall Wright, Markus Wheaton, Josh Bellamy and Deonte Thompson all possess adequate speed and can find open spaces if Trubisky is able to buy more time than Glennon.
4. Expect more from tight end Zach Miller with Trubisky under center. Miller is actually having a decent season and can be found in red-underline on the list of receivers Glennon missed open. He has 13 receptions for 143 yards through four weeks, but looks healthy and has already proven himself to be an effective tight end when healthy. I'd expect his production to go up with Trubisky in the game.
The same could potentially be said about rookie tight end Adam Shaheen, who roomed with Trubisky during the summer and developed good chemistry with the quarterback on the field when they were paired together. That said, it's obvious on film that Shaheen's blocking is what is limiting his playing time and until he figures that out, he's going to be behind Miller and Dion Sims on the pecking order for playing time.
5. As he has since Day 1, Glennon displayed exceptional professionalism Tuesday, not only meeting with reporters at his locker, but also taking responsibility for his benching. After drafting Trubisky, Pace and Fox both made it very clear that their intention was for Glennon to be the starting quarterback in 2017. Glennon said over and over again, "This is my year," but when it came down to it, "my year" turned out to be four games. With that in mind, I asked Glennon if he felt like the Bears held up their end of the bargain. His response:
"It comes down to production. I felt like I played well enough in two of the games, didn't play well enough in the other two. That's the decision they made."
Obviously, very little in the NFL is guaranteed, especially when you don't play well. And at this point, it would be hard to argue that the Bears owe Glennon anything more than the $18.5 million guaranteed that he will still earn.
"(Pace said) that he appreciates the way that I've handled it, and that's what he expects of me," Glennon said. "I'm still a captain on this team, still a valuable piece to our success. So I'm going to handle it in that way."
Glennon also provided some outstanding perspective, especially given the awful shootings that occurred in Las Vegas Sunday and the hurricanes that recently damaged Texas, Florida and Puerto Rico.
"You always try to have perspective on things. Obviously not what I wanted, not what I had hoped for, not what I had envisioned. But I mean, you look around the country, the world, and you see what's going on and that kind of brings perspective back into things. And I always like to have perspective on just the grand scheme of life, even in disappointing times."
6. Glennon and Trubisky were both asked about "pressure" on Tuesday and I found the contrast in their answers particuarly interesting.
Glennon: "You always put pressure on yourself. I don't think I put too much pressure on myself. I don't think any of the errors were like I was pressing. It was a lack of execution. It was nothing like I was forcing the ball into double coverage or anything like that. I had some plays I would've liked to have back. Unfortunately, that was the case."
Trubisky: "My quarterback coach from high school, he actually told me one time: 'Pressure only appears when you're not prepared for something.' So that's kind of how I feel pressure. You only get nervous or feel pressure when you're not prepared for the situation or you don't know what you're doing. So my job is to just study the game plan and once I get in there just go back to my instincts, play the game I know how to play. I've been playing this game for a long time, so I'm going to go in there and be myself and the pressure shouldn't be anything what everyone else makes it out to be. So I'll just go out there and try to have fun."
Trubisky's answer makes a lot of sense. Think about the times you feel pressure doing whatever you do for a living. You usually only feel it when you're not prepared.
I'll say this: the kid doesn't lack confidence.
7. It sounds like Trubisky has received practice reps with the starters prior to this week. Fox brought up the reasoning for not making the quarterback switch in the middle of the Packers' game, saying: "What people have got to understand is that he received no starter's reps that particular week. I think we had a similar situation a year ago when Brian Hoyer got hurt and we put Matt Barkley in. It didn't go real well for that reason."
The mention of "that particular week" was interesting and begged the question: Did Trubisky receive reps with the starters in prior weeks?
"I don't remember every single practice rep, but I'm going to venture to say there's been very few (reps)," Fox said. "I can venture to say he'll get all of them this week. We've got an extra day, couple extra days really if you look at it to get him ready. So I feel good about that."
Either way, given the lack of reps available in general, Trubisky has not received enough reps with the starters yet. This will be his week and he essentially received three bonus days to prepare for the Vikings as the starter. Tuesday was the only bonus practice, but Monday and Wednesday also serve as additional prep days that he would otherwise not have during a normal NFL work week. For what it's worth, Trubisky told me he was able to watch Sunday's Vikings-Lions game live, giving him an additional jump on Minnesota, although at that time he had not been informed of his promotion.
8. The phone call from Fox came Sunday night. That's when Trubisky and Glennon both found out their fate.
"It was a quick conversation," Trubisky said. "Coach Fox did most of the talking, per usual. He just called me and I was like, 'Yes sir, yes sir, sounds good, I'll be ready to go, big week of preparation.' And like I said, he did a lot of the talking and it was done that way. We just talked, it was cool, so just gotta get ready to go now."
9. Danny Trevathan's suspension was reduced to one game. On any other week, this would be the top story, as it is significant news for the Bears' defense.
Trevathan was originally suspended two games for his helmet-to-helmet hit on Packers wide receiver Davante Adams, but given his status as a first-time offender, it was not surprising to see his suspension dropped to one game. Trevathan's appeal was conducted over the phone Tuesday with Hall Of Fame linebacker Derrick Brooks, who is an appeals officer jointly appointed by the NFL and NFLPA. Certainly it couldn't have hurt that Trevathan's appeal was heard by an ex-linebacker.
Trevathan will miss Monday's game against the Vikings, but return for the Bears' Week 6 trip to Baltimore. Unfortunately, Trevathan's hit on Adams spoiled what was otherwise an outstanding game against the Packers. He was flying all over the field, looking as healthy as he has all season coming off last year's knee injury. With Jerrell Freeman on injured reserve and Nick Kwiatkoski still dealing with a pec injury, the Bears will greatly miss Trevathan against the Vikings.
10. Finally, we'll end with some observations from last week's loss to the Packers after going through the coaches' film:
#Bears film – Leonard Floyd was held by 82 on Jordy Nelson's 58-yard catch. Probably gets to Rodgers w/out getting ripped down from behind.

— Adam Hoge (@AdamHoge) October 2, 2017
#Bears film – Sacks usually come when 2 or more win at LOS. Give Goldman assist on McPhee's sack. Hicks assist on Floyd's sack.

— Adam Hoge (@AdamHoge) October 2, 2017
#Bears film – Running into too many outnumbered fronts. Asking WRs to make impossible blocks. Need Trubisky to command respect from defenses

— Adam Hoge (@AdamHoge) October 2, 2017
#Bears film – Kendall Wright ran a great route on TD. Kyle Long decked Jake Ryan. Tarik Cohen w/ a good blitz pickup on Kentrell Brice. pic.twitter.com/HrBvrW5P9Q

— Adam Hoge (@AdamHoge) October 2, 2017
(Sidenote on this tweet: I realize the screenshot makes it look like Long has his hands on Ryan's facemask, but the depth perception is off. If you watch the video, Long decks Ryan with a stiff arm to the chest and then follows through high, but doesn't make contact with Ryan's face.)
#Bears film – Despite not being 100%, Akiem Hicks continued to be a difference maker vs #Packers. Easily Bears' best player through 4 weeks.

— Adam Hoge (@AdamHoge) October 3, 2017
Bonus Thing: Referee Jerome Boger is assigned to Monday night's game between the Vikings and Bears at Soldier Field.
Adam Hoge covers the Chicago Bears for WGN Radio and WGNRadio.com. He also co-hosts The Beat, weekends on 720 WGN. Follow him on Twitter at @AdamHoge.