This is an archived article and the information in the article may be outdated. Please look at the time stamp on the story to see when it was last updated.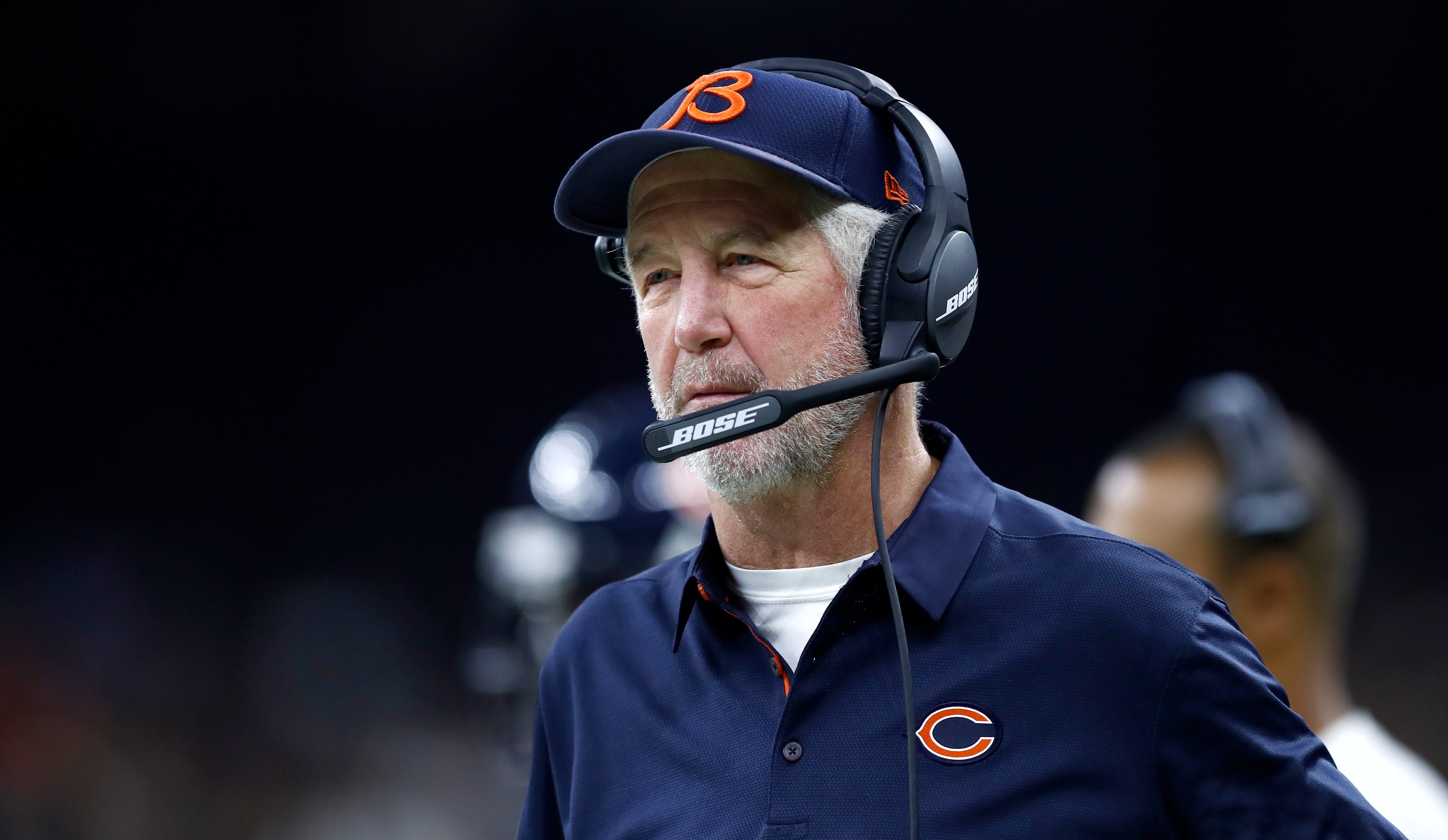 LAKE FOREST, Ill. — The Bears would love to be a 4-4 team right now, which would have been a remarkable feat considering the schedule they faced in the first half of the season and the very poor quarterback play they endured during the first four games. Alas, 3-5 isn't that bad in the big picture, especially with a much more manageable schedule the rest of the way.
Ask head coach John Fox and he'll tell you the playoffs are still the goal for 2017. That may be a longshot, but it isn't impossible. Perhaps more realistically, however, the Bears just can't afford to go flat like they did in 2015 when a 5-6 record turned into 6-10 and then 3-13 in 2016.
But beyond wins and losses, there are many longterm questions that need to be answered in the final eight games. Here are 10 of them, in a special bye week edition of 10 Bears Things:
1. How much can Mitch Trubisky improve? This is not an ideal situation to develop a rookie quarterback, but one I think Trubisky is handling very well. His wide receiver threats are limited, his offensive line is inconsistent, and now he's lost his most reliable weapon and veteran influence in tight end Zach Miller.
My hunch is that we're not going to learn as much as we'd like by the end of the season, just given the personnel Trubisky is working with. Unless Kevin White miraculously returns from his broken scapula and suddenly plays like the player general manager Ryan Pace thought he was, Trubisky is not going to have any dynamic receiving weapons to help him out in 2017. In fact, I won't even be including the wide receivers as a question in this column — that's an offseason question now.
But Trubisky's development will go on regardless, and I'm still seeing more good than bad. Sure, there have been some inaccurate passes and missed targets, but we've also seen some smart quarterback play and impressive throws downfield (like the wiped out 25-yard touchdown to Miller and the 45-yard completion to Tre McBride Sunday). I've been impressed with the command of the offense and the respect for the football. Trubisky had a 5-to-1 touchdown-to-interception ratio at North Carolina, and while the NFL touchdowns aren't there yet, his only two interceptions came in last-minute situations and only one of them was a bad decision. In fact, he's really only made one bad decision in four starts: the Harrison Smith interception against the Vikings at the end of the game. That's not bad for a rookie who only started 13 games in college.
As for the inaccuracy, Trubisky noted some mechanical fixes: "When my feet are right and my eyes are right, I'm on the money. But when I change up or do the wrong footwork or my base isn't good because of the rush in the pocket, that's usually when the inaccuracies come."
Keeping perspective is going to be tough as Trubisky continues to operate in this flawed offense. And it of course doesn't help when Deshaun Watson puts up 402 yards and four touchdowns in Seattle. My advice: try to ignore what Watson is doing and concentrate on Trubisky's progress in these last eight games. And don't forget that Carson Wentz had a passer rating of 79.3 last year, got some help in the offseason and is now an MVP candidate in his second season. We need a lot more time before making conclusions about the 2017 rookie quarterback class.
2. Is John Fox the right head coach for Trubisky? This is a very complicated question, as general manager Ryan Pace will either have to extend Fox, let him go, or ask him to coach out the final year of his contract, which is rare in today's NFL. Defensive coordinator Vic Fangio's contract is also up at the end of this season, and keeping him needs to be a top priority.
Let me take a moment to defend Fox. He inherited a mess — a locker room that needed a culture overhaul. While there's a long list of in-game decisions that are worth questioning, Fox has undoubtedly improved the culture and helped restore a physical brand of football in Chicago. No one can question the players' heart or effort, which was a major problem under Marc Trestman when he lost the locker room. There's no question these players enjoy playing for Fox.
That doesn't mean Pace should keep Fox, and it's the original question that matters most: Is Fox the right head coach for Trubisky? Is his conservative nature holding back Trubisky's development at all? Many fans would probably answer this question with a resounding yes, but Pace has to be careful to overreact. Chicago has seen this saga before: GM believes in quarterback, thinks he needs an offensive head coach and risks damaging the rest of the locker room that enjoys playing for the current coach.
On the other hand, Fox has only been here three years. Part of the reason why Lovie Smith's departure was so damaging was because the core of the Bears' defense essentially grew up with Smith and loved him to death. Trestman was a bad hire, but I maintain that any coach — yes, even Bruce Arians — would have had a tough time following Smith. The other problem was that Phil Emery alienated his relationship with those players. Pace is a much different GM and the players have a lot of respect for him.
So, again, this is a complicated situation for Pace to handle and will be a defining moment in his tenure in Chicago, along with the decision to trade up for Trubisky. Whatever Pace ends up deciding, he needs to keep these priorities in mind:
Do what's best for Trubisky's development.
Don't lose the locker room.
Keep Vic Fangio.
Fortunately, there are still eight games of football to evaluate before handling this complex situation.
3. Should Kyle Fuller be re-signed? The Bears declined to pick up Fuller's fifth-year option back in March, which is still a completely understandable decision given that they weren't sure if he'd even make the team out of training camp. This is just a situation where you give the player credit for turning his career around and blossoming into a legitimate player.
But the Bears still have eight games to evaluate Fuller's progress. Let's not forget that he had a solid first half of his rookie season before falling off, albeit he wasn't completely healthy. There's no need to rush to judgement here. Pace can sit back and evaluate the full body of work and then determine Fuller's value. The franchise tag could theoretically be an option, but the cornerback tag value was $14.2 million last year and while Fuller is playing better, he's not playing to that level. For what it's worth, he would have made $8.526 million next season under his fifth-year option.
We knew this was going to be an important season for Fuller and nothing has changed in these final eight games. He still has a lot to play for.
4. What about the other cornerback position? Let's not forget that Prince Amukamara is on a one-year, $7 million deal. Meanwhile, Marcus Cooper signed a three-year, $16 million deal in the offseason, but is now coming off the bench and the Bears can get out of the contract at the end of the year. Amukamara is a reliable veteran who has played pretty well this season, and is still only 28 years old. The Bears felt like Cooper was still ascending when they signed him and he's 27. It might be worth getting him on the field more in the second half of the season.
5. Is Adam Shaheen the dynamic receiving weapon they thought he'd be? The Bears love Zach Miller, but part of the reason why they drafted Shaheen in the second round and spent $6 million this year on veteran tight end Dion Sims is because history showed that there was a decent chance Miller wouldn't play all 16 games. That sounds cruel given what Miller is going through right now, but it's the brutal reality of the NFL that good general managers have to prepare for.
And now the spotlight will be on Shaheen's development. So far, he's been a tough player to figure out. Frankly, he looked downright dominant at times during OTAs and training camp, but there are many times in the Bourbonnais bubble when we need to remind ourselves that training camp is not the regular season. Coming from Division-II Ashland, it was immediately evident at the start of the season that Shaheen was going through a significant adjustment.
His playing time has increased in recent weeks as his blocking slowly improves, but it was somewhat discouraging to see him fail to match the physicality of Saints safety Vonn Bell when he was targeted on 3rd-and-goal at the 8-yard-line against the Saints. I actually thought it was a perfect time to draw something up for Shaheen, as opponents don't have a lot of tape on him, but Bell jammed him in press-coverage and Shaheen failed to separate, disrupting the timing of the play.
"He could have helped himself on the release a little bit better," Bears tight ends coach Frank Smith said. "But whether it's D-II, high school or the pros, getting used to being pressed in your release is something that we expect, especially for someone of his size, knowing that guys are going to get up on the line of scrimmage and try and re-route and be physical with him. That will be a learning experience. It was really the first time he's had to release off a press re-route. He'll improve from that. He'll grow. Because he came off and when we talked about it he knew exactly what he could have done better."
Smith said with Miller out, Shaheen's opportunities in the passing game will increase.
"I imagine that the growth that people were hoping for early, we'll now start to see because the opportunities to do it will increase," Smith said.
6. Who needs to be replaced on the offensive line? I haven't been overly impressed with the offensive line this season. It's not a bad unit, but it's also not a very consistent unit. Perhaps the biggest question is whether or not Cody Whitehair is ideally suited for center or guard? Because if the answer is guard, then that affects either Josh Sitton or Kyle Long. The Bears reportedly received some interest in Sitton before the trade deadline, but nothing ever came from it.
Meanwhile, Charles Leno Jr. isn't going anywhere after a signing a four-year, $37 million extension in the offseason, but let's not forget that the Bears looked at free agent right tackles in the offseason. That might be a position they target in the draft next year.
7. Who should be playing next to Danny Trevathan at inside linebacker? Nick Kwiatkoski is back from his pec injury, but Christian Jones played the entire game against the Saints. And why not? He's playing great right now and deserves to be on the field. But Fangio also loves Kwiatkoski and they need to see what he can do.
Veteran Jerrell Freeman's time with the Bears could be over after he was suspended for the second time in two years for violating the league's substance abuse policy. He'll be 32 next year and his suspension will keep him out for the first two games of 2018. Right now Jones and Kwiatkoski both have a chance to replace Freeman long term, but Jones is actually playing on a one-year deal. He was actually surprised he was brought back this year. Now he might be in line for an even longer extension.
8. Is Adrian Amos for real? The third-year safety has turned out to be an upgrade over Quintin Demps, which not many expected after Amos lost his starting job to rookie Eddie Jackson in the preseason. He suddenly has a knack for the ball, delivering a pick-6 in Baltimore and coming up with a crucial forced fumble and recovery in New Orleans last week.
The play of both Amos and Jackson will be crucial in the second half of the season. They have a chance to establish themselves as a longterm safety duo in Chicago.
9. Is Tarik Cohen more than a gimmick back? The Cohen excitement has worn off since he first exploded onto the scene in Week 1 against the Falcons and head coach John Fox admitted that opponents have adjusted and given him more attention.
"You know these guys are all bright coaches and people have kind of put more people towards him in coverage," Fox said. "We have to be able to adjust to that moving forward and with the addition of some people, you know getting some people back, hopefully we'll be able to do something about it."
It's unclear who Fox was referring to (probably Markus Wheaton and Dontrelle Inman), but it's true that the Bears need more weapons for Cohen to be effective. If he's the only legitimate threat on any given play, then he's going to get the attention of the opposing defense, whether he's running or catching the football.
Cohen's snaps have been limited in recent weeks and offensive coordinator Dowell Loggains has to find a way to get Cohen involved more, even if it means using him to scheme other players open. On a offense lacking playmakers, Cohen needs to be on the field more.
10. Are there any sleepers on this roster? Like every other NFL team, the Bears' depth will be tested as the season goes along. Injuries will undoubtedly open up opportunities for players who otherwise don't see the field a whole lot. We know outside linebacker Isaiah Irving and defensive lineman Roy Robertson-Harris are former undrafted players who the Bears like. Unfortunately, both are playing behind established veterans and — in the case of Akiem Hicks and Leonard Floyd — potential Pro Bowlers. Still, both Irving and Robertson-Harris will likely get their opportunities to flash in the second half of the season.
And what about Deiondre' Hall, who suffered a hamstring injury in the preseason? He was purposely kept on the team's original 53-man roster back in September before being put on injured reserve a couple of days later. That made him eligible to return later in the season. He has been traveling with the team and is now eligible to come off of IR after being on it for eight weeks. Hall has the ability to play both safety and cornerback. Right now there is not a need for help at either position, but he could be an option if the depth is tested.
While the playoffs seem like a longshot for the 3-5 Bears, keep in mind that there is a ton of football yet to be played. We're going to learn a lot over the last eight games.