This is an archived article and the information in the article may be outdated. Please look at the time stamp on the story to see when it was last updated.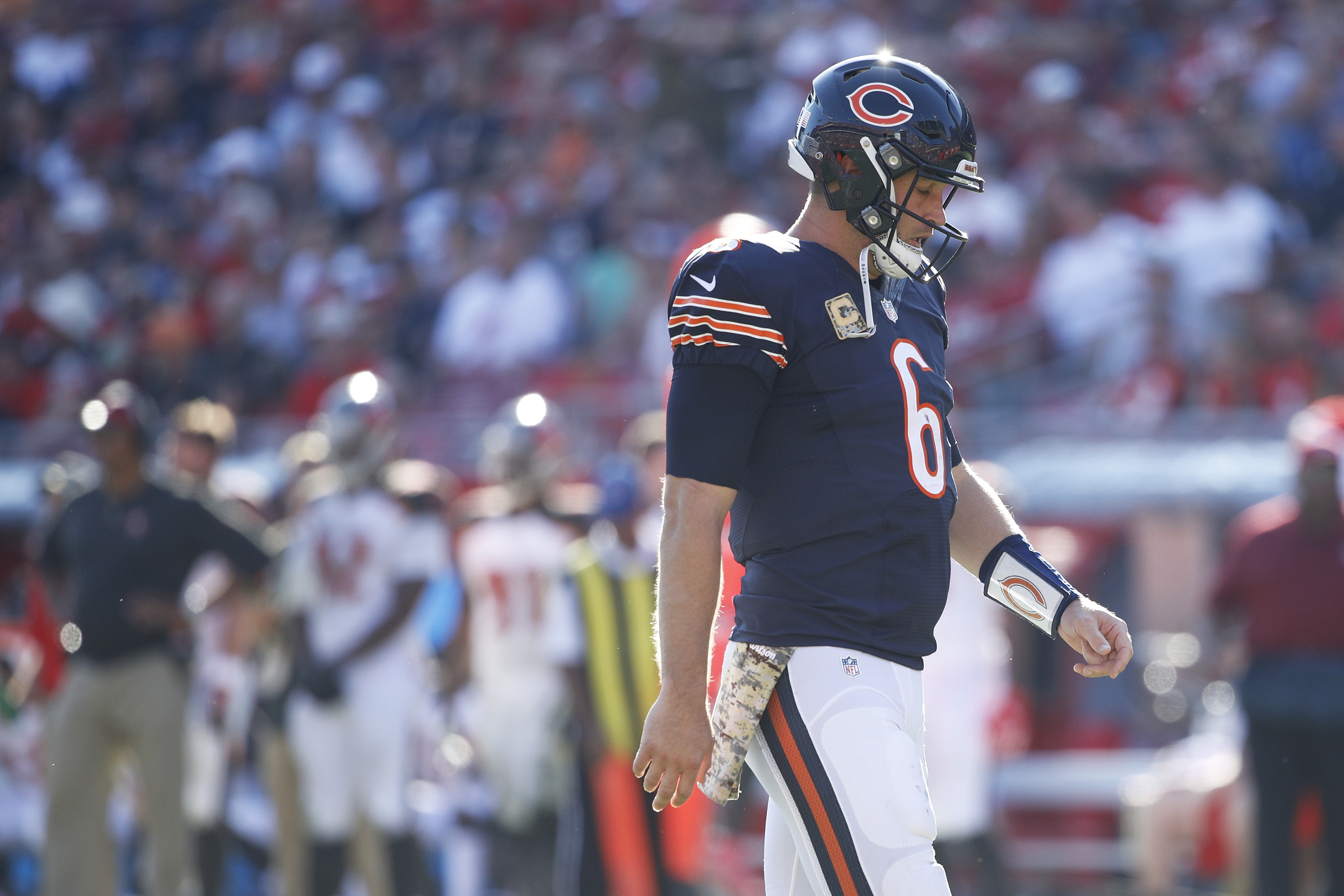 Jay Cutler's eight-year run in Chicago ended with a 52-52 record, a symbolic result considering the blame for his unsuccessful tenure should be split half-and-half between the quarterback and organization.
Cutler's biggest downfall was not a lack of leadership or inability to smile for the cameras. It was not an attitude problem and certainly wasn't a lack of toughness. In the end, Cutler was undone by one glaring weakness: not valuing the football.
Hoge & Jahns, Episode 82: Mike Glennon and Quintin Demps Join The Podcast
[audio http://serve.castfire.com/audio/3309737/3309737_2017-03-10-191537.64kmono.mp3?ad_params=zones%3DPreroll%7Cstation_id%3D3757.mp3]
But if we take a step back and understand why Cutler's gunslinger mentality led to 109 interceptions (second-most in franchise history) and 154 touchdowns (first in franchise history), it's only fair to point out the lack of support he was given by the Bears organization. That isn't so much an excuse as it is reality.
When Cutler first arrived in Chicago, he was throwing to "No. 1" wide receivers like Devin Hester and Roy Williams, who may or may not have dipped his gloves in butter before every game. At least Cutler had a great tight end in Greg Olsen, but then the Bears decided to ship the reliable target away to Carolina in one of the worst trades in franchise history. Enter general manager Phil Emery to fix the offensive woes, who did so while simultaneously turning a great defense into the organization's worst ever. All of these developments put Cutler in precarious situations, as he constantly had his head beat into the ground behind bad offensive lines while under-qualified offensive coordinators like Mike Tice tried unsuccessfully to harness his unbelievable arm talent.
And yes, Cutler deserves plenty of blame too. Many of his errors were unforced. He trusted his arm too much and could never understand that throwing the ball across his body to the middle of the field is almost always a bad idea. He was careless holding the football and fumbled it too often. And while his lack of leadership was mostly #FakeNews, the locker room was never unanimous in its support of Cutler, which is not ideal at the quarterback position.
Alas, Chicago moves on with Mike Glennon, a younger option who doesn't have the raw talent of Cutler, but perhaps has the potential to deliver better results and, most importantly, more wins.
But the Bears have to do their part to make that happen. While Ryan Pace and John Fox were not here during the early years of Cutler's time in Chicago, they can still learn from those organizational mistakes.
Unfortunately, Thursday was not a great start. Losing Alshon Jeffery was already a step back for Glennon, who hadn't even arrived at O'Hare Airport yet. In analyzing Glennon's 630 career passing attempts in the NFL, it's clear the kid has talent, but he can't do it all by himself. He needs to be playing behind a good offensive line and have weapons to throw the football to.
In allowing Jeffery to walk away for just a one-year, $14 million deal with the Eagles, Pace is doubling-down on his first ever draft pick, wide receiver Kevin White, who has played just four games in his first two NFL seasons. He's also created another glaring hole for the Bears, which can't be patched up by free agent-signee Markus Wheaton alone.
Last week at the NFL Combine, I asked Pace about staying disciplined in free agency and this is what he said:
"Ideally with free agency, we're addressing most of our needs to allow the draft to be best player available, which increases your odds. Between (contract negotiator) Joey Laine and myself, we have parameters set up for each guy — what we expect it's going to get to, and we have to know when we're going north of that number and when we might need to back away. Which can be hard, being honest, because you're competitive and you visualize certain guys being on your team. But once it goes north of the number, you've also got to be responsible and disciplined. It can be a challenge."
For a franchise that is partly in this mess because of a lack of discipline in free agency, Bears fans should appreciate this measured approach. Of course, that's assuming Pace and Laine are correct on the value they assign to free agents, which is based on their trust in the pro scouting department.
For instance, the Bears reportedly had interest in free agent right tackle Ricky Wagner, who instead signed with the division-rival Detroit Lions on a deal that is expected to be more than $9 million per year. That's a ton of money for a right tackle and likely "north" of the number that Pace had assigned to him, but should the Bears' number have been higher if the plan was to bring in Glennon? I detailed earlier this week that Glennon was blitzed more than any other quarterback in 2014 and the results weren't pretty. He's a much more effective quarterback when given time to throw the football and Wagner would have been a considerable upgrade on the right side.
There's a fine line between overspending and spending wisely. Not overspending for cornerbacks Stephon Gilmore or A.J. Bouye can be justified in a year that features one of the deepest defensive back draft classes we've ever seen. But not investing in adequate protection and dynamic wide receiver targets for your new quarterback project could prove disastrous.
Just ask Jay Cutler.
Adam Hoge covers the Chicago Bears for WGN Radio and WGNRadio.com. He also co-hosts The Beat, weekends on 720 WGN. Follow him on Twitter at @AdamHoge.