This is an archived article and the information in the article may be outdated. Please look at the time stamp on the story to see when it was last updated.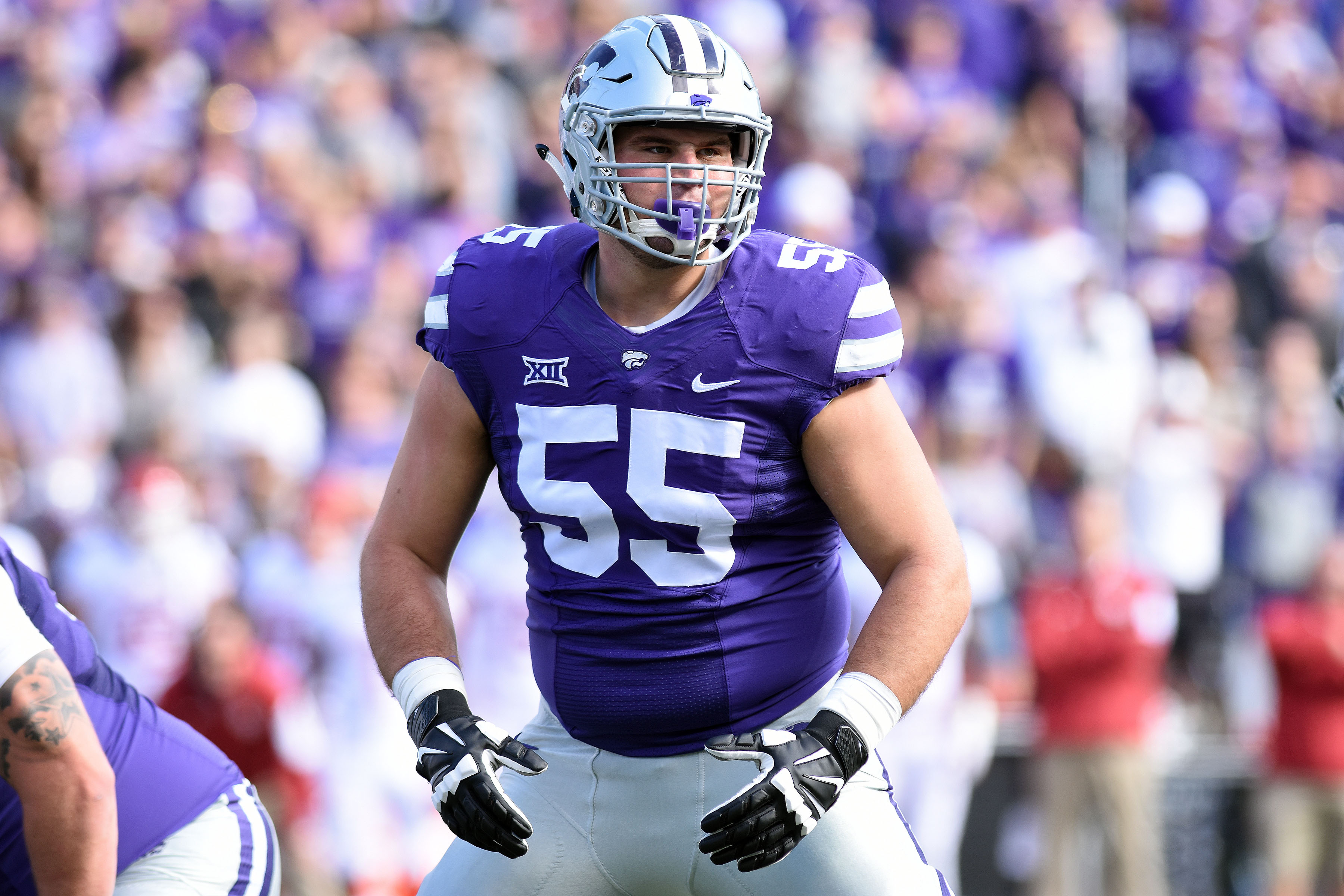 The second and third rounds of the 2016 NFL Draft are in the books. Here is a look at the Bears' picks and other developments from Friday night:
2nd Round, No. 56 overall – OG Cody Whitehair, Kansas State (6-4, 301)
I wasn't a big fan of the Hroniss Grasu pick in the third round last year, but I love the Cody Whitehair pick this year. Whitehair really stood out at the Senior Bowl as a very consistent, versatile offensive lineman and his tape backed it up. A 50-game starter at Kansas State, Whitehair played left guard and right tackle before settling in at left tackle his last two seasons.
Truthfully, Whitehair is one of the safest picks in the draft. The Bears know exactly what they are getting. He's a strong, hard-working offensive lineman whose technique is nearly perfect. He's going fit in really well in the Bears' offensive line room and will start a lot of games for this football team.
What Whitehair said:
"Probably my length (is a strength). I'm not the tallest guy but I feel like I can make it up with some quickness. I just feel that guard is a better fit for me."
What Ryan Pace said:
"He's an aggressive player. He's really good in space. He plays with great inside hand placement and he's got strong hands. I love offensive lineman with strong inside hands. When they latch on, you can't get rid of him. He's a very difficult player to shed once he gets his hands on your chest."
What it means for the depth chart:
Pace said he sees Whitehair as a guard, but believes he can play center too. The Bears have two very good guards right now in Matt Slauson and Kyle Long, so is Slauson a trade candidate? Is he an option at center? Will we see Long at tackle again after all?
These are all questions that are going to be sorted out in training camp. The Bears have seven players (Slauson, Long, Whitehair, Charles Leno Jr., Bobby Massie, Manny Ramirez and Hroniss Grasu) who are going to be given a shot to start. Five spots are open. This is a great problem for the Bears to have, especially because it seems a lot of people have forgotten how big of a problem their offensive line depth was last season.
3rd Round, No. 72 overall – DL Jonathan Bullard, Florida (6-3, 285)
Many thought Bullard would enter the draft last year, but he got feedback that he should return for his senior year. He followed up with 6.5 sacks and 17.5 tackles for loss in his final year at Florida, earning first-team All-SEC honors. I think this is a solid pick in the third round, especially considering the Bears didn't address the defensive line with their first two picks. Bullard provides solid value here and is still ascending. I'm a little worried about his ability to hold up as a five-technique in the Bears' base 3-4 defense, but he should excel in sub-packages, which usually accounts for more than half the game.
What Bullard said:
"I know it's a 3-4 (defense) and I probably will play a little bit of 3-technique and the 5-technique. Nickel situations, pass situations, I could play a little shade-inside guard, or you know anywhere inside to kind of switch it up. So I mean I think it's a good fit for me. I can play the 4-technique also. So really anywhere from the 5-technique inside I can do."
What Pace said:
"It's his length and it's his get-off and it's his hand use. I think he needs to work on his pad level a little bit when he's rushing the passer, and that can be coached. But some things that can't be coached is just the twitch and the quickness he plays with, which will help him as a pass rusher."
What it means for the depth chart:
Pace wants to see Bullard put on weight, which he has the frame to do. If he does that and doesn't lose any of his first step quickness, he'll have a chance to start as a rookie. This is a big position of need for the Bears and I expect Bullard will be given every opportunity to start opposite of Akiem Hicks at defensive end. He'll be competing with the likes of Ego Ferguson, Will Sutton and Cornelius Washington, who were drafted by the previous regime.
Other observations
What exactly happened to the Bears in the second round?
The Bears traded back twice, but not before they tried to trade up. Originally holding the 41st overall pick in the second round, the Bears tried to trade up to the No. 34 pick, according to the NFL Network's Ian Rapoport, but the deal fell through at the last minute. Pace vaguely admitted the attempted move, saying: "We had some early talks, honestly, before the draft even started. Nothing really came to fruition."
Instead, the Bears ended up trading back, a sign that the guy they were hoping to get went somewhere in the next six picks (I know they liked edge rusher Noah Spence, who went to the Bucs two picks before the Bears).
Trading back to the 49th pick, the Bears also received the Buffalo Bills' fourth rounder (No. 117) and another fourth-round pick in the 2017 draft. That's a solid haul.
Then things got a little crazy. Right before the Bears were about be on the clock at No. 49, the rival Packers traded up to No. 48 and took Indiana offensive tackle Jason Spriggs. I can't confirm whether or not that's the guy the Bears wanted, but it did look fishy when the Bears then traded back again.
"(The Packers trade) really didn't effect us," Pace said. "We had a lot of names there that we liked."
So the Bears moved back again, this time to No. 56 overall, receiving the Seattle Seahawks' fourth-rounder (No. 124) in return.
In summary: The Bears moved back 15 spots and received three fourth-round picks in return (two this year, one next year). Then they selected a very good player in Cody Whitehair.
I don't think the second round played out exactly as the Bears had hoped, but it wasn't a bad result in the end.
Power 5 Love?
Ryan Pace has made nine draft picks as the Bears' general manager. He has taken nine players from nine different Power 5 schools. Coincidence?
"Honestly, man, it's just by chance," Pace said. "We evaluate them all the same way. A lot of those small-school guys, it's good to see them at the Senior Bowl or the East-West game to see them against better competition. But I have no problem at all with taking a small-school player. That's really by chance."
AFC South loading up
The Bears play the Jaguars, Titans and Texans this year and I love what those teams have done so far in the draft.
The Jaguars will be adding Jalen Ramsey, Myles Jack and Dante Fowler (who was injured last year) to their defense. Those are three really good upgrades. Jack may end up being the best pick in this entire draft and Jacksonville got him in the second round.
The Titans are building with power, adding Jack Conklin to the offense line, Kevin Dodd and Austin Johnson to the defensive line and running back Derrick Henry to a backfield that already has DeMarco Murray. Love it.
As for the Texans, I'm still not sold on Brock Osweiler at quarterback, but at least they are giving him weapons. Osweiler will now have D'Andre Hopkins, Will Fuller and Braxton Miller to throw the football to. And they added Notre Dame center Nick Martin to help protect him.
A'Shawn Robinson to the Lions
If there's one player the Bears might regret not taking, it's Alabama defensive lineman A'Shawn Robinson, who was ranked ninth on my Bears Big Board. He was available to the Bears at No. 41, but they traded back. Before they were on the clock again, that Lions had selected Robinson. Now they get to see Robinson twice a year.
Weird night for the quarterbacks
I knew Christian Hackenberg (Jets) would go before Connor Cook, but I was a little surprised Jacoby Brissett (Patriots) did too. And I was absolutely stunned USC's Cody Kessler (Browns) did too. Kessler is small with an average arm and he was not accurate at the Senior Bowl. He wasn't ranked in my top 10 quarterbacks and I would have avoided him altogether in the draft.
As for Hackenberg, I really would have liked to see him go to the Texans (and Bill O'Brien) but the Jets ended up taking him with a pick sandwiched between two Houston picks. Chan Gailey is a good coach for Hackenberg, but I'm not sure the rest of that Jets franchise is a great fit for him.
Meanwhile, Cook is still available going into Day 3. Still think that whole not being a captain thing doesn't matter? I've been trying to tell you that it does.
Adam Hoge covers the Chicago Bears for WGN Radio and WGNRadio.com. He also co-hosts The Beat, weekends on 720 WGN. Follow him on Twitter at @AdamHoge.