This is an archived article and the information in the article may be outdated. Please look at the time stamp on the story to see when it was last updated.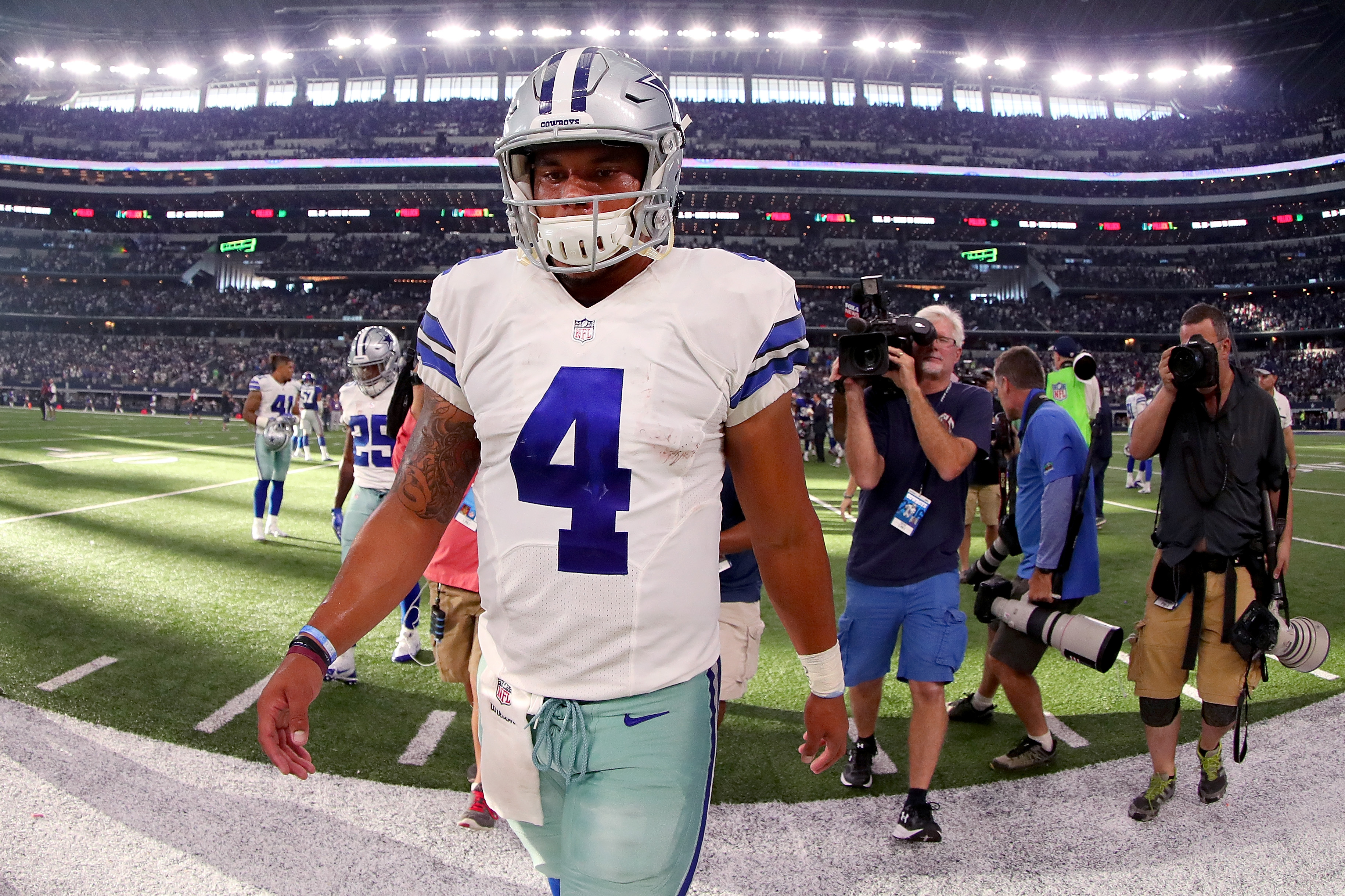 Dak Prescott may or may not be good. He certainly looks promising after a very strong preseason and two regular season games, but the sample size is still very small.
That said, Prescott's early success must have many NFL teams thinking twice about passing on the rookie quarterback out of Mississippi State. And let's be clear: all 32 teams passed on Prescott. Even the Dallas Cowboys passed on him four times before finally selecting him with the 135th overall pick in the fourth round.
"That's something that motivates and pushes me every day to make teams — I'm not going say regret — but rethink their decision," Prescott said on a conference call this week.
Podcast — Intentional Grounding, Episode 50: Week 3 Bears Preview Show
But while no one expected Prescott to be playing — and playing well — for the Cowboys this early in his career, some teams will be under the microscope more than others when it comes to passing on the quarterback.
The Bears are certainly one of those teams. They had six picks before Prescott was drafted, including three in the fourth round. Two of those fourth round picks were inactive in the team's first two games, while cornerback Deiondre' Hall has shown some promise in his young career.
Bears head coach John Fox confirmed Thursday that they met with Prescott in Mobile, Ala. the week of the Senior Bowl, but did not follow-up again at the Combine.
"I recall meeting with him before the Senior Bowl," Fox said. "We had interviews set up there. I don't know that we copied that at the Combine because we already had a pretty good evaluation, but he was a pretty impressive young guy."
Prescott said his meeting with the Bears lasted over 30 minutes and he thought it went well.
"I felt like I had a pretty good meeting with them at the Senior Bowl," he said. "We talked a lot of ball. They got to know me. I like their staff, the GM, the owner, everybody. It was a great meeting."
But the interest appears to have stopped there. And Fox even showed a hint of skepticism when he spoke of Prescott Thursday.
"Truth be told, I don't know how much we would be talking about Dak (if Tony Romo hadn't gotten hurt)," Fox said. "A lot of it in this case has been the opportunity, and he's made the most of it. I'm not downgrading what he's accomplished, but it's how a lot of guys make their mark. Everybody starts off as a nobody, they get an opportunity, they have success, and now everybody's aware of them."
While it's easy to question the Bears for not using one of their three fourth round picks to draft Prescott, it's the larger failure to draft any quarterback that is especially confusing. The Bears had nine picks in the 2016 NFL Draft and have had 15 selections overall since Fox and general manager Ryan Pace arrived in Chicago. They've selected zero quarterbacks.
"It's kind of a team effort. Ya know? I think as far as personnel people, as well as the coaching staff, I think we've tried to take, in our opinion, the best available," Fox said. "And it's not been a quarterback."
Indeed Pace and Fox have stuck to the idea of taking "the best player available" regardless of need, but the quarterback position deserves extra attention because the $63 billion league depends so much on the position.
Not only are the Bears heading to Dallas to face the rookie quarterback they passed on, but they will likely do so without Jay Cutler, who is 33 years old and hasn't played a full season since 2009, his first year in Chicago. Pace and Fox decided to roll the dice this year, signing Brian Hoyer as an above-average backup, but not investing in a longterm option to develop. And now, the torn ligaments in Cutler's right thumb threaten to put the Bears dangerously close to where the Cowboys were last year when they essentially lost an entire season because they didn't have an adequate backup for Romo.
"Tony Romo's been such a good quarterback for us for the last 10 years, but he's 36 years old and we needed to get a young guy in here to start to develop," Cowboys head coach Jason Garrett said via conference call. "We've tried to develop different guys at different times and their development went to a certain point and it didn't go any farther."
The Cowboys were similar to the Bears, having not drafted a quarterback since 2009 before taking Prescott. In fact, Prescott is only the third quarterback the Cowboys have drafted since taking Quincy Carter in the second round in 2001. Clearly, the lack of developmental depth during 2015 season served as a wake-up call.
"So for us, we wanted to make sure we spent a great deal of time evaluating the guys coming out, getting to know them as well as we could and hopefully if the draft allowed it, to pick one of these guys and use the top resource to do it," Garrett said.
Organizationally, the Bears haven't used the top resource to supplement their quarterback depth. In fact, amazingly, the organization has drafted just three quarterbacks in the last 11 years and none higher than the fifth round. Think about that. They haven't used a draft pick higher than the fifth round on the most important position in sports in 11 years.
And if you go all the way back to 2000, the Bears have only drafted one quarterback higher than the fourth round — Rex Grossman with the No. 22 overall pick in 2003.
By comparison, even the New England Patriots — who have had the most stable quarterback situation in the league with Tom Brady as their starter since 2001 — have drafted four quarterbacks in Rounds 2 and 3 since 2008. Two of those guys are Jimmy Garoppolo and Jacoby Brissett, who are not only getting the Patriots through the first four weeks of the season without Brady, but are also providing New England with hope for the future and/or trade chips.
The Cowboys learned the hard way last year, but now could have their longterm replacement for Romo. Jason Garrett's staff actually coached in the Senior Bowl, but Prescott was on the other team. Still, like the Bears, they met with Prescott in Mobile and came away with "a real positive first impression," according to Garrett. Unlike the Bears, the Cowboys followed up. They worked Prescott out on Mississippi State's campus and brought him to Texas for a visit. Eventually, they drafted him.
Now the Bears will play Prescott on Sunday night on national television. And they'll do so with Hoyer as their likely starter and Matt Barkley as their backup.
Three Key Questions: 
1. What's going on with Alshon Jeffery? After being limited in practice Wednesday, Jeffery (knee) apparently suffered a setback and did not practice Thursday. If Hoyer doesn't have his most explosive offensive weapon, it could get ugly in Arlington.
2. How will the Bears replace nose tackle Eddie Goldman (ankle)? John Fox actually forgot that Goldman's backup, Will Sutton, was active against the Eagles and played 19 snaps. That's not a good sign. The Cowboys have the best offensive line in football and center Travis Frederick will be a tough matchup with Goldman not on the field.
3. Can the Bears get the running game going? It doesn't appear Ka'Deem Carey (hamstring) will play, which means more reps for rookie Jordan Howard. Starter Jeremy Langford has struggled and appeared to be benched after a second half fumble in Week 2. Howard gained 22 yards on just three carries against the Eagles and deserves more opportunities.
Prediction: Cowboys 27, Bears 17
I actually made this prediction on Intentional Grounding before we knew about Jeffery's setback. If he doesn't play, I don't see how the Bears even get 17 points. There were 16 players on the Bears' injury report Thursday, including 11 starters. Much like Week 3 in Seattle last year when Cutler didn't play, this just seems like a lost week for the Bears. They might as well get as many young guys on the field as possible.
Around The League
While everyone speculates what is wrong with Aaron Rodgers, these are the times when he bounces back with a huge game. I like the Packers (-7.5) against the Lions at Lambeau … If Bears fans want to see Jimmy Garoppolo in Chicago anytime soon, they should be rooting for Jacoby Brissett to have success. Otherwise, I don't understand why the Patriots would trade Garoppolo when Tom Brady is 39 years old. I realize Brady thinks he can play forever, but if you haven't noticed, careers tend to end suddenly in the NFL. If Brissett emerges as another possible longterm replacement, only then would it make sense for the Patriots to move Garoppolo, who could command a similar haul as Jay Cutler did in 2009 (two first round picks, a third round pick and Kyle Orton) …  The Vikings are getting pounded with injuries as Adrian Peterson might not be back until the playoffs, but I'm not ready to jump off the bandwagon. Peterson already had the lowest yards/carry average (1.6) among NFL running backs with at least 20 rushing attempts and the Vikings were still winning without him. Minnesota's defense is elite and Sam Bradford is still operating with weapons like Stefon Diggs and Kyle Rudolph. I love the Vikings (+7.0) at Carolina Sunday … With protests taking over the downtown Charlotte area, the Panthers-Vikings game is still planned to go on as scheduled. "This game absolutely should be played Sunday," Panthers linebacker Thomas Davis said. "I look at football as a way to bring people together." Former Bear and current Panthers tight end Greg Olsen added: "Sports have a tremendous ability to give people a little bit of reprieve from what for a lot of people not only with what's going on now but a general state of life." … I'm riding the Steelers again for my "lock of the week." The Eagles (+3.5) will be receiving a wake-up call after playing the Browns and Bears.
NFL Draft Game Of The Week
No. 17 Arkansas vs No. 10 Texas A&M (-5.5) — 8 p.m. CT on ESPN
This game will also be played at AT&T Stadium in Arlington, Tex., giving the Bears' front office a great opportunity to see one of the top draft prospects, Texas A&M defensive end Myles Garrett, in person. Bears general manager Ryan Pace is expected to be in attendance. As for Arkansas, I told you about left tackle Dan Skipper a couple of weeks ago, but tight end Jeremy Sprinkle has looked very good early in the season. This is the type of matchup Bret Bielema will keep close. Like Arkansas' win over TCU two weeks ago, don't be surprised if this one goes to overtime with some crazy plays deciding the outcome.
NFL prospects to watch:
Arkansas LT Dan Skipper
Arkansas TE Jeremy Sprinkle
Arkansas DE Deatrich Wise Jr.
Texas A&M DE Myles Garrett
Texas A&M WR Speedy Noll
Texas A&M S Justin Evans
The Saturday Itinerary
Here's what I would be watching if I was sitting on my couch all day Saturday:
11 a.m. (BTN) — No. 11 Wisconsin at No. 8 Michigan State (-5.0)
Two good running games, two good run defenses. Something has to give. Wisconsin will be starting redshirt freshman quarterback Alex Hornibrook against Michigan State fifth-year senior Tyler O'Connor.
NFL prospect to watch: Wisconsin OLB Vince Biegel
Alternate Games: No. 12 Georgia at No. 23 Ole Miss (-7.0)  on ESPN; No. 13 Florida State at South Florida on ABC
2:30 p.m. (CBS) — No. 19 Florida at No. 14 Tennessee (-6.5)
This is quite the spread considering Florida has won 12 straight games in this series. Florida's defense has been outstanding the first three weeks, but they haven't played a good team yet.
NFL prospect to watch: Florida DE Bryan Cox
Alternate Games: Penn State at No. 4 Michigan (-18.0) on ABC; Duke at Notre Dame (18.5) on NBC
7 p.m. (ABC) — No. 7 Stanford at UCLA (+3.0)
UCLA actually opened as a brief favorite, which makes this one of those games with a fishy spread. Stanford seems like it is more than three points better than UCLA, although the Bruins' overtime loss at Texas A&M in Week 1 doesn't look bad at all now.
NFL prospect to watch: Stanford RB Christian McCaffrey
Alternate Games (both 6:30 starts): No. 20 Nebraska at Northwestern (+8.5) on BTN; Oklahoma State at No. 16 Baylor (-9.0) on FOX
The Nightcap: 9 p.m. (Pac 12 Network) — No. 9 Washington at Arizona (+12.5)
Upset Alert: 2:30 p.m. (FS1) — Boise State at Oregon State (+13.0)
The Top 10
My updated Top 10:

1. Ohio St
2. Alabama
3. Louisville
4. Michigan
5. Clemson
6. Stanford
7. Houston
8. Mich. St
9. Tennessee
10. Wisconsin

— Adam Hoge (@AdamHoge) September 20, 2016
Adam Hoge covers the Chicago Bears for WGN Radio and WGNRadio.com. He also co-hosts The Beat, weekends on 720 WGN. Follow him on Twitter at @AdamHoge.