This is an archived article and the information in the article may be outdated. Please look at the time stamp on the story to see when it was last updated.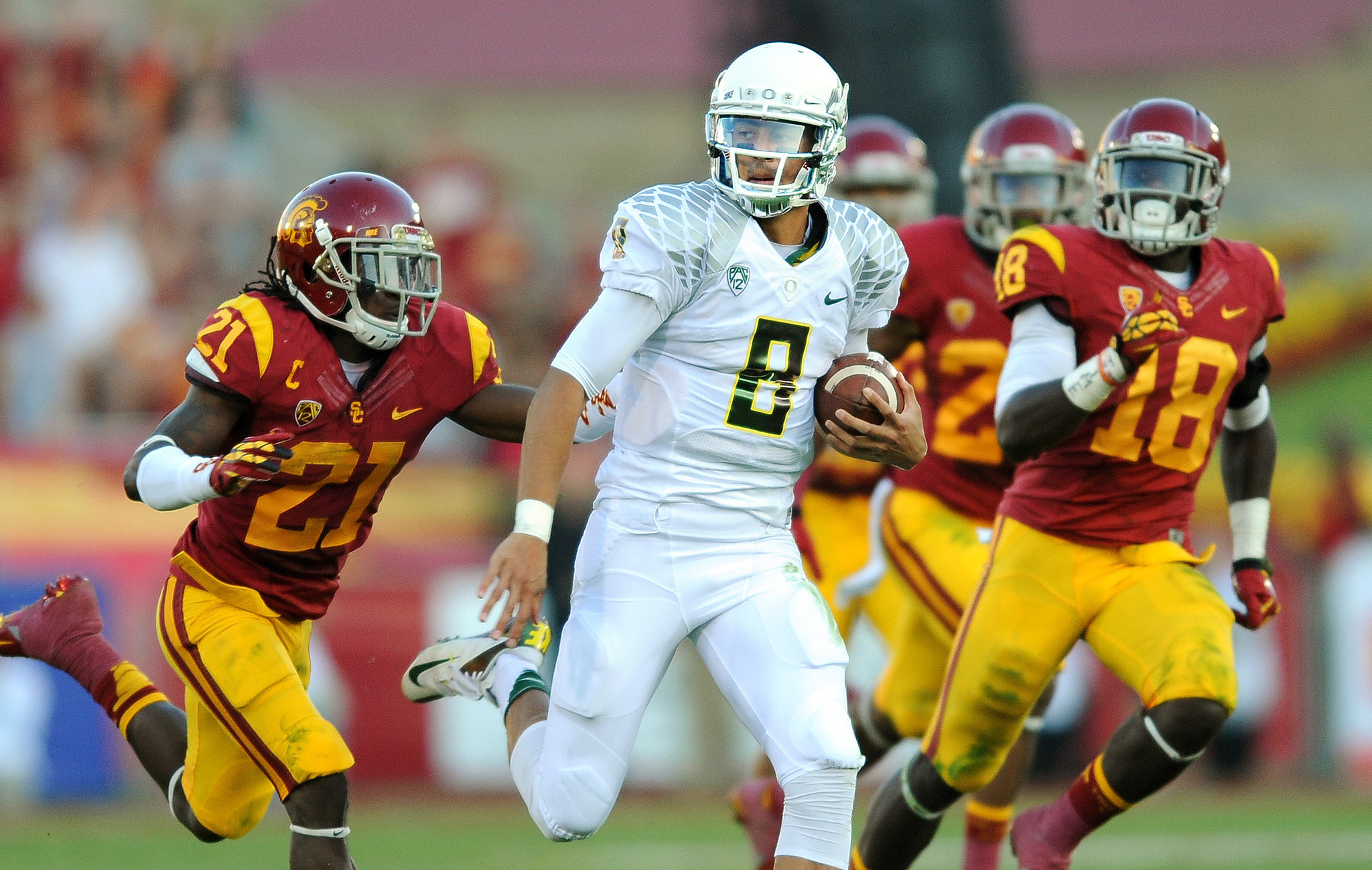 The Buccaneers are about to make a mistake.
With just a little over two weeks to go before the 2015 NFL Draft, it seems to be a foregone conclusion that Tampa Bay will select Florida State quarterback Jameis Winston first overall.
And if that's true, they're about to draft the wrong quarterback.
Frankly, I'm not sure there is a quarterback in this draft worth the No. 1 overall pick, but if I was forced to take a one first, I would draft Oregon's Marcus Mariota before Winston.
This is something I've been on record saying/writing since the college football season, but I've been somewhat quiet on the matter the last couple months because I wanted to give Winston a chance. Since then, I've done my due diligence, breaking down every aspect I could between the two quarterbacks. In the end, my conclusion didn't change.
Here's why:
Personality
Winston: Jameis is a very confident, out-spoken, fun-loving guy who is always looking for a quick laugh.
Mariota: Marcus is a very quiet, serious player who takes a more mature, business-like approach to the game, but can be downright boring at times.
Edge: Even. These two are complete opposites, but both command respect from teammates in their own unique way.
Leadership
Winston: More of an in-your-face leader, Winston is the guy who will give the pre-game speech, shake every teammate's hand on the way out to the field and constantly work to motivate you on the field and on the sideline.
Mariota: He's the guy who is going to lead by example on and off the field. He's not going to scream at his teammates on the sideline, but rather reassure them by staying calm and earning their trust on the field.
Edge: Mariota. Winston's emotions got the best of him at times and on-the-field temper-tantrums were caught on camera. I worry about how his style is going to translate to an NFL locker room when his team isn't winning every week. The Seminoles went 26-1 with Winston as their starter and the one loss was in his last game. He's not going 26-1 in the NFL. Will veterans start tuning the rookie out when he starts throwing interceptions and the team is losing games? As quiet and boring as Mariota can be, his leadership style is more conducive to an NFL locker room, in my opinion.
The Quarterback Room
Winston: He's smarter than you think he is. Winston is very adept at understanding football, recognizing coverages and finding weaknesses in defenses.
Mariota: This is one of Mariota's greatest strengths. His knowledge of the game and the work he puts in during the week will be a welcome asset to whichever team drafts him. He'll immediately upgrade the quarterback room.
Edge: Mariota. This is only a slight edge to Mariota because I don't think Winston gets enough credit for his preparation and football IQ. That said, Mariota is a true football junkie. Of this draft class, I believe he'll be the most prepared quarterback every week. This is also why I laugh at the notion that Mariota will struggle with the concept of "huddling". If there's any quarterback who can make the adjustment from Oregon to an NFL offense, it's Mariota.
Measurables
Winston: He has the size and arm strength to compete in the NFL right now. His big body allows him to bounce off hits and escape pressure, however he doesn't have great straight-line speed and will get run down on the move a lot faster in the NFL. Winston's footwork looks stiff too, which makes me worry about his mobility deteriorating quickly at the next level.
Mariota: Doesn't have quite the arm-strength of Winston, but it's still more than adequate for the NFL. His 6-4 frame allows him to scan the field with ease and his straight-line speed and elusiveness will give him an edge at the position. Unlike some of the other extremely mobile quarterbacks to come out of college, Mariota has the arm and throwing ability to have legitimate success at the next level. He's more Russell Wilson and Colin Kaepernick than he is Geno Smith and Johnny Manziel.
Edge: Even. What Winston has in arm strength, Mariota makes up for in speed and agility.
Execution
Winston: Jameis has a little Jay Cutler in him. He can be baited into bad throws, trusting his own ability a little too much. On the other hand, like Cutler, he can also make incredible throws, perfectly placing a ball where only his receiver can get it. There's no denying his late-game execution, but it's also perplexing why Winston was in so many come-from-behind situations. The first half effort was questionable at times. Winston lived on the edge too much in college and if he does that in the NFL, he'll lose more than he'll win.
Mariota: Unlike Winston, Mariota rarely makes the dangerous throw, which is why he only threw four interceptions last season and only had 14 in 41 career college games. His touchdown-to-interception ratio is 7.5 compared to Winston's 2.32. That's not to say Mariota is perfect, however, as he sometimes would step into sacks and fumbled 27 times in college, which is way too much.
Edge: Mariota. A fumbling problem is easier to correct than an interception problem. Simply put: I trust Mariota with the football in his hands more than I trust Winston.
NFL Readiness
Winston: Jameis played in a pro-style offense at Florida State, so if we're talking about 2015, Winston has the ability to be ready to go right away.
Mariota: Not only did Mariota not play in a pro-style offense, he played in Oregon's offense, which has consistently failed to produce NFL quarterbacks. There's no question he needs some time to develop before he can start at the NFL level.
Edge: Winston. If you're a team that needs a quarterback to start Week 1, Winston is your guy. However, if you can wait a little bit and give Mariota the time he needs to adjust, the longterm benefit could be greater.
Conclusion: Draft Mariota Over Winston
Both of these quarterbacks have a chance to be very good in the NFL, but if I'm putting my job on the line by picking one of them first overall, I'm taking the safer pick in Marcus Mariota. Yes, he'll need more time to develop, but I'm also willing to look at his talent, coachability and commitment to football and feel pretty good that in a year or two — or maybe even later in the 2015 season — Mariota is going to be able to win some football games for me.
You may have noticed that I skipped over the very important off-the-field conversation. That was by design to show that Mariota can compete Winston on football ability alone. However, throw in the rape accusation against Winston, the pellet-gun incident, the shoplifting, and the random yelling of "F*** her right in the p****" in public, and I know which quarterback I'm staying away from.
It doesn't seem likely to happen at this point, but if Lovie Smith and the Buccaneers are committed to drafting a quarterback with the No. 1 overall pick, it should be Marcus Mariota, not Jameis Winston.
Adam Hoge covers the Chicago Bears for WGN Radio and WGNRadio.com. He also co-hosts The Beat, weekends on 720 WGN. Follow him on Twitter at @AdamHoge.