This is an archived article and the information in the article may be outdated. Please look at the time stamp on the story to see when it was last updated.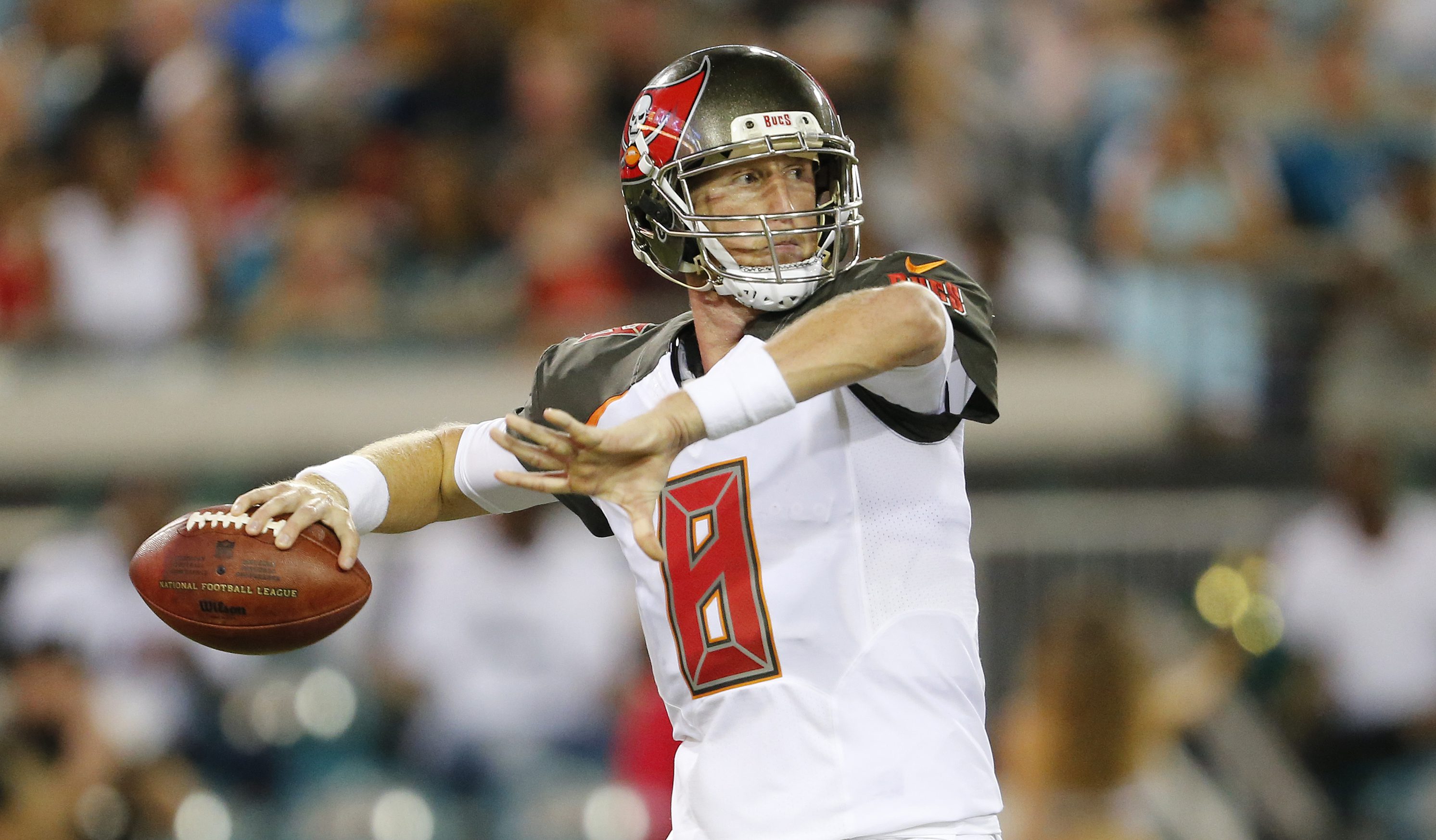 The Mike Glennon Era appears to be dawning in Chicago and could be made official Thursday at 3 p.m.
On its surface, the signing appears questionable, mainly because the money is reported to be around $14-15 million per year for a guy who has only thrown 11 passes in the NFL over the last two seasons. As is often the case in NFL free agency, numbers can be deceiving and chances are they will be until the details of Glennon's contract are disclosed.
But before we dive into the particulars of the contract, let's focus on Mike Glennon the quarterback. I am an extremely odd person and decided to sit down and watch all 630 of Glennon's career passing attempts. Someone had to, I guess.
Here's what I saw:
Positives: There's a reason Glennon was drafted in the third round back in 2013. He has a very strong arm and throws a nice, tight spiral with a quick release. When given the time, he goes through his progressions smoothly and finds the open man. His footwork in the pocket is better than most and he's willing to step up and deliver a strong throw, even if it means absorbing a hit. Glennon's touch has improved since college and he throws a nice back-shoulder ball, allowing his bigger receivers to go up and get it. While he's not very elusive, he does seem to have a feel for the rush from the backside. Mobility is definitely not Glennon's strength, but he's not a statue either. It takes a second or two to accelerate, but he can pick up a first down with his feet when needed. He throws well on the run too, but it's hard to build that into the offense because of his lack of mobility. Glennon holds the ball high and tight and fumbles are not a big issue, which is impressive given all the pressure he's faced in his career. Perhaps most important: he's still only 27 years old.
Negatives: Glennon's mechanics break down under pressure. His footwork gets sloppy and he tends to throw off his back foot. Below average athleticism often leaves him as a sitting duck against the blitz. He hasn't had much help in Tampa, but there are too many times the offense looks like a complete mess and the quarterback always has to shoulder some of that blame. There were communication issues with center Evan Dietrich-Smith (back-to-back delay-of-game penalties at Pittsburgh in '14 and a fumbled snap in Atlanta where the center didn't realize Glennon was in the shotgun). His athletic limitations mean he must play behind a top-end offensive line with a strong, complementary running game.
Conclusion: There's enough to like about Glennon to understand what Bears general manager Ryan Pace sees in him. We're talking about a 27-year-old quarterback who was never given a fair shake in Tampa. Watching the tape is important because it exposes realities that cannot be seen on a stat sheet. Take Glennon's 2014 season for instance. He played in six games and only completed 57.6 percent of his passes with 10 touchdowns and six interceptions. But in watching those six games, I counted a total of 13 dropped passes, and one of his interceptions was the result of wide receiver Mike Evans pulling up with an injury in the middle of his route. Taking all of that into account, Glennon's completion percentage adjusts to 64.5 percent, which is more than respectable.
Additionally, the lack of protection from his offensive line cannot be ignored. Amazingly, Glennon has been sacked 56 times in just 21 games. Things especially got out of control in 2014 when he was sacked five times each by the Ravens and Vikings in back-to-back games. It was then when his confidence appeared to take a hit and the mechanics got sloppy. Glennon made one more start (against Brian Hoyer's Cleveland Browns, actually) and then was benched when Josh McCown returned from injury.
It's fair to wonder why then-Buccaneers head coach Lovie Smith made that change at quarterback when Glennon was still the younger option with more upside, but it was also obvious that he was struggling under so much pressure. According to Pro Football Focus, Glennon was blitzed more than any other quarterback in 2014 (42.9 percent of the time) — five percent more than any other quarterback in the league. PFF also determined that Glennon was the worst quarterback in the league against the blitz in 2013 and McCown, who was actually playing with the Bears that year, was the best. One would assume this played into Lovie Smith's decision, although we all know quarterback evaluation isn't Smith's greatest strength.
Unfortunately for Ryan Pace, Glennon has only thrown 11 passes in the league since that point in 2014. All 11 of those attempts came on the last drive of a blowout loss to the Falcons last season, so the results can basically be thrown out the window. He threw a touchdown and his only incompletion was dropped, but almost all of the throws were short, underneath passes against backups playing prevent defense.
Still, there's certainly some logic here indicating that Glennon can be a decent-to-good starter in the NFL and perhaps even develop into something more in the right situation with more experience.
But that's a key question: Are the Bears a better situation? There's a reason why Glennon was blitzed so much in Tampa and it's because opposing defensive coordinators knew they could get to him without getting beat consistently. Jordan Howard will provide a helpful running game and the interior of the Bears' offensive line is very good, but Charles Leno Jr. and Bobby Massie aren't Pro Bowlers at the tackle position and that's a little worrisome given Glennon's lack of athleticism. Ricky Wagner would have been a good upgrade at right tackle, but he's reportedly signing with the Lions instead. That's a significant loss for the Bears — and Glennon — in my mind, especially in a weak year for tackles (both in free agency and the draft).
My advice? Re-sign Alshon Jeffery. When Vincent Jackson and Mike Evans weren't dropping Glennon's passes in 2014, they were providing him with big time options that he was frequently hitting downfield when he had the time to do so. In fact, back in 2015, Pro Football Focus noted that Glennon's 68.9 percent "Yards in Air Rate" was the highest among quarterbacks over the previous four seasons. Essentially, that means that Glennon was picking up most of his yards through the air, as opposed to yards piled up after the catch. To me, that proves he can sling the football and move an NFL offense down the field.
But what about the contract? With better protection and more help from his wideouts, Glennon should have more success in Chicago, but is he worth about the same that Jay Cutler is due this year? Well, he is if he plays well. An average salary between $14-15 million would rank 23rd among quarterbacks, which actually sounds about right. Plus, that number rarely tells the entire story. Using Pace's recent blueprint for signing free agents, my guess is there will be incentives built into the contract and the actual guaranteed money will be far less than $14-15 million per year over the entire length of the deal.
For argument's sake, let's say the Glennon contract is worth $45 million over three years, but only $20 million is fully guaranteed. Perhaps, like Cutler's contract, more gets guaranteed via yearly roster bonuses payed out in March of 2018 and 2019, meaning the Bears can avoid those by cutting him before those dates if needed. Likely all of the fully guaranteed money would be paid out in the first two years, giving the Bears a clear out for Year 3 if Glennon turns out to be a disaster. But if he doesn't — if he actually turns out to be pretty good — perhaps more incentives are built into the deal to push it beyond $45 million.
In today's quarterback market, Glennon would be a steal under those circumstances if he plays well and would only be a mega-failure if he was completely unplayable on the field (and the tape does not suggest that to be the case). This is not a Brock Osweiler situation in my opinion. There's more tape on Glennon now than there was on Osweiler last year and it's much more favorable. Some are comparing Glennon's numbers to Osweiler's in Denver, but as I detailed before, those numbers are deceiving. Osweiler played on a much better team with better protection. Plus, the only way Glennon will make more money than Osweiler over the life of the contract is if he earns it by playing well.
With the Bears flush with cap space and apparently determined to move on from Jay Cutler, I can certainly see why this all adds up to paying Mike Glennon, especially when there isn't an obvious solution available with the No. 3 overall draft pick.
You don't have to love it. But you can understand it.
Adam Hoge covers the Chicago Bears for WGN Radio and WGNRadio.com. He also co-hosts The Beat, weekends on 720 WGN. Follow him on Twitter at @AdamHoge.