This is an archived article and the information in the article may be outdated. Please look at the time stamp on the story to see when it was last updated.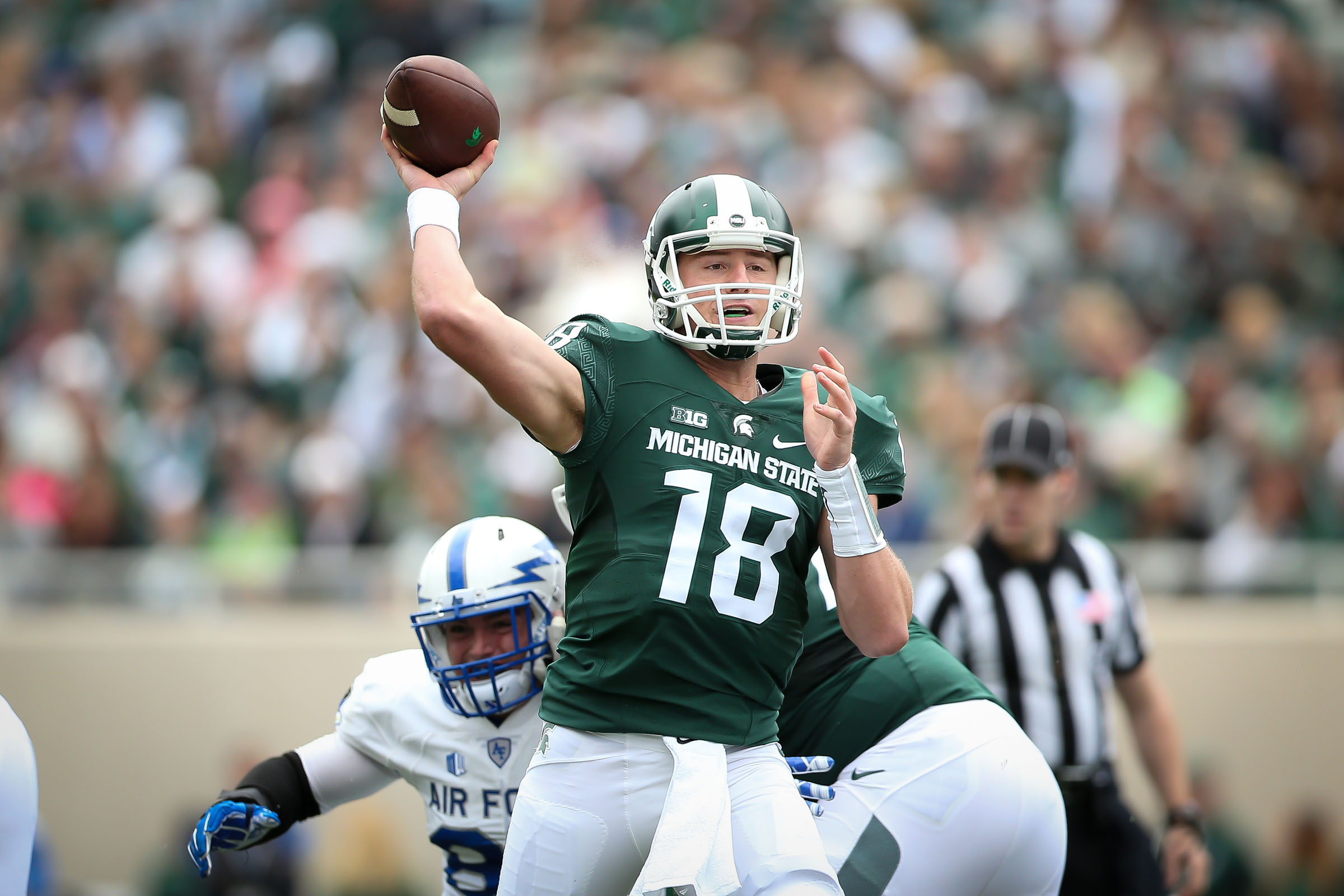 After a little bit of flip-flopping and last-minute studying, I've finally settled on my top 10 quarterbacks in this year's NFL Draft. Here's the list:
1. Jared Goff, California (6-4, 215)
Goff has the most natural talent among this year's quarterbacks and that's why I have him ranked slightly ahead of Wentz, who I also think has a bright future in the NFL. Goff's ability to extend plays and make "wow" throws while on the run will translate to success at the NFL level, and you have to love his toughness and willingness to hang in the pocket and take a hit to complete a pass. On the flip side, I don't think Goff should be starting Week 1. He needs time to adjust to a pro system and develop the footwork required to go under center. He also tends to trust his arm too much at times and will need to do his homework to accurately read NFL coverages.
Where I would draft him: Early first round. Goff is probably headed to Los Angeles where he's going to have the pressure of leading the Rams' return to the west coast. I don't know if that's the best situation for him, but he has the talent to overcome some natural early struggles and have success. I just hope the Rams are patient with him.
2. Carson Wentz, North Dakota State (6-5, 237)
Despite playing at the FCS level, I actually think Wentz is more pro-ready (today) than Goff because he played in a pro-style system and regularly commanded the huddle and made decisions at the line of scrimmage. I was really impressed with how Wentz performed at the Senior Bowl. Facing a big step up in competition, he walked onto the practice field in Mobile and immediately established himself as the leader of the group. Even more impressive, he consistently performed well throughout the week despite working with receivers he had never even met before. I really like Wentz's makeup and think he will be a very good quarterback at the NFL level. In all honesty, Goff is 1A and Wentz is 1B, and I had a very hard time picking between the two.
Where I would draft him: Early first round. Wentz is probably headed to Philadelphia at No. 2 and if Sam Bradford sticks around, he'll be entering a great situation where he can develop for a little bit before taking over as the Eagles' longterm starter.
3. Christian Hackenberg, Penn State (6-4, 223)
At this point it's been well documented that I like the very inconsistent Hackenberg, who has all the physical tools to be a good NFL quarterback. I think it's important for critics to understand how much Bill O'Brien's departure from Penn State hurt his development. Granted, great quarterbacks should be able to overcome a coaching change, but you also have to factor in the unique situation Penn State was in with limited scholarships after the severe NCAA sanctions that were imposed. Hackenberg was playing behind a pretty bad offensive line and was sacked over 100 times in three years. That's an insane number of sacks and he got up all but one time. I'm actually impressed with Hackenberg's commitment to Penn State despite knowing they wouldn't be allowed to play in postseason games and he didn't even transfer when O'Brien left. James Franklin's system was never suited for him and with that offensive line, Hackenberg was set up for disaster. If you do the homework, Hackenberg has the tools, leadership and makeup to succeed at the next level. It's just important he ends up in the right situation.
Where I would draft him: Second round. I'm not opposed to the Broncos taking him with the last pick in the first round as an organization led by John Elway and Gary Kubiak would be great for Hackenberg. Also, despite giving Brock Osweiler a ridiculous contract, I still think it would be smart for the Houston Texans to take another quarterback and a reunion with O'Brien in the second round would be great for both parties.
4. Paxton Lynch, Memphis (6-7, 244)
Call it a gut feeling, but I just can't buy into the first round hype with Lynch. He'll probably go in the first round, but I personally wouldn't take him there. I love the size, I love the arm and I love the athleticism, but when I watch the tape, I see too much sloppy footwork, off-target throws and mistakes against defenses that, frankly, weren't very good. I think Lynch can be an above-average starter at the NFL level eventually, but he'll need more time than Goff and Wentz.
Where I would draft him: Second round. I like Lynch, but if you draft him in the first round and he fails, you get fired. I'm willing to take that risk with Goff and Wentz, but not with Lynch.
5. Connor Cook, Michigan State (6-4, 217)
From a physical standpoint, there's a lot to like about Cook, who can go through his progressions and make all the throws. Most importantly, he's a proven winner against top college competition and was a three-year starter in a pro-style offense led by tremendous coaches (I really believe Mark Dantonio could be a great NFL coach if he ever wants to be). All that said, I still can't get over the fact that Cook wasn't voted a team captain in college. I've heard all the explanations — including from his former teammate, Jeremy Langford, who vouched for Cook as a leader — but it still doesn't add up. I don't care if the Spartans had 100 guys worthy of being voted a captain, the three-year starting quarterback with the winningest record in Michigan State history should be one of them. It's just a giant red flag I personally cannot get over. The 57.5 percent completion percentage is a concern as well.
Where I would draft him: Third round. I'm still willing to take a chance on Cook, but not in the first two rounds.
6. Dak Prescott, Mississippi State (6-2, 226)
Prescott surprised me a little bit at the Senior Bowl with his arm strength and he has pretty good footwork to go along with his already well-known mobility. He's the best dual-threat quarterback in this draft and if he can prove he can complete passes at the NFL level, he's going to be tough for opposing defenses to prepare for.
Where I would draft him: Fourth round. I'm not completely sold Prescott can be a starter in this league, but given the importance of the quarterback position, I'm willing to use a fourth round pick to try to develop him.
7. Brandon Allen, Arkansas (6-1, 217)
Certainly not the biggest quarterback, but Allen has surprising arm strength and improved every year at Arkansas. He's poised and was one of the more accurate quarterbacks at the Senior Bowl.
Where I would draft him: Fifth round. I'm a firm believer that if you want to draft a future starting quarterback, you really need to do it in the first two rounds. Allen falls into the category of guys I know will probably never be a great starter in the NFL, but could be a serviceable replacement.
8. Jacoby Brissett, North Carolina State (6-4, 231)
Brissett is another guy who surprised me with his arm strength and he has the Ben Roethlisberger size to go with it. But Brissett's technique and accuracy is more like Logan Thomas, who I gave an undraftable grade to a couple years ago. Brissett is a boom-or-bust type prospect and the ceiling is probably no higher than an a middle-of-the-road starter.
Where I would draft him: Late fifth/early sixth round. It won't surprise me if a team takes a chance on him earlier than this.
9. Kevin Hogan, Stanford (6-3, 218)
I left Mobile in January thinking Hogan should go undrafted, but this is a guy who I want in my quarterbacks room. He's extremely smart and comes with a ton of experience in a pro-style offense at Stanford. He's also a winner. Hogan's long delivery and weaker arm will prevent him from ever becoming a good starter in the NFL, but he's capable of having a long career as a backup in the right situation.
Where I would draft him: Sixth round. I never have a problem using a sixth round pick on a valuable backup quarterback.
10. Cardale Jones, Ohio State (6-5, 253)
Jones makes this list strictly because his size and big arm give him a chance at the next level. His fundamentals are all over the place, however, and he needs a lot of coaching. To me, Jones is a guy who is either going to surprise a lot of people or fall out of the league quickly.
Where I would draft him: Seventh round. I don't like Jones' potential as a backup if he fails to develop into a starter, but I see the size and I see the arm and I might be willing to use my last pick to see what I can get out of him.
Adam Hoge covers the Chicago Bears for WGN Radio and WGNRadio.com. He also co-hosts The Beat, weekends on 720 WGN. Follow him on Twitter at @AdamHoge.