This is an archived article and the information in the article may be outdated. Please look at the time stamp on the story to see when it was last updated.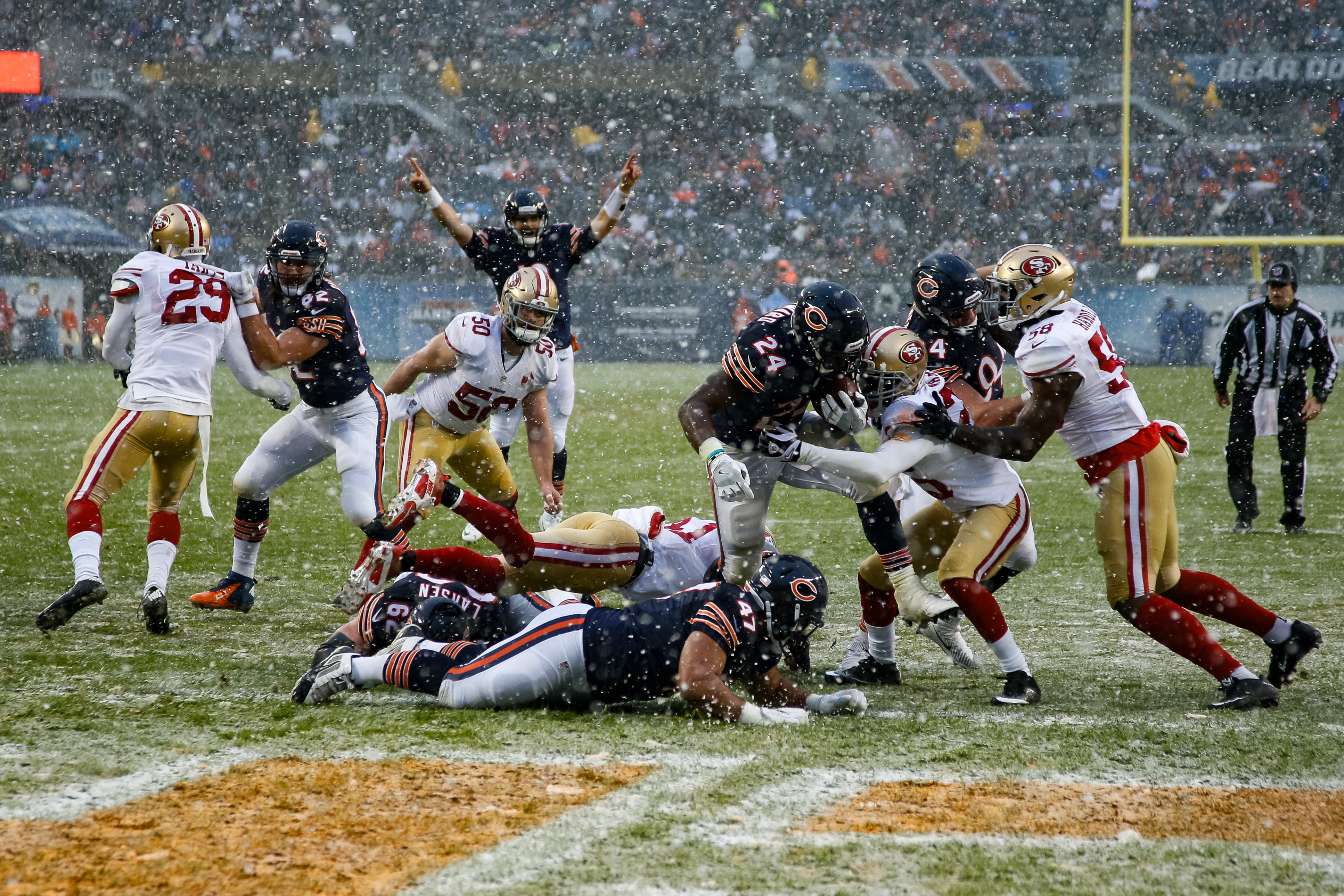 SOLDIER FIELD — There is some growth on the Bears' roster. It may be hard to see in the midst of 3-9 season, but it was present Sunday under the falling snow at Soldier Field.
And no, a 26-6 win over an awful San Francisco 49ers team isn't going to turn the entire Chicago Bears franchise around, but the rest of this season is about individual development and building a roster, and Sunday's win showed the progress that has been hiding behind too many losses and injuries.
PODCAST — Intentional Grounding, Episode 69: Is Matt Barkley For Real?
[audio http://serve.castfire.com/audio/3239046/3239046_2016-12-04-201146.64kmono.mp3?ad_params=zones%3DPreroll%7Cstation_id%3D3757.mp3]
Take No. 9 overall draft pick Leonard Floyd for example, a young, ascending player who continues to string together strong games when he's healthy enough to play. Already with a strip-sack and touchdown recovery in Green Bay on his resumé, Floyd added two sacks and safety against the 49ers, bringing his season-total to seven sacks. With four games to go, it's conceivable Floyd will reach 10 sacks, keeping him in the conversation for defensive rookie of the year. To put that number in perspective, Willie Young is the only other Bear to reach 10 sacks in the last four seasons (2014).
There's 2015 second-round pick Eddie Goldman, who (again) when healthy, looks like a Pro-Bowl worthy talent. At a minimum, it's very clear he's a talented nose tackle to build Vic Fangio's defense around.
There's 2016 second-round pick Cody Whitehair, who is the anchor on the opposite side of the football. It's not necessarily a guarantee he'll stay at center in the future (the team hasn't given up on 2015 third-round pick Hroniss Grasu), but it is a guarantee he's going to be a big part of this offensive line going forward.
There's 2016 fifth-round pick Jordan Howard, who is establishing himself as a tough, dependable NFL running back. He might not be as electric as No. 4 overall pick Ezekiel Elliott, but he was also selected 146 picks behind Elliott.
And let's not forget about 2015 first-round pick Kevin White, whose promising NFL career has unfortunately been derailed by two broken bones in his left leg. The ceiling has likely dropped somewhat, but White did appear to turn a corner in Weeks 3 and 4 of this season before fracturing his left fibula. It's a small sample size, but White was on pace for 76 catches and 748 yards this season.
The point is, in just two drafts (15 picks), Bears general manager Ryan Pace has found at least four above-average starters to build around, and that's putting it conservatively considering Floyd, Goldman, Whitehair, Howard and White still have plenty of room to get better. Meanwhile, safety Adrian Amos is still a serviceable player and Jeremy Langford is an above-average backup running back. Both players have room to develop too. And the surface hasn't even been scratched by rookies Nick Kwiatkoski, Deiondre' Hall and Deon Bush, who are still unknowns. Third-round pick Jonathan Bullard is the only significant rookie disappointment this year, as he was a healthy scratch Sunday. Ask if Bullard was hurt, head coach John Fox said: "No. That was just ability."
Ouch.
But Pace shouldn't take that comment too hard. The "ouches" for former GM Phil Emery piled up much quicker. In three years, Emery had 20 draft picks. Only 10 are left on the roster, and that includes backup quarterback David Fales who was already cut and later brought back. Only two of Emery's picks have reached a Pro Bowl (Alshon Jeffery and Kyle Long). And only three have remained starters (Jeffery, Long and 2014 seventh-round pick Charles Leno), although punter Pat O'Donnell counts as a successful draft pick too.
The point is, with five less draft picks, Pace has already outperformed Emery in the draft, with the potential for even more growth from rookies who have barely seen the field yet. Sure, Pace's free agent signings haven't necessarily been home runs, but he also hasn't thrown an exorbitant  amount of money at a complete bust, either. Signings like Tracy Porter, Akiem Hicks, Pernell McPhee and Josh Sitton heavily out-weigh misses like Antrel Rolle and Eddie Royal.
And who knows? Maybe Matt Barkley will turn out to be the steal among all of Pace's moves. We still haven't seen enough to make any grand conclusions, but Barkley put together another strong game Sunday and his numbers (11-for-18 and 192 yards) would have looked much better had Josh Bellamy not dropped two deep balls, including a likely touchdown. There's still four games left to continue to evaluate Barkley, but there certainly appears to be enough ability there to keep him around and maybe even enough to develop him into more than a backup.
At a minimum, Pace's scouting eye for Barkley and his known love of Marcus Mariota before the 2015 draft should give Bears fans hope about drafting a quarterback this spring. Pace's only major misstep is that he hasn't drafted one yet.
It might be hard to accept, but the Bears' 9-19 record in the last two seasons is much more a product of the damage Emery did to the roster than anything Pace has failed to do since he took over. While no one inside Halas Hall has admitted it, this was and continues to be a major rebuilding project.
And, yes, there is progress being made. Sometimes you just need a 26-6 win over a horrible football team to see it.
Adam Hoge covers the Chicago Bears for WGN Radio and WGNRadio.com. He also co-hosts The Beat, weekends on 720 WGN. Follow him on Twitter at @AdamHoge.