This is an archived article and the information in the article may be outdated. Please look at the time stamp on the story to see when it was last updated.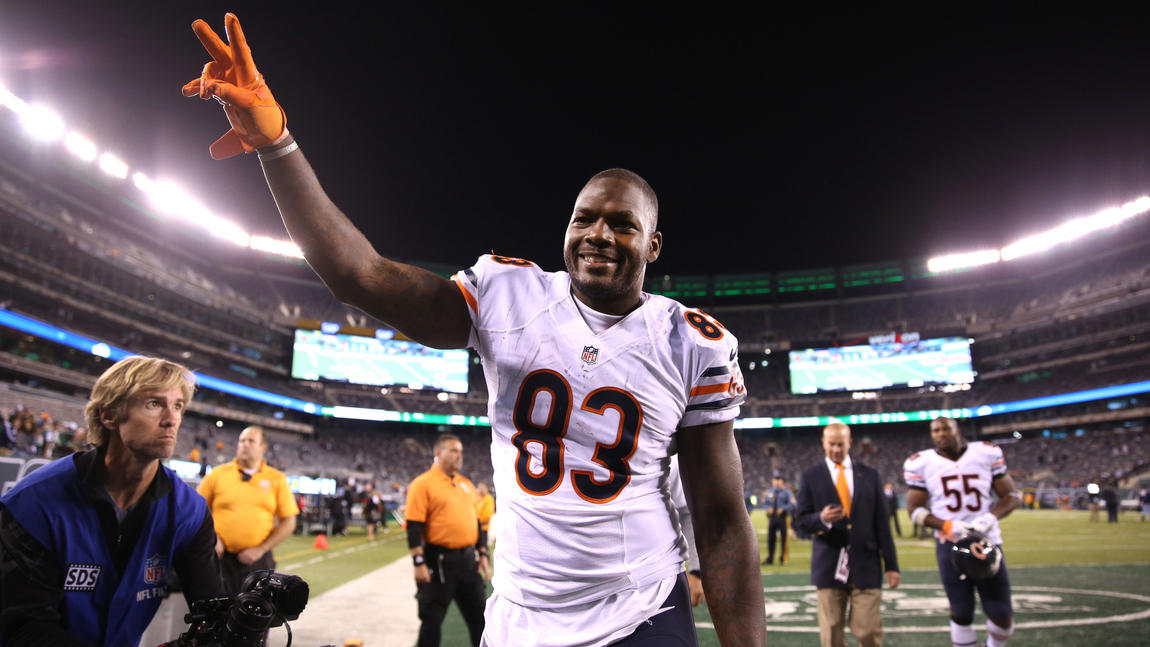 LAKE FOREST, Ill. — The Bears are well into the third and final phase of the offseason program and there still has been no sign of tight end Martellus Bennett at Halas Hall.
With two years remaining on the four-year, $20.4 million contract he signed in 2013, Bennett is holding almost no leverage and he's staring down a brand new regime that isn't inclined to hand out extensions. Running back Matt Forte asked for a new deal earlier in the offseason and new general manager Ryan Pace declined to give him one. And if anyone gets one before the season starts, it will most likely be wide receiver Alshon Jeffery, who is entering the final year of his rookie contract.
So while Bennett silently works out at former Bear Brandon Marshall's nearby Northbrook gym, the new coaching staff is proceeding without him. The team has reportedly had conversations about trading Bennett, but any team acquiring him would still have to give him a new deal despite two years remaining on his current contract.
All of the offseason workouts have been voluntary so far, but that will change in two weeks when the team holds its mandatory veteran minicamp June 16-18. Will Bennett show up? Right now, head coach John Fox isn't counting on it.
"I can't predict what those intentions are, just that I'd prefer him to be here and now we'll put all of our energy and focus on the guys that are," Fox said Wednesday.
That includes a group of seven other tight ends, an especially large unit for a team with a Pro Bowler who caught 90 passes for 916 yards and six touchdowns at the position last season. Of course, that group only has a combined 201 career receptions and four of them have never caught a single pass in the NFL. Bennett has 295 career receptions alone.
Right now, that's about the only leverage Bennett has, but the Bears certainly aren't acting like a team that is missing him. He hasn't exactly endeared himself to the new regime and is missing valuable reps as offensive coordinator Adam Gase installs a new offense.
So how big of a problem is Bennett's holdout? That will become more apparent in a couple weeks when mandatory practices begin.
Miller The Best Replacement Option
If for some reason Bennett doesn't play with the Bears this season, the best pass-catching tight end left on the roster will probably be Zach Miller. Miller hasn't played in a game since 2011 because of injuries, but he had an impressive preseason with the Bears last year before tearing ligaments in his foot, ending his season before it even began.
Despite the injury, Miller spent the season around Halas Hall doing film work almost every single day and the new regime rewarded him by signing him to another one-year contract. So far, they seem impressed with what they've seen.
"He made a really good grab yesterday. I think he's flashed," Fox said Wednesday. "We're kind of monitoring him and his reps. This time of the year, with 89 guys out there, you're able to spread those reps. But he's a guy that we heard had a great camp (last year). And some of the things we were able to go back and research. So he was a good get for us in the offseason and we just need him to stay healthy."
Health will be the big question with Miller as he's always had the ability, but has lost three straight full seasons. If he can stay on the field, there's a good chance he'll stick on the roster whether Bennett is still a Bear or not.
Houston, Young Making Progress
Converted outside linebackers Lamarr Houston (ACL) and Willie Young (torn Achilles) have made some progress recently and were able to do some side rehab work on the field Wednesday.
"They're week-to-week," Fox said. "They're going through their rehab. They're with the medical staff now. They do an outstanding job. They're on target and we'll see when they get back out there."
Fox wouldn't elaborate on a timetable — and neither player has been made available for comment during their rehab — but Houston could be on track for training camp, which begins July 29. Young suffered a more serious injury in late December, so a return to practice by the start of training camp could be a bit ambitious.
Notables
– Safety Antrel Rolle was back at Halas Hall after spending last week with his newborn daughter.
– Offensive linemen Jermon Bushrod and Kyle Long were not present on the field Wednesday.
– Wisconsin Badgers defensive coordinator Dave Aranda and running backs coach John Settle observed the Bears' practice Wednesday. It's common for college coaches to observe NFL practices during the offseason.
– In a new twist, the Bears had music on the loud speakers during the duration of practice.
Adam Hoge covers the Chicago Bears for WGN Radio and WGNRadio.com. He also co-hosts The Beat, weekends on 720 WGN. Follow him on Twitter at @AdamHoge.