This is an archived article and the information in the article may be outdated. Please look at the time stamp on the story to see when it was last updated.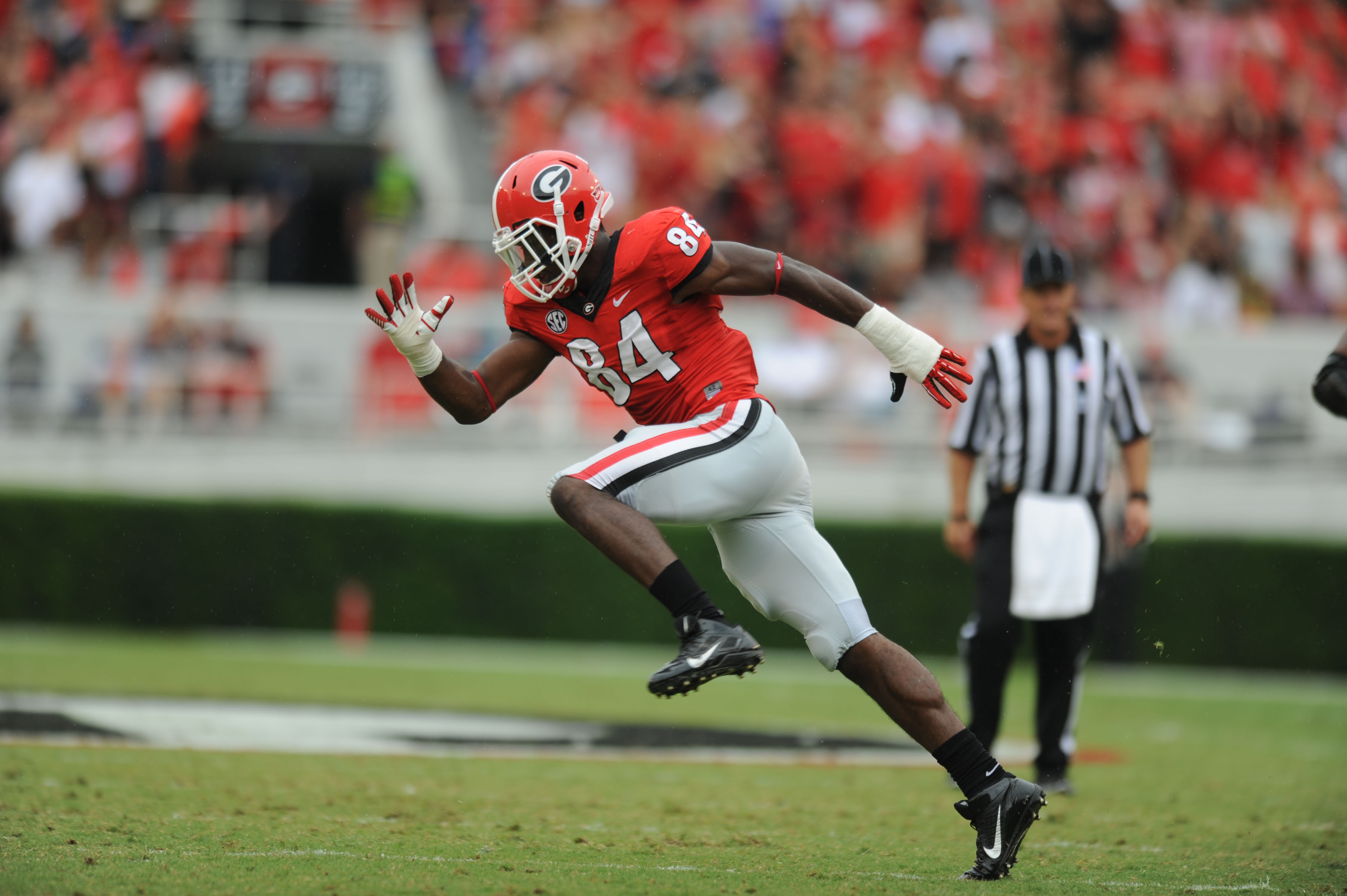 Inside the Auditorium Theatre Thursday night, the excitement built after NFL commissioner Roger Goodell announced that the Chicago Bears had traded up two spots and now held the No. 9 overall pick.
And then the room went flat.
No one booed when Goodell returned to the stage to announce that the Bears had drafted Georgia linebacker Leonard Floyd. But no one really cheered either.
Mostly, Bears fans in the room just seemed confused, and an understandable question surfaced: If Pace had "more than 11 names" he was prepared to draft with the 11th overall pick, why did he trade up two spots for a guy who still needs to get stronger to withstand the rigors of the NFL?
It's important to understand that just because the Bears had more than 11 names they were comfortable taking at No. 11, that doesn't mean all of those players were graded equally. Floyd was toward the top of the Bears' draft board when the night started and after Oregon defensive lineman DeForest Buckner went to the 49ers' at No. 7, there was a consensus in the Bears' draft room that Floyd was the guy they wanted.
"(Coach Fox) has been pounding the table to add these types of guys for a while now," Pace said. "We would talk a lot during the season saying that 'hey we need to get off the field on third down and we need guys to help us in that area.'"
According to one source, when the Tennessee Titans traded up to No. 8 to grab Michigan State offensive tackle Jack Conklin, the Bears knew they had to jump the New York Giants (sitting at No. 10) to secure Floyd. The Giants' love affair with Conklin was maybe the worst kept secret in the NFL this week, and their similar interest in Floyd wasn't far behind.
"We had a pretty strong feeling (Floyd) could go somewhere in that area and we were concerned he would go a couple picks ahead of us," Pace said. "There was a guy we identified with and a guy we wanted, so let's not sit on our hands."
Bears fans should be encouraged by the conviction, even if there are doubts about Floyd's ability to transition to the NFL. The alternative could have been ending up like the Giants, who not only failed to land Conklin or Floyd, but then reached for Ohio State cornerback Eli Apple at No. 10.
As the Bears went through their pre-draft scenarios earlier in the week, they were likely hoping Conklin would still be available for the Giants at No. 10, allowing Floyd to fall to them at No. 11. But they were ready for the scenario that actually played out Thursday, establishing trade parameters with the Tampa Bay Buccaneers in advance.
"Throughout the last 48 hours, we were talking the whole time. (Buccaneers general manager) Jason (Licht) and I are close over the years, so it is easy for me and him to communicate," Pace said.
Ultimately, it cost Pace the earliest of his two fourth round picks (No. 110 overall), a nominal fee to secure a player he believes "will bring some juice to our defense that we need."
Remember, when Fox arrived in Carolina and Denver, he quickly drafted Julius Peppers and Von Miller, respectively, and the hope at Halas Hall is that Floyd is the same kind of franchise-changing pass rusher the Bears desperately need.
Of course, it should be pointed out that Peppers and Miller were both drafted No. 2 overall and both accounted for at least 30.5 sacks and 46.5 tackles for loss in their final three college seasons. Floyd wasn't considered a top two talent by most and only had 17 sacks and 26.5 TFLs in three seasons at Georgia.
On the flip side, Pace had a very valid response to criticism of Floyd's college production: "(Georgia) moved him all over. He is such a versatile athlete, so he's playing inside linebacker one snap and then the next snap it is like he is playing nickel and running up the field with a slot receiver. I think with him playing more of a pass rush position, he'll have more production."
Pace is right. While Floyd did have plenty of opportunities to rush from the edge, he also frequently lined up as an inside linebacker and could be seen mirroring tight ends and even slot wide receivers step-by-step in coverage. Now it's important the Bears allow Floyd to concentrate on being an NFL outside linebacker.
What's interesting is that while many — including myself — have said repeatedly that Floyd needs to add weight to play at the NFL level, he may already be done doing so. Floyd played in the 220s this past season at Georgia, but weighed in at 244 at the NFL Combine in February. Pace said Thursday that he wants Floyd "probably around the 240s."
Chances are, Floyd likely lost some of the weight after the Combine and will add some back inside the walls of Halas Hall.
"We have to do it the right way and you talk about confidence in our coaches, a lot of confidence in our strength and conditioning coaches, our sports science director Jenn Gibson to get Leonard to that optimal playing weight to maximize his talents," Pace said.
What's encouraging is that while Floyd bulked up before the Combine, he still posted the fifth-best 40-time (4.60), second-best vertical jump (39.5 inches) and third-best broad jump  (127.0 inches) among linebackers. Pace also believes Floyd's length — he's 6-6 with 33 1/8 inch arm length — allows him to overcome any lack of strength.
"You don't see guys getting into him," Pace said. "Guys that I feel struggle against the run, they let offensive linemen get into their chests and get engulfed in by these blocks and (Floyd) doesn't do that. He has such great separation that I think it prevents him from doing that."
That being said, Floyd's tape still shows a preference to go around blockers instead of through them and he's not particularly strong at setting the edge. In my pre-draft scouting report on Floyd, I mentioned the name "Shea McClellin," a dreadful comparison for most Bears fans to read. But I also pointed out that Floyd has a bigger frame to add muscle without sacrificing speed and he has much better instincts and coverage skills than McClellin. He's also being drafted into the right defense, which McClellin wasn't — a mistake that severely damaged his development and prevented him from improving his instincts at the NFL level.
I believe Floyd might have to start out as a situational pass rusher, but he has the upside to grow into a Pro Bowl edge rusher. Pace and Fox are convinced that will be the case.
And if they're wrong, you can bet the name "Shea McClellin" will continue to be used in this city for another four years.
Yup. The Honeymoon is over for Ryan Pace.
Adam Hoge covers the Chicago Bears for WGN Radio and WGNRadio.com. He also co-hosts The Beat, weekends on 720 WGN. Follow him on Twitter at @AdamHoge.