This is an archived article and the information in the article may be outdated. Please look at the time stamp on the story to see when it was last updated.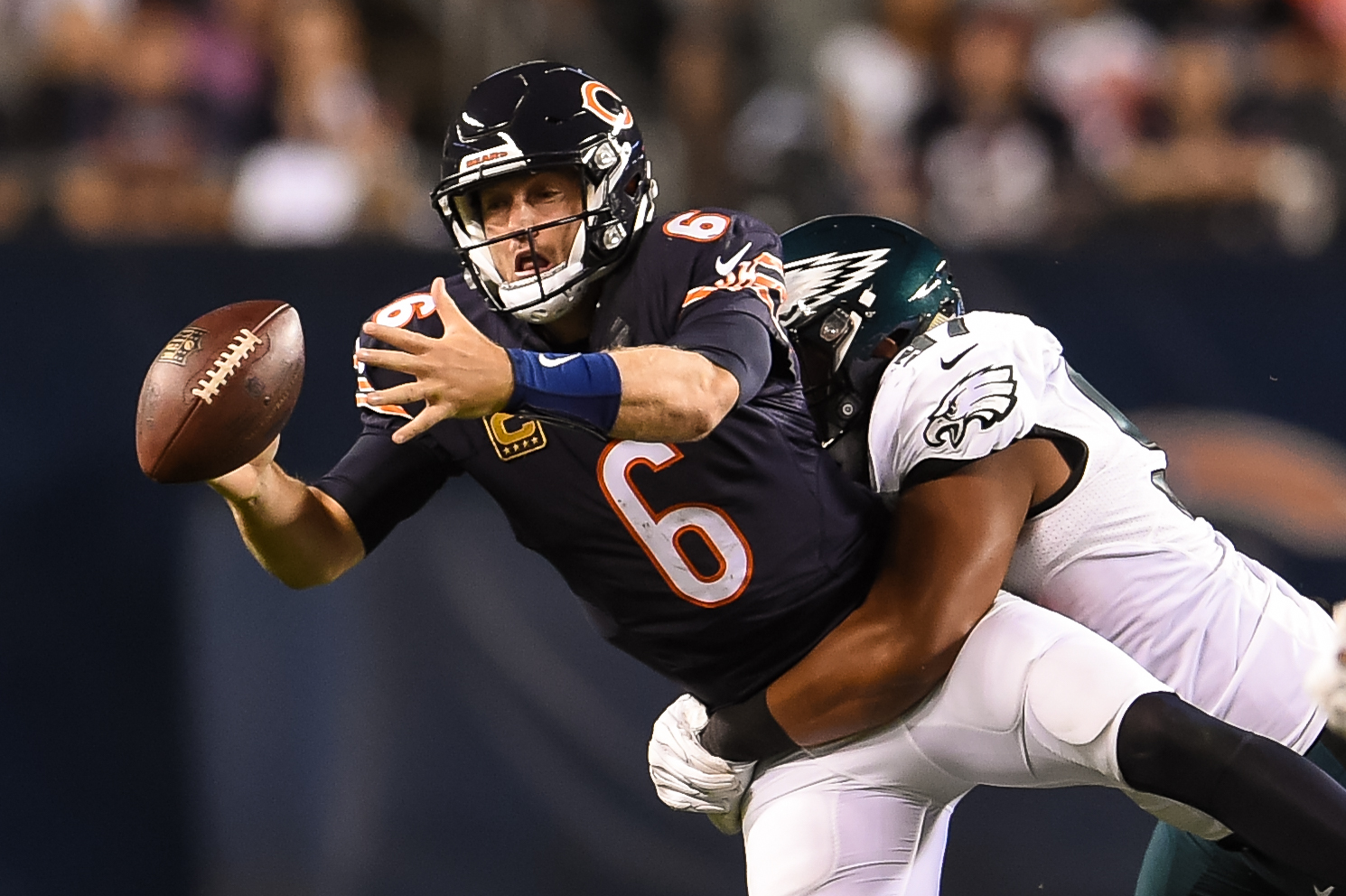 CHICAGO — Almost three years ago, the Bears took a trip to Philadelphia late in the season and had a chance to clinch the NFC North title.
That night, five days before Christmas, the franchise took a sharp turn for the worse.
They lost 54-11 to the Eagles in that Sunday night game that was broadcast to the entire country. Monday night, and 25 losses later, the Bears fell 29-14 to the Eagles in a game that was also broadcast to the entire country.
It's as if nothing has changed.
Podcast — Intentional Grounding, Episode 49: Bears-Eagles Postgame Reaction
And yet it has. Only four players who played against the Eagles in 2013 — Jay Cutler, Kyle Long, Alshon Jeffery and Sherrick McManis — also played Monday night. Almost the entire roster is different. Almost the entire front office is different. Almost the entire coaching staff is different.
Unfortunately, the results aren't.
Granted, the team is still playing catch-up from years of bad drafting, but there's enough talent on this roster now that they should be able to beat a rookie quarterback on their own field — even if that rookie quarterback looks destined for stardom.
Early in Monday night's game, the Bears actually looked like the better team. The offense appeared somewhat explosive and the defense was flying around, creating pressure on Carson Wentz. From there, it took a collective effort to turn a 7-3 lead into a 29-7 deficit that would have been worse had Eagles wide receiver Jordan Matthews not dropped a touchdown in the second quarter.
"Obviously, it looked bad," Bears head coach John Fox conceded. "Anytime you are minus-three in the turnover ratio, it can look like that."
Indeed, the Bears turned the ball over on three of their first four possessions of the second half, leading to two Eagles touchdowns. Both of Cutler's turnovers — a fumble while scrambling and an interception thrown right to Eagles linebacker Nigel Bradham — looked way too familiar, while Jeremy Langford's fumble created more doubt about the Bears' running back situation.
But the coaching staff isn't without blame for Monday's second half meltdown.
According to Cutler, he "kind of aggravated (his right thumb) early on." The quarterback wouldn't say specifically when the injury occurred, but he reiterated: "It was early on in the game." He added that the strength in the hand was limited and he "couldn't really grip the ball. So that was obviously a big issue for me."
That's right. Cutler couldn't grip the ball. On his throwing hand. So why was he still in the game?
Cutler fumbled on his fourth snap of the third quarter, which tends to happen when you can't grip the football.
That was the first time Cutler's injury became apparent to everyone not on the sideline as he started shaking it out on the field. At that point, it was obvious the coaches knew Cutler was limited, as offensive coordinator Dowell Loggains called seven straight runs to start the next series. And when they were finally forced to throw the ball on 3rd-and-6, Cutler threw what appeared to be a 50-pound weight straight into the ground.
"I'm not sure exactly when he injured it. I just heard from the offensive coaches that it was bothering him," head coach John Fox said. "He short-armed a couple of throws and they said it was a problem. That's when we made the change."
Unfortunately, it was too late. One of the passes he short-armed went straight into the arms of Bradham, which, again, tends to happen when you can't grip the football.
After the game, Cutler had his right thumb in a temporary cast and said more tests would be performed Tuesday.
"I'm concerned. As a quarterback, you kind of need your right thumb. I think it was 2011 when I had surgery on this thumb. So we'll see what it is," he said.
Not good. If Cutler is lost for any significant time, the obituary for the Bears' 2016 season should already be written. Maybe this is it.
The Eagles scored to make it 22-7 just one play after Cutler's interception. Five plays after that, Langford fumbled, leading to another touchdown that iced the game at 29-7.
But I'll ask a similar question: Why was Langford in the game?
On the series before Cutler's interception, rookie running back Jordan Howard made his debut and immediately picked up 18 yards on his first two carries. So what did the Bears do? They took him out of the game. He only received one carry the rest of the game.
Langford appeared to be benched after the fumble, but, again, it was too late. His final numbers: 11 carries and 28 yards for an average of just 2.5 yards per carry.
Howard had 22 yards on just three carries.
These are just some of the questions that hover over both the offense and the coaching staff in what has been a very uninspiring first two weeks of the season. The Bears haven't handled adversity well and their preparation, especially on offense, looks suspect.
Meanwhile, the Eagles, who have also made major changes to their front office, coaching staff and much of their roster since 2013, appear to have found their franchise quarterback.
The Bears? They're just praying theirs is healthy.
If not, their 11-25 record since that 2013 night in Philadelphia is about to get even worse.
Adam Hoge covers the Chicago Bears for WGN Radio and WGNRadio.com. He also co-hosts The Beat, weekends on 720 WGN. Follow him on Twitter at @AdamHoge.