This is an archived article and the information in the article may be outdated. Please look at the time stamp on the story to see when it was last updated.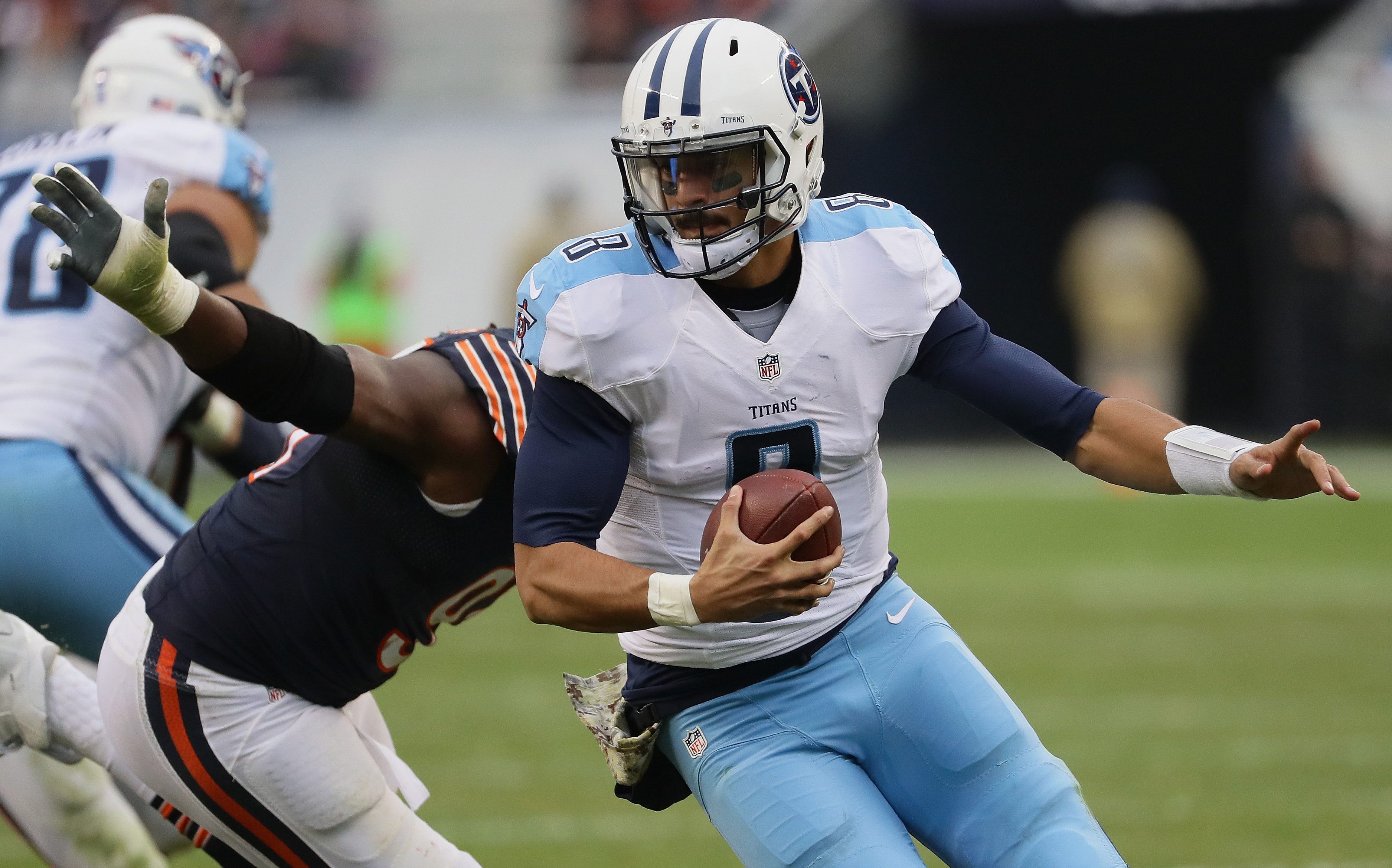 SOLDIER FIELD — We'll never know what the Tennessee Titans wanted for the No. 2 overall pick in 2015, but we do know the Bears were interested.
General manager Ryan Pace correctly identified Oregon quarterback Marcus Mariota as a prospect he could build an offense around, but the price was evidently too high. Jay Cutler potentially could have landed in Nashville, where he owns a home, but multiple high draft picks would have also headed south. Pace knew he had a major rebuilding project ahead of him and mortgaging the future in his first blockbuster move as a rookie general manager would have been risky.
And yet, it may have been worth it.
Podcast — Intentional Grounding, Episode 67: Bears-Titans Postgame Show
[audio http://serve.castfire.com/audio/3229003/3229003_2016-11-27-194103.64kmono.mp3?ad_params=zones%3DPreroll%7Cstation_id%3D3757.mp3]
Pace must have been thinking the same thing Sunday at Soldier Field as he watched Mariota lead the Titans to a 27-21 victory over his quarterback-challenged football team. Nineteen months after the Titans selected Mariota right behind Jameis Winston, the Bears took the field against Tennessee with journeyman Matt Barkley as their starting quarterback. Meanwhile, both of Pace's first two first-round draft picks — Kevin White (broken leg) and Leonard Floyd (concussion) — were out with injuries.
For his part, Barkley played well enough to salvage an ugly start that included two red zone interceptions. Amazingly, he threw the ball 54 times, a byproduct of trying to erase a 27-7 fourth quarter deficit. And despite at least eight drops by his wide receivers, Barkley did everything in his power to win the game, as Josh Bellamy and Deonte Thompson both dropped game-tying touchdowns in the waning seconds.
"(Barkley) was better late than early," head coach John Fox said. "But all-in-all, I think for the guy's first start with us, it was pretty good."
But don't be fooled. There's still a big difference between the guy who threw two red zone interceptions in his first NFL start and the guy on the other sideline who has yet to throw a single red zone interception in 24 career starts. Mariota was spectacular and showed why Pace wanted to draft him. In particular, Mariota's beautiful 29-yard touchdown pass to Rishard Matthews with 1:15 left in the second quarter highlighted why the Titans' future at quarterback is so bright. He finished the game 15-of-23 for 226 yards and two touchdowns for a passer rating of 126.4.
Of course, this isn't the first time this season Pace has been subjected to the torture of watching a young opposing quarterback shine against his defense. Carson Wentz, Dak Prescott, Winston and now Mariota all have wins over the Bears this season. In fairness, Prescott is the only one of those quarterbacks who the Bears "passed" on while on the clock, but one would think Pace's motivation to draft a quarterback is now at an all-time high, even if Barkley did his best Sunday to sabotage a potential top three pick.
Despite the Bears' 2-9 record, Pace's drafting has been pretty good, but it is very surprising that none of his 15 draft picks have been used on a quarterback. As a result, the Bears will head into this offseason already a year or two late in finding Jay Cutler's replacement.
But the drafting of a quarterback this spring should be — and will be — independent of what the Bears decide to do with Cutler. He should be shopped before the draft, but there is absolutely no reason — financially or otherwise — to release the quarterback "just because" they are ready to move on. It would be irresponsible not to hold onto Cutler until a suitable replacement is on the roster, unless they are getting something in return via trade. Cutler is due $12.5 million in salary next season, plus another $2.5 million in roster bonuses, which is actually a relatively attractive number for a competent quarterback in today's market. There could be a team desperate enough to take that money on, but if not, the Bears theoretically could wait until the start of the regular season to release the quarterback and still not pay him a dime in 2017.
In other words, the Bears can afford to be patient when it comes to the Cutler market.
On the other hand, they can no longer be patient when it comes to finding his replacement.
They need their Marcus Mariota.
Adam Hoge covers the Chicago Bears for WGN Radio and WGNRadio.com. He also co-hosts The Beat, weekends on 720 WGN. Follow him on Twitter at @AdamHoge.