This is an archived article and the information in the article may be outdated. Please look at the time stamp on the story to see when it was last updated.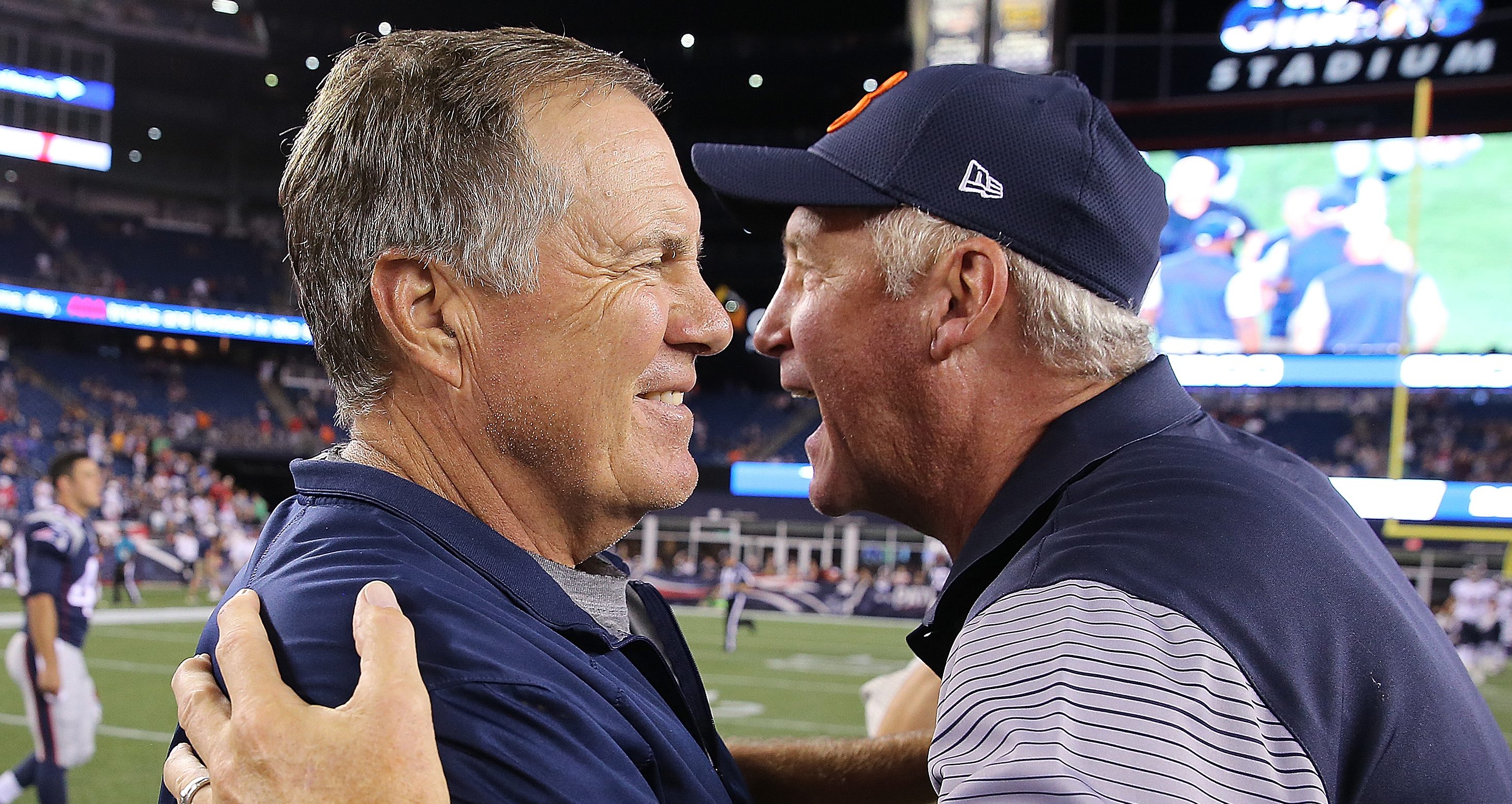 FOXBOROUGH, Mass. — Regardless of what the scoreboard said, the Bears' trip to New England was a success.
Sure, the bar set in the preseason opener against the Broncos was low, but the goal was to improve against the Patriots, and the Bears did just that. Against one of the best teams in the league, the Bears' starters held their own against the Patriots, both in practice and in the game.
"I think the week was decent," Bears wide receiver Kevin White said. "It put confidence in us, because that's the Patriots."
Give the Bears credit for an early-week turnaround. After last week's 22-0 clunker against the Broncos, the Bears arrived in Foxborough Monday and went through a long, sluggish practice without much inspiration. They looked overmatched in their first practice against the Patriots. And, frankly, it was hard not to be concerned, especially on offense.
But something happened between Monday and Tuesday. The Bears showed up on the practice fields behind Gillette Stadium on Tuesday with more purpose and more fight — sometimes literally — and won Day 2 handily.
"I feel like there was an energy step-up on our second day of practice and I think we wanted to bring that into the game and I think that's what we did," former Patriot and current Bear Akiem Hicks said.
Above all else, the Bears' first-team offense moved the ball Thursday night and showed some explosion against a good defense. Quarterback Jay Cutler was efficient, completing 8-of-12 passes for 83 yards and a successful two-point conversion. That included a drop by White. Alshon Jeffery looked like Alshon Jeffery and appears to be 100 percent healthy again. And, finally, the Bears' running game showed a spark, as Jeremy Langford went from the Patriots' 39-yard-line to the end zone in just two plays, giving the Bears a 11-0 lead in the first quarter.
Technically, the Bears ended up losing the game 23-22, but the first-team offense only played one more series and the defense put together two red-zone stops, including a takeaway on a Tracy Porter strip and recovery. For those keeping track at home, that's two forced turnovers in four preseason possessions for the Bears' first-team defense — a notable accomplishment, considering John Fox and Vic Fangio spent the entire offseason stressing takeaways.
"Anytime you can do that as a defense, force those turnovers, because we didn't so well last year, that's huge," Porter said. "We got a lot of hands on balls from OTAs through training camp, up until this point. So we're definitely turning that corner and going in the right direction. We just got to continue that going into the regular season."
But that's where the positives from Thursday night pretty much end. When backup quarterback Brian Hoyer entered the game with 3:52 left in the first half, the Bears were beating the Patriots 11-3.
And then Hoyer threw a pass.
It was intercepted and everything fell apart from there. The Bears were out-gained 299-15 in the second and third quarters. That's not a typo. 299-15.
Clearly the Patriots have more depth than the Bears. That was evident on the practice field this week in Foxborough and it was extremely evident inside Gillette Stadium Thursday night. It's certainly conceivable that the Bears' starters are improved enough to play meaningful football in December this year, but it's also conceivable that two or three key injuries could put them right back where they were at 6-10 last season — or worse.
You better believe Bears general manager Ryan Pace and his pro scouting staff are looking around the league for added depth. That was one of the benefits of practicing against the Patriots this week.
"We're evaluating their roster too," Pace told WGN Radio's "Intentional Grounding" podcast Wednesday. "So that gives us three days and a game of full evaluation."
Of course, Bill Belichick was doing the same thing. In fact, it was interesting to see him have a conversation with Bears defensive end Cornelius Washington after practice the other day, especially considering Washington didn't even practice this week because of an ankle/knee injury. You know Belichick saw the tape of Washington's solid performance last week against the Broncos.
So how about this proposal? Patriots reserve tight end AJ Derby looked pretty good Thursday night, catching six passes for 71 yards and a touchdown. The Bears need another tight end and Pace and Belichick already have a history of dealing with other. How about a swap?
Hey, it's a start.
Adam Hoge covers the Chicago Bears for WGN Radio and WGNRadio.com. He also co-hosts The Beat, weekends on 720 WGN. Follow him on Twitter at @AdamHoge.