This is an archived article and the information in the article may be outdated. Please look at the time stamp on the story to see when it was last updated.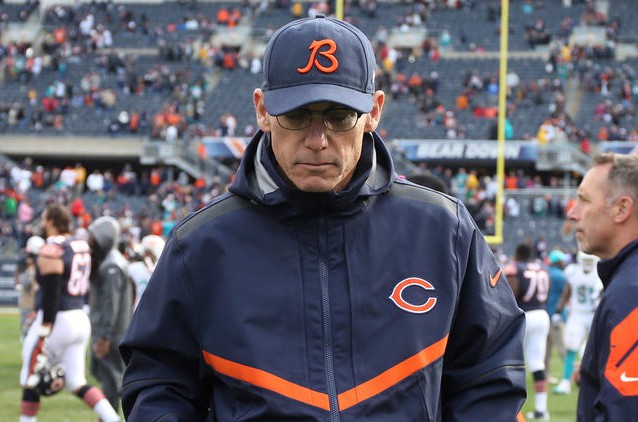 CHICAGO — The shouting started on the field and ended in the locker room.
As reporters waited to get access to the Bears' locker room following their 27-14 loss to the Dolphins Sunday, yelling could be heard from inside.
Heart was questioned. It sounded like a kicker was called out. And the words were clearly coming from Brandon Marshall.
Sources inside the locker room told 87.7 The Game that the yelling was not directed exclusively at Bears kicker Robbie Gould. The wide receiver's yelling was more general, but the emotion and frustration was very real.
"We lost. There should be a lot frustration," Marshall said when asked about what happened in the locker room. "What are you talking about? How do you want me to answer? You should hear frustration. We're 3-4. Yeah, this means everything to a lot of guys in this locker room. Means a lot."
When asked by a reporter if he was yelling at Gould, Marshall simply said: "That's a team matter. This has nothing to do with you."
The 3-4 record is certainly a team matter. The Bears have been wildly inconsistent this season, but Sunday's performance was the worst yet.
"We're 3-4," Marshall said. "We need to play better. That's unacceptable. That's unacceptable. Unacceptable. Shouldn't have lost today. Shouldn't be 3-4. Offense gotta play better. It's as simple as that."
Unfortunately it's no longer as simple as that.
Now it's about keeping a locker room together.
While the shouting match was going on in the locker room after the game, a former player chimed in on Twitter with a damning comment.
"Trestman has made the Bears soft," former Bears linebacker Blake Costanzo tweeted. "I took pride in wearing that jersey. Ditka, Urlacher, Briggs. Unreal man. No respect."
Costanzo, a special teamer for the Bears in 2012 and 2013, doesn't exactly carry the weight of many former Bears players, but he did play for both Lovie Smith and Marc Trestman in Chicago and he wasn't the only one questioning the Bears' toughness Sunday. A source said the yelling between players started as soon as the Bears fell behind 14-0 in the second quarter.
Later, after Lamar Miller gave the Dolphins a 21-7 lead with a two-yard run in the third quarter, defensive tackle Jeremiah Ratliff — who was one of the few who played well Sunday — was seen yelling at safety Ryan Mundy before the extra point.
"On this defense, with the talent we have, I don't feel like you should be running the ball," Ratliff said. "You get a little frustrated yelling at the guys."
Ratliff didn't appear to be yelling at Mundy at first, but the safety said something to Ratliff after the yelling started and the two of them ended up face-to-face.
"A little frustration," Mundy added. "But we ironed it out."
The frustration didn't end there.
With the Bears now 0-3 at home this season, it was natural to hear fans shower the players with boos, especially as they headed to the locker room at halftime down 14-0.
And it was also natural that the players didn't appreciate it.
"I don't know if 'upset' is the word I would use," right guard Kyle Long said. "But as somebody who is blood, sweat and tears like the other guys in this locker room — and the coaches, the trainers, the staff, the equipment guys — to be getting booed at home when you're walking off the field down two possessions is unacceptable. Especially when there's not a lot noise being made on third down. Period."
The drama didn't escape other areas of the locker room.
When asked about why he wasn't on the field more in the third quarter, Jared Allen said: "I don't know. You'll have to talk to Coach (Tucker) about it."
Meanwhile, no one was able to explain Jay Cutler's second-quarter interception, which appeared to be a forced pass to Martellus Bennett, even though Santonio Holmes was open.
"That's where it had to go," Cutler said.
Bennett's take?
"I thought he was throwing it somebody else because it was kind of high and I couldn't jump to get it," the tight end said.
Meanwhile, Dolphins safety Reshad Jones, who intercepted the pass, seemed to have the best explanation:
"After watching film all week, we saw (Cutler) was looking where he threw the ball. He was always looking at his receivers and never looking off. I tried to take advantage of that and it paid off."
Another damning accusation, considering Trestman has been working with Cutler on those exact tendencies for over a year and a half now.
But the Bears' lack of explanation for the interception falls right in line with trying to explain the overall offensive performance this season. It remains the biggest mystery in the NFL.
"I don't know," Bennett said when asked why the offense has been so inconsistent. "I mean, I'm pretty smart, but I'm not a rocket scientist."
Sometimes it seems like you need to be a rocket scientist to function within the offense. Really, there's no other way to explain the constant mistakes of a unit with good talent across the board and all 11 starters healthy Sunday for the first time since Week 1.
But this is no longer just an offensive issue — not with players yelling at each other on the field and in the locker room.
At this point, it's fair to have doubts about Marc Trestman's ability to get his team ready each week. And it's fair to question Trestman's system when the team's best offensive player only gets two carries in the first half. And it's once again fair to question the in-game clock management when Trestman handed the Dolphins a free Hail Mary by not calling timeout before the half (inexplicably, Joe Philbin declined the free shot at the end zone and punted).
But on top of dealing with all of those questions, now Trestman is going to be severely tested in his ability to hold a team together.
"It's a very sick locker room right now," the head coach admitted.
Sick, emotional and vulnerable.
"I like when guys get passionate," Martellus Bennnett said. "They're burning fire. But you gotta learn how to channel that into positivity."
That's the exact challenge for Trestman now, especially with two road games against the Patriots and Packers looming.
If 3-4 is "unacceptable," what's 3-6?
Adam Hoge covers the Bears for 87.7 The Game and TheGameChicago.com. Follow him on Twitter at @AdamHoge.